The Trump administration's trade policies are likely to hurt the US economy and undermine the world's trade system, the IMF has warned.
IMF Director Christine Lagarde said a trade war would lead to "losers on both sides" and could have "serious" impact.
The caution came as the US prepares to levy new tariffs on $50bn worth of Chinese imports.
New duties on foreign steel and aluminium, announced in March, have already gone into effect.
Those tariffs have already prompted Europe, Mexico, Canada and China to introduce or announce plans for counter-measures in retaliation.
While the IMF expects the dispute to have relatively minor economic impact – slowing GDP by a fraction of a percentage point – Ms Lagarde said she is concerned about how the fight will affect sentiment.
"What is more critical and more difficult to factor in at the moment … is the actual impact on confidence," she said at a press conference in Washington.
The IMF said the White House, which has also threatened to withdraw from the North American Free Trade Agreement (Nafta), is responding to rising concerns about the side-effects of free trade.
"These measures, though, are likely to move the globe further away from an open, fair and rules-based trade system, with adverse effects for both the US economy and for trading partners," the IMF said.
Opposing outlooks
The IMF outlined the risks in its annual review of the US economy, which offered a bright near-term outlook.
The organisation forecasts US growth of 2.9% this year, as the Trump administration's $1.5tn tax cut package and $300bn increase in federal spending temporarily boost activity.
However, it expects GDP to slow to 2.7% in 2019 and 1.9% in 2020, trending lower as the decade continues and the effects of the tax cuts fade.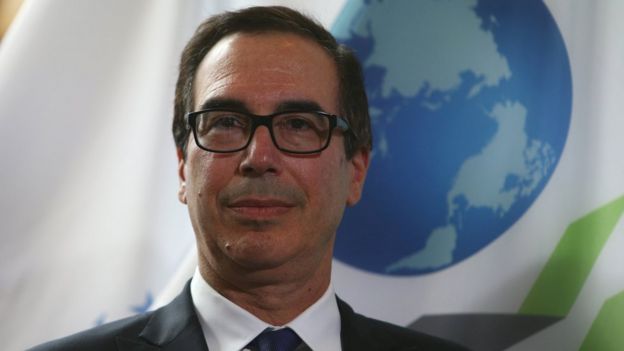 In a statement the US Treasury Department contested those predictions, saying White House policies, including tax reform and de-regulation, will result in "more sustainable economic growth".
"While we appreciate the IMF's work on their report and share similar short term forecasts on US economic growth, we differ significantly on the medium and long term projections," the US said.
Ms Lagarde said she hopes that Treasury Secretary Steven Mnuchin proves correct, but she is concerned about rising public debt and the risk of a sudden bout of inflation.
"Despite good near-term prospects, a number of vulnerabilities are being built-up," the IMF said.
The IMF called on the US to target tax relief at lower income households and strengthen financial oversight of non-banks.
It also sounded an alarm about the dominance of a small but growing number "superstar" firms. It said those firms have the potential to depress wage growth and investment in research and development as they accrue market power.
Source: www.bbc.com