The UK is acting swiftly in response to the devastation caused by Hurricane Irma in the Caribbean amid fears for Britons there, Boris Johnson says.
The foreign secretary said he had spoken to the chief minister of British overseas territory Anguilla and had staff and a naval vessel ready to help.
But the UK has been criticised by locals for its "inadequate" response.
A number of Britons in the region, including a pregnant woman, have not been heard from since Wednesday night.
Hurricane Irma has caused widespread destruction across the Caribbean, reducing buildings to rubble and leaving at least seven people dead.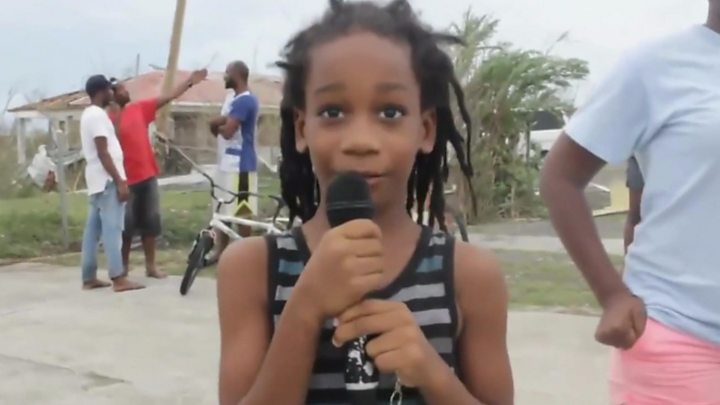 The small island of Barbuda is said to be "barely habitable", while officials warn that the French territory of St Martin is almost destroyed.
The area hit by the huge storm includes a number British overseas territories, among them Anguilla which has been left devastated, and the British Virgin Islands, which the hurricane passed over.
The British territory of Turks and Caicos, with a population of 31,500, is still at risk.
'Nuclear bomb devastation'
Britain's 14 overseas territories are under UK sovereignty and jurisdiction – most are self-governing but they rely on the UK for defence, security and safety – including protection from natural disasters.
According to Josephine Gumbs-Conner, a barrister from Anguilla, the UK's preparations for and response to the storm have been "sorely lacking".
She told BBC Radio 4's Today programme the British government should have "done what the French did in St Martin – who made sure that they had military on the ground so that the response given is timely".
She said the island's essential services including hospitals and police stations, were now in a "limping position", after the hurricane "left us in absolute pieces".
Ms Gumbs-Conner said: "When you look at our island at the moment, you would think that it just suffered nuclear bomb devastation."
Officials have confirmed at least eight deaths and considerable damage in the French territories of St-Martin and Saint Barthélemy, popularly known as St Barts.
Significant damage was also reported in the Dutch section of St Martin, known as Sint-Maarten.
The Dutch navy has sent two ships from nearby Aruba and Curacao to assist locals, according to media in the Netherlands.
Lost contact
The UK Foreign Office warned Britons to evacuate the area as the most powerful Atlantic storm in a decade approached, but many expats and tourists were left stranded as airlines were forced to ground or divert flights.
Fears are growing for pregnant British mother Afiya Frank, 27, and her sister Asha Frank, 29, who were preparing for the storm in Barbuda but have not been heard from since Wednesday night.
Their aunt, Ruth Bolton, told The Mirror: "They had boarded up the house that my sister had just finished building with wood and stocked up on water etc.
"They are always well prepared for storms in Barbuda. It's a brick house and hopefully stood some of the storm.
"We had contact till about 10.30pm our time last night via What's App and then that was it. Nothing since and no way to find out how they are.
"I just want to hug my nieces and speak to them."
There has also been no word from holidaymaker Alex Woolfall, from London, who was tweeting on Wednesday from his hotel on the island of Saint Martin, where he was taking cover in a stairwell after being evacuated from his room.
He wrote: "My God this noise! It's like standing behind a jet engine!! Constant booms & bangs. At least concrete stairwell not moving."
He added: "May be my last tweet as power out and noise now apocalyptic. This is like a movie I never want to see."
On Wednesday Sir Richard Branson, who refused to leave his private retreat in the British Virgin Islands, said he was "retreating to a concrete wine cellar" with his staff as the hurricane approached.
"Knowing our wonderful team as I do, I suspect there will be little wine left in the cellar when we all emerge," he wrote in his blog.
Flight warnings
British Airways said it evacuated 326 passengers from Antigua on Tuesday and had managed to rebook many others across the Caribbean islands onto flights out with alternative airlines.
It said: "We are closely monitoring developments in the region and are in regular contact with holidaymakers there to ensure they are safe and being well looked after by their hotel management."
Virgin Atlantic has cancelled Thursday's flight to Antigua from London Gatwick but said the return flight from Antigua back to the UK would still operate.
A spokesman added: "We expect our Orlando operations to be impacted this weekend, so we strongly advise customers currently in Florida to get in touch to discuss options to travel home early."
Officials in the US have started evacuations of tourists and residents from Florida Keys as the hurricane approaches.
Flights to and from several airports in Florida were being suspended, while Orlando's international airport said commercial flights would stop from 17:00 local time on Saturday.
A state of emergency had been declared for Florida, Puerto Rico and the US Virgin Islands, mobilising federal disaster relief efforts.
Read more at bbc.co.uk