Tory MPs are "perfectly within their rights" to urge Theresa May to quit, a former party chairman has told the BBC.
Grant Shapps has admitted being one of the leaders in an attempt to persuade Mrs May to call a leadership election and said up to 30 MPs support the move.
Cabinet ministers have been rallying around the prime minister after her conference speech was overshadowed by a prankster and her persistent cough.
Damian Green said it was "nonsense" to suggest she should go over the speech.
The First Secretary of State told BBC One's Question Time: "I know that she is as determined as ever to get on with her job – she sees it as her duty to do so. She will carry on and she will make a success of this government."
'Emerging plots'
But Mr Shapps, who was co-chair of the party between 2012 and 2015, told the BBC Mrs May was a "perfectly decent person" but had "rolled the dice" and lost over her decision to call a snap election.
He said he had previously informed No 10 that a growing number of Tory MPs were keen to have a leadership election.
Speaking on BBC 5 live Mr Shapps said: "We did have a result that was not at all what anyone wanted, least of all what she wanted or anticipated, and… sometimes when things happen you have to take responsibility for them.
"This is a view I have held for quite some time and quite a lot of colleagues feel the same way, including five former cabinet ministers."
However, he admitted the "up to 30 MPs" who backed his plan did not include any current members of the cabinet.
Mrs May's conference speech was meant to be a chance to assert her authority over the party following her ill-fated decision to call a snap general election that saw her party lose MPs.
But it was plagued by a series of mishaps, as she struggled with a persistent cough, was interrupted by a prankster and some of the letters fell off the conference stage backdrop behind her.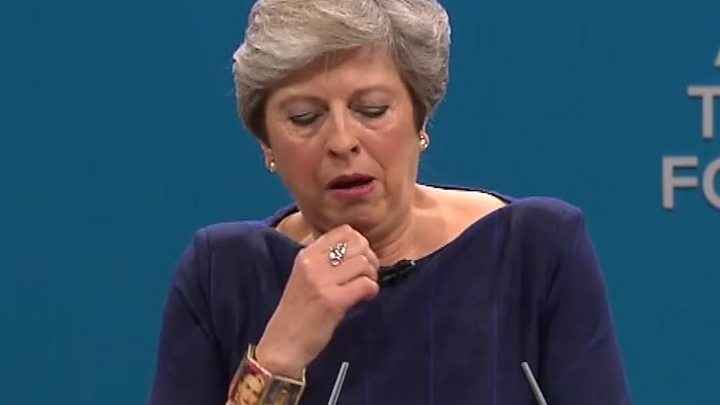 The BBC's Laura Kuenssberg said that while many MPs wanted her to stay as leader, there were "emerging plots" as some Tory MPs tried to gather support to approach Mrs May privately and persuade her to stand aside. But the group would only act if it had the numbers to do so.
Mr Green said it was "complete nonsense" to suggest that having a cold or having an "unfunny pillock" interrupt her speech meant she was the wrong person for the job.
And Home Secretary Amber Rudd told the Telegraph: "We, Theresa May's government, want to… set out a better path, one that actually leads to a prosperous, secure and united country. We can do that and we will under her leadership. She should stay."
But former minister Ed Vaizey told the BBC on Thursday: "I think there will be quite a few people who will now be pretty firmly of the view that she should resign."
Read more at bbc.co.uk