Eating your way around a country is a peculiarly illuminating way of understanding a culture. Seeking out classic foods gets you up close with locals, takes you into their favourite restaurants, bars and cafés, and stokes their greatest, most patriotic passions. There are hundreds of foods I could write ardent poems for – everything from Ethiopia's wonderfully sour and spongy injera, to San Sebastian's artistic pintxos – but here I've chosen six big hitters that are perhaps the most misunderstood, and tell you where to eat them.
A monster pastrami sandwich in New York City
No, not at Katz's. The deli made famous by Meg Ryan's fake orgasm has long been touted as the best spot for the classic pastrami on rye, and while this beefy treat is certainly a decent size, it doesn't quite justify the equally enormous price tag of $19.95. But head to Rego Park in Queens and you'll find proper old-school delicatessen (ie, not a tourist circus) Ben's Best, where not only is the pastrami sarnie even more insanely massive, it's also cheaper at $16.95.
Of course, NYC's got more on the menu than brined beef with sour pickles and brain-lasering lashings of mustard. (You must have these to accompany your sandwich, or you have failed.) The food scene here is endlessly thrilling, plating up everything from perfect pizzas to unbeatable bagels and salty baked pretzels, not to mention all the other exciting ethnic eats (try Roosevelt Avenue around Jackson Heights in Queens for the most boggling selection). But, above all else, the pastrami is the city's signature sandwich, defining our impression of classic New York – or should that be Noo Yoik?
For a brilliantly modern twist on it, check out Mu Ramen in Long Island City, which dishes out the Japanese noodles in a bone marrow broth with beef brisket and sour pickle.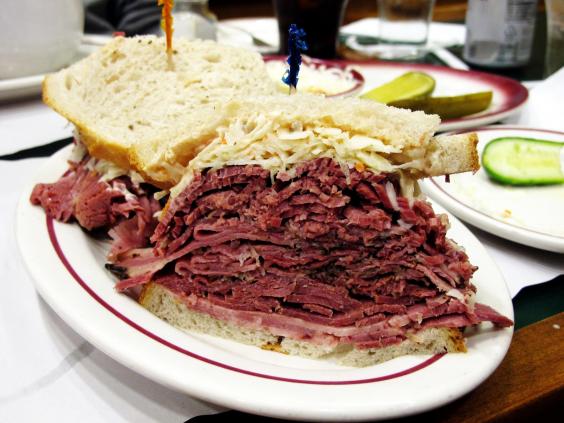 Spaghetti bolognaise – or 'tagliatelle al ragu' – in Bologna
Right, let's get this straight – Bologna did not invent spaghetti bolognaise. Spag bol is an Anglo-bastardisation, along the same lines as 'curry', which you'll never find in India because they don't have the foggiest what that is. The signature dish of Bologna, in fact, is tagliatelle al ragu, and they get really angry if you try and call it spag bol (I should know, I've experienced first-hand the tourist board getting incredibly irate about it). So what's the difference?
First of all, they use tagliatelle because apparently the meat sticks all the better to the flatter shape. The ragu is a saucy little number cooked up from minced beef, pancetta, tomatoes, red wine, onion, celery and carrot. Nutmeg, salt and pepper should be the only seasoning, aside from the piles of parmesan you're permitted to sprinkle on the top. And that's it. Bellissimo!
Got it? Good. Now slurp up a big bowl at locals' favourite Osteria Broccaindosso (00 39 051 234153; 7/A Via Broccaindosso), where they'll ply you with lethal portions of pasta, and the smallest dessert plate has eight different puddings on it. Good luck.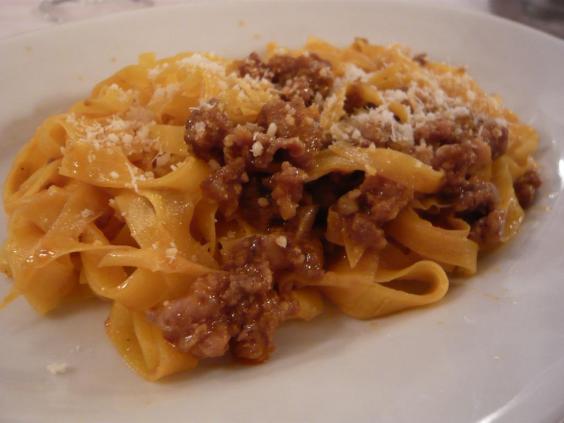 A super-fresh sushi platter in Tokyo
If you're one of those weirdoes who thinks they don't like sushi – especially if it's because you don't like your flavours too fishy – it's time you found enlightenment in Tokyo. Sushi, of course, doesn't taste fishy at all – these raw cuts of seafood burst with clean freshness, the best-quality portions offering a luxurious creaminess too.
There's no end of sushi restaurants in Tokyo – about 5,000 to be almost precise – ranging from conveyor-belt quickies to high-end event dining. The city's most expensive sushi joint, Sukiyabashi Jiro, will set you back about £250 for 20 mouthfuls – served over just 30 minutes.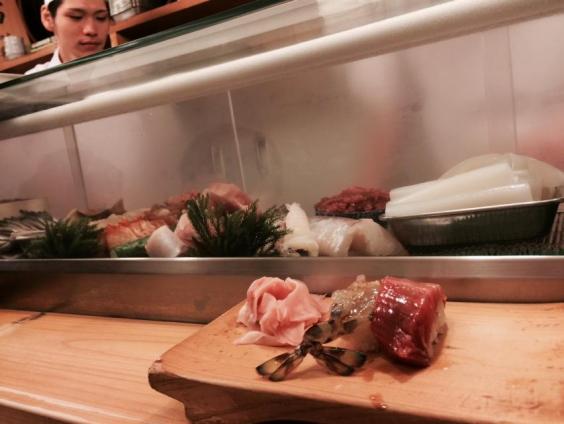 For something more affordable, get in line at Tsukiji Fish Market. The biggest wholesale fish and seafood market in the world, it doesn't get much fresher than breakfast at one of the sushi counters here, where you'll munch on the morning's catches. The only drawback? To avoid four-hour queues, be sure you're outside Daiwa Sushi at 4am, ready for the 5am opening. Next door's Sushi Dai has even crazier lines – there was already a six-hour wait time when I arrived at 4am for Daiwa. The reward is a super-fresh sushi set at about a quarter of the price you'd pay in a fancy establishment – think fat hunks of tuna belly, sweet shrimp and sea urchin for around £25.
Want something more extreme? How about chicken sashimi in Kyoto? I ate a platter of raw chicken hearts, liver and other bits at the recommendation of my hotel concierge while in the city – and lived.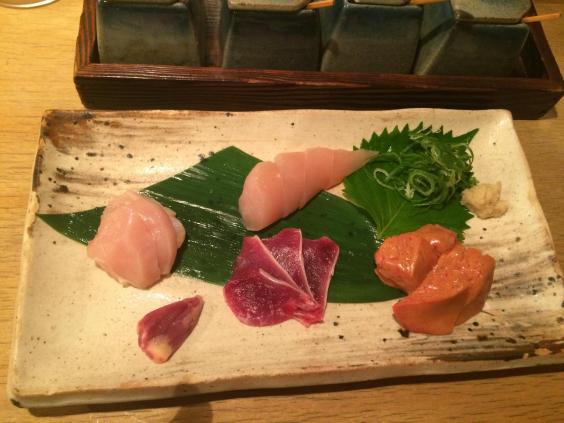 Proper Peking duck in Beijing
You know that delicious shredded duck with pancakes you love so much down your Chinese? Utter rubbish compared with the real thing in Beijing. In China's chaotic capital, this signature dish should be eaten in two parts, side-by-side: thick slices of salaciously juicy pink flesh, offset by near-caramelised skin attached to audaciously flavourful, melt-in-the-mouth fat.
At DaDong Roast Duck Restaurant, you can forget about those papery pancakes, too. Instead, you get gloriously crispy toasted sesame buns, into which you're encouraged to stuff the meat along with spring onions and plum sauce, while the skin-fat slices are for dipping in sugar. Heart-stoppingly decadent – and so good I'm salivating at the mere memory.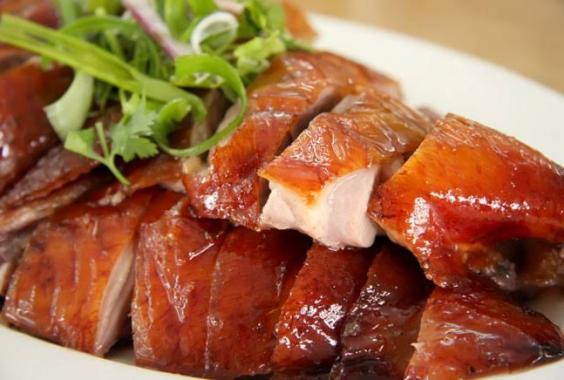 A real vindaloo in Goa
Those of a delicate disposition will be relieved to hear that a real vindaloo is not something lagered-up men eat to prove their might and then regret bitterly in the morning. This Goan dish is actually a vinegary concoction with pork and ginger that has little in common with its balls-to-the-wall British cousin. The name is derived from the Portuguese "vinha d'alhos" – literally "garlic wine marinade" – cooked up by the colonists of 16th-century, Portugal-ruled Goa. Indian cooks replaced the Europeans' red wine with palm vinegar and added some spices, explaining its zingy flavour. (Fact fans: this also answers why the dish does not feature potato, called "aloo" in Hindi.)
As well as the happy news that a real vindaloo won't sting later, you can find some of the best examples of the dish at dirt-cheap prices. Head to any of the seaside restaurants around Little Vagator beach in north Goa, where they serve up their addictively sour pork vindaloos – utterly unlike any other Indian dish – for just a couple of quid. If you're feeling particularly brave, wash it down with feni – the region's greasy homebrew hooch, available in cashew and coconut flavours.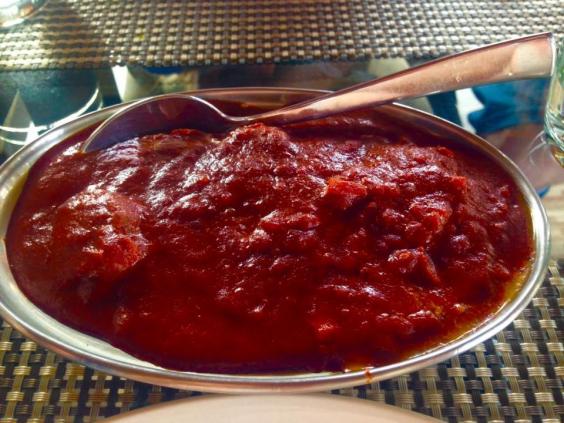 A classic poutine in Canada
Being Yorkshire born and bred, the concept of chips topped with cheese and gravy is not, to me, foreign. For many others, though, this classic Canadian concoction is a thing of great and mysterious exoticism. The most common misconception about poutine is that you can just grate cheddar over the top and be done with it. This is preposterous. The key to a good poutine is that it must be topped with cheese curds – squeaky little cubes of cooked cheese that has been cured to produce a distinctive tanginess.
There are many origin stories for Canada's national dish, though most agree it first sprung to life in Quebec in the Fifties, inspired by the Brits. (That our filthy drunk food could become the national dish of another country is, perhaps, a beautiful and profound case for globalisation.) A near-perfect example of poutine can be sampled at Chez Ashton, a chain particular to poutine's home region of Quebec that's got the thickness of the fries, the tanginess of the curds and the salty-spiciness of the brown gravy just right. You can even add sausage on top – but that would be disgusting, right?