Former spy Sergei Skripal's Salisbury house has been boarded up, the latest Sky News pictures show.
While it is difficult to see the property from the ground, aerial footage has revealed the extent of the investigations taking place at the property.
In addition to the boarding, what look like long, thin planks of wood have been laid across the front garden.
:: Skripal and daughter 'should be allowed to die'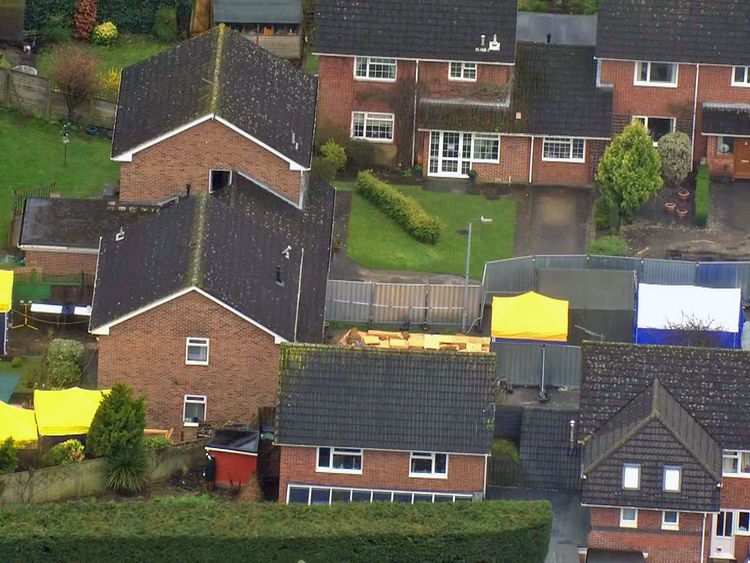 Various blue tents with yellow roofs are scattered across the property, with a large cordon in front of it.
The new images follow the news that the nerve agent novichok was found at the front of the house.
"We believe the Skripals first came into contact with the nerve agent from their front door," said the senior national co-ordinator for counter-terrorism policing, deputy assistant commissioner Dean Haydon.
He added: "We are therefore focusing much of our efforts in and around their address.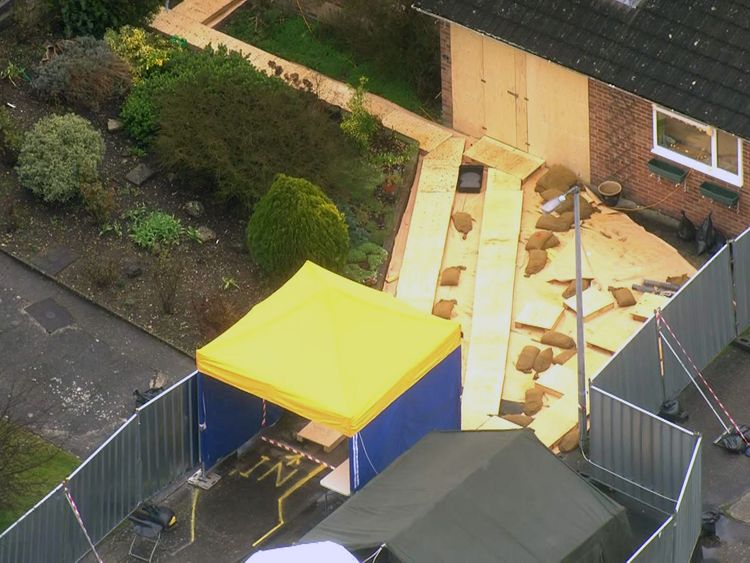 "Those living in the Skripals' neighbourhood can expect to see officers carrying out searches as part of this but I want to reassure them that the risk remains low."
A dozen policemen, who were not wearing protective overalls, searched an alley beside the victim's house on Wednesday for what is thought to be the first time.
:: 'Strong signal to Kremlin' as NATO and 27 countries expel Russian diplomats
Mr Skripal and his daughter Yulia were found collapsed on a bench on Sunday 4 March, and have been in hospital ever since.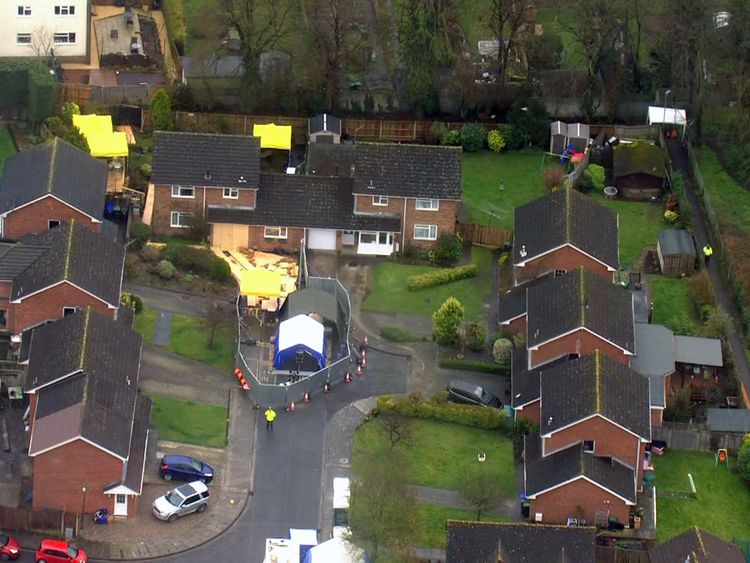 Russia has strongly rejected suggestions from the UK that it is to blame, saying that Britain must prove it did not poison the Skripals itself.
In a further comment on Thursday, Russia's foreign ministry claimed Britain was breaking international law by refusing to provide information about Mr Skripal's daughter.
About 250 counter-terrorism detectives are working on the investigation, which is expected to last for months.
Officers are examining more than 5,000 hours of CCTV footage, while 1,350 exhibits have been seized and 500 witnesses identified.
Source:news.sky.com