Despite being considered Italy's gastronomic heartland, the region of Emilia Romagna feels wonderfully off the radar. Few of the visitors who flock to nearby Tuscany and Veneto make it here, and outside of Bologna it's a relatively unexplored part of the country. But with a string of handsome historic cities, fabulous food, and a packed cultural calendar, it's well worth investigating.
The region stretches across the top of the Italian boot, extending from the Adriatic over to Liguria on the west coast. Its southern reaches are remote and sparsely populated, with verdant, castle-capped hills giving on to forested Apennine peaks. The north, in contrast, is snooker-table flat, its landscape dominated by the featureless farmlands of the Po river valley (Pianura Padana).
These fertile plains have been cultivated since Roman times and still today provide the raw materials for many of the region's trademark dishes and delicacies. These include Italian icons such as Parma ham (prosciutto) and parmesan (parmigiano reggiano), Modena's balsamic vinegar (aceto balsamico), and Bologna's mortadella, lasagne and classic meat ragu.
Of course, there's more to Emilia Romagna than its mouth-watering food, and the region sports a rich artistic and architectural heritage. Comprising early Christian mosaics, Romanesque churches, medieval castles and striking Renaissance palaces, this largely dates to the period when the region was a patchwork of independent city states ruled by powerful local dynasties. Most notably, the Farnese, who reigned in Parma and Piacenza, and the Este, who held court in Modena, Reggio Emilia and Ferrara.
These days, the region's great showpiece centre is Bologna. Affluent and exuberant, this attractive medieval city, with its stately red palazzi, spindly Renaissance towers, and 40km of porticoed arcades, is home to Europe's oldest university and a vibrant cultural scene.
Earlier this month, a major art exhibition, "Brueghel, Masterpieces of Flemish Art", opened for a six-month residency at Palazzo Albergati (0039 051 030 1015; palazzoalbergati .com; admission €13), highlighting works by five generations of Brueghels. And, in the pipeline, there's an exhibition to commemorate Pier Paolo Pasolini, the controversial writer-director who was born in Bologna and murdered near Rome 40 years ago, on 2 November 1975. "Officina Pier Paolo Pasolini" opens on 17 December and will run to 28 March 2016 at the city's modern art museum, MAMbo (00 39 051 649 6611; mambo-bologna.org; €6).
For culture of a more lyrical nature, Parma is the place to be right now. Every October, the city hosts an opera festival dedicated to Giuseppe Verdi, the 19th-century composer who was born in the nearby village of Roncole Verdi. Performances are staged at the Teatro Regio (00 39 0521 203 999; teatroregioparma.it), and, out of town, at the Teatro Giuseppe Verdi in Busseto.
Parma, along with several of the region's main cities, lies on Via Emilia, an ancient Roman road that bisects the region horizontally. This arrow-straight thoroughfare, now shadowed by the A1 autostrada, runs from Piacenza down to Rimini, the largest and best known of the hard-partying resorts at the southern end of the Riviera Romagnola, the region's 90km Adriatic coastline.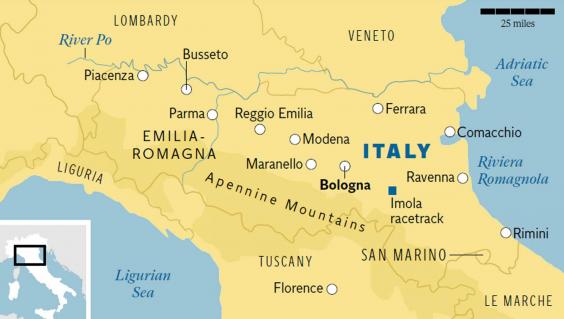 The Riviera, with its low-lying sandy beaches, is largely given over to bucket-and-spade summer tourism, but it's not without interest outside of the main holiday season. Up near Veneto, the Po river spills into the Adriatic, creating a haunting water world of lagoons, marshes, pine groves and wetlands. In the heart of the delta, the picturesque fishing village of Comacchio makes for a pleasant stop with its bustling fish restaurants – eel is the local speciality – canals, and distinctive 17th-century bridge.
Ciceroni Travel (01869 811167; ciceroni.co.uk) has a four-day group tour to Bologna, departing in November, from £1,195pp. Includes flights from Heathrow, b&b hotel accommodation, admission fees, and some meals.
Riviera Travel (01283 742 300; rivieratravel.co.uk) offers a five-day trip to Bologna, Parma and Ravenna; the price of £619pp includes flights, accommodation, transfers and guided tours. Departures from April to October.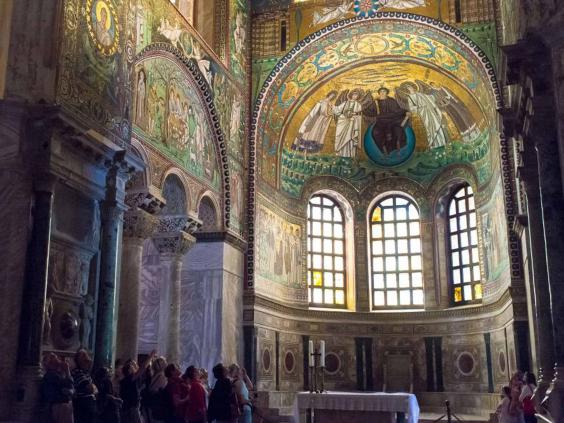 Heritage and history
Of all Emilia Romagna's artistic treasures, none shine as brilliantly as Ravenna's Byzantine mosaics. Dating from between the fourth and sixth centuries, these hark back to the city's golden age as capital of the Western Roman Empire and an important Byzantine outpost. The mosaics are spread over five sites in the city centre, all covered by a single ticket (€9.50; available from the first site you visit). For the best, head to the Basilica di San Vitale and the Basilica di Sant'Apollinare Nuovo.
Dante, Italy's Sommo Poeta (Supreme Poet), died in Ravenna in 1321, some 20 years after he had been exiled from his home town of Florence. Tomba di Dante (Dante's Tomb; free) sits in a small 18th-century building adjacent to the Basilica di San Francesco.
A short hop from Ravenna, the walled city of Ferrara was a major power in Renaissance times. It was ruled by the formidable Este family whose fortified residence, the Castello Estense (00 39 0532 299 233; castelloestense.it; €8) survives as the city's signature building. Nearby, the pink-and-white Duomo is another eye-catching building, with its Romanesque-Gothic façade.
Emilia Romagna has some wonderful churches, but the pick of the bunch is Modena's magnificent 12th-century Duomo (00 39 059 216 078; duomodimodena.it; free). A stunning example of Romanesque architecture, it features a huge rose window and forms an impressive double act with the nearby 87m-high Torre Ghirlandina (entry €2).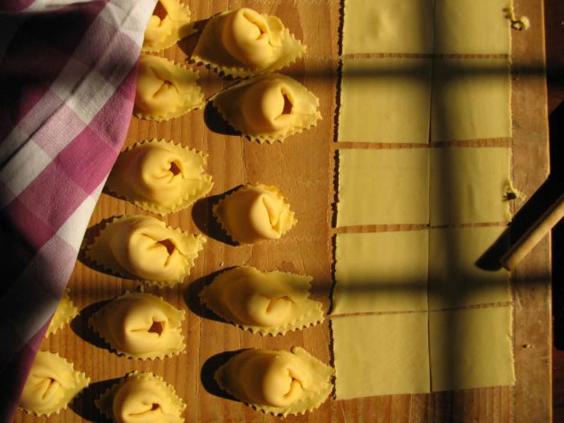 Regional menu
Forget any idea of health-conscious nibbling; eating in Emilia Romagna is all about the unadulterated enjoyment of fine cheeses, cured meats, golden egg pastas (above) and rich meat sauces. Alongside the region's headline specialities, look out for lesser-known treats such as culatello (a type of Parma ham), tortellini pasta (often served in broth), zampone (stuffed pig's trotters) and cotechino (large pork sausages).
For a drop to drink, the local wine is lambrusco. No longer the dodgy vintage of yesteryear, this light, slightly sparkling red is enjoying something of a revival and provides a fine accompaniment to the sumptuous regional food.
You'll have no trouble at all finding decent places to eat in the region, but for a taste of forward-looking contemporary cuisine, try for a table at Osteria Francescana (00 39 059 223 912;osteriafrancescana.it) in Modena. Currently ranked No 2 on The World's 50 Best Restaurants list, it serves a nine-course tasting menu for €170 (£125).
To learn more about local culinary traditions and techniques, Food Valley Travel (00 39 0521 798 515; foodvalleytravel.com) offers a range of regional tours and excursions from its base in Parma. A popular option is the one-day "4 Products" tour (€70 or €125 with transport) which includes tastings and visits to local cheese, ham and balsamic vinegar producers.
Motor valley
For petrolheads Emilia Romagna is a place of pilgrimage. Such great names as Ferrari, Maserati, Lamborghini and Ducati all call the region home, and it was at the Imola racetrack that Formula One driver Ayrton Senna was killed in an accident in 1994.
Ferrari junkies make a beeline for Maranello, the small town 20km south of Modena where the company has been based since the 1940s. The star attraction is the Museo Ferrari (00 39 0536 949713; museomaranello.ferrari.com) and its impressive collection of Grand Prix cars and roadsters. A combined ticket (€26) also gives admission to the Museo Enzo Ferrari (00 39 059 4397979;museomodena.ferrari.com) in Modena. Here, you can visit the house where Enzo Ferrari was born in 1898.
Further auto displays await in Sant'Agata Bolognese at the Lamborghini Museum (00 39 051 681 7611;lamborghini.com/en/museum). Entry is €13 (£9.50), and you can book factory tours for €40 (£29).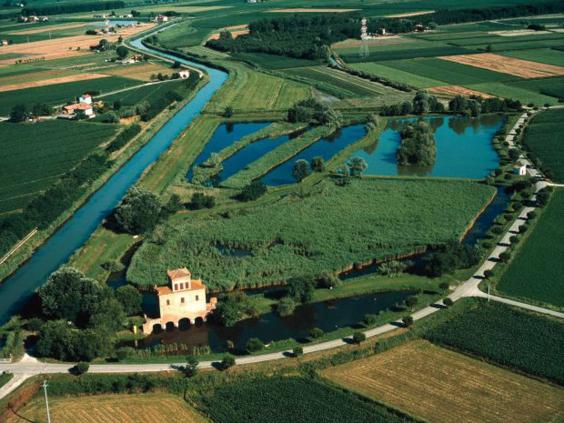 Back to nature
For a taste of life in the slow lane, head south to the Parco Nazionale dell'Appennino Tosco-Emiliano (parcoappennino.it). This national park encompasses 228sq km of mountainous terrain on the regional border with Tuscany. It is an outdoor wilderness that offers great walking with everything from gentle nature trails to hardcore treks.
A particularly popular walking spot is the area around the Pietra di Basmantova, a vast limestone stack near Castelnovo ne' Monti.
At the other end of the region, the Parco del Delta del Po (parcodeltapo.it) is prime birdwatching territory, with more than 300 species known to nest in the area or migrate through it.
The most convenient base for the Parco Nazionale dell'Appennino Tosco-Emiliano is Castelnovo ne' Monti. For the Parco del Delta del Po, stay in Ferrara.
Where to stay
In Bologna, Art Hotel Orologio (00 39 051 745 7411;bolognarthotels.it) has smart, classic rooms in a prime central location just off Piazza Maggiore. Doubles from €125 (£92), b&b. For excellent-value digs in Parma, Pio (00 39 347 776 9065;piorooms.it) is a smart b&b with simple, quietly stylish rooms in the heart of the historical centre. Doubles from €80 (£59) with breakfast. In Ferrara, Hotel Annunziata (00 39 053 220 1111;annunziata.it) makes a good base, offering sharply designed rooms and a lavish breakfast. Doubles from €90 (£66), b&b.
Getting there 
Bologna is the region's main gateway. Ryanair (0871 246 0000;ryanair.com) flies there from Edinburgh, Stansted and Manchester; British Airways (0844 493 0787; britishairways.com) from Heathrow; and easyJet (0330 365 5000; easyjet.com) from Gatwick.
Getting around
Emilia Romagna's public transport is good, with regular trains from Bologna to towns across the region. That said, for out-of-the-way places, a car will come in useful. Several international and local rental companies are based at Bologna airport. Most of the region's towns are small enough to explore on foot but you might like to join the locals and saddle up on a bike. Tourist offices can advise on local rental outfits.
Source: https://www.independent.co.uk