Labour is promising to put 10,000 more police on the streets of England and Wales if it wins the election.
The party said it would fund additional "bobbies on the beat" by reversing Tory plans for cuts to capital gains tax.
Labour said cutting the higher rate from 28% to 20% and the basic rate from 18% to 10% would cost public services more than £2.7bn over five years.
The Conservatives say the proposal is "nonsensical" as Labour has committed those savings to fund other pledges.
Labour said it would provide funding for 10,000 additional community police officers across the 43 forces in England and Wales.
Labour leader Jeremy Corbyn will say a 20,000 decrease in officer numbers under the Conservatives since 2010 is "unacceptable".
'Local knowledge'
Speaking in Southampton on Tuesday, he will say: "Cutting police numbers especially when there is more crime to deal with is unacceptable. The safety of our communities is vital to us all.
"Community policing means uniformed officers being visible, local and accessible. They engage with the public, have a detailed local knowledge and build a network of relationships."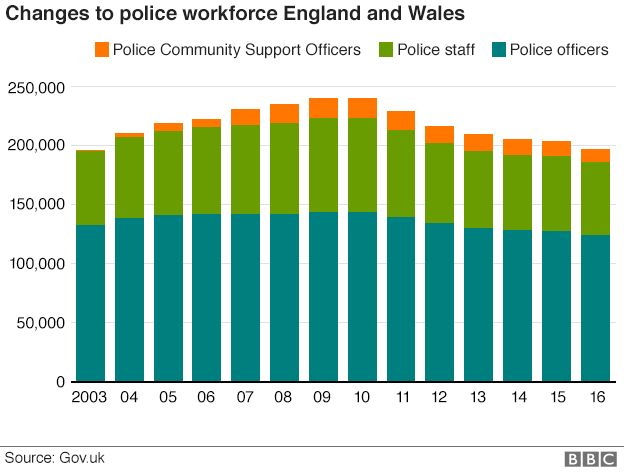 Shadow home secretary Diane Abbott said it would enable an extra police officer to be put on the beat in every electoral ward in the country.
"What local police forces are crying out for is more manpower," she told the BBC. "In the Metropolitan Police, although they have not cut police numbers, they have cut civilian staff and in practice that means there are fewer policemen available.
"I think police forces are going to be very grateful for this extra manpower and it is going to be community policing."
But the Conservatives said Labour had already pledged to spend the money on schools, welfare and the arts.
Policing minister Brandon Lewis said: "This is just another nonsensical Jeremy Corbyn idea which he can't pay for because his sums don't add up and he's already spent the money for it three other ways.
"Jeremy Corbyn promises all sorts of things, but we all know he can't deliver. He and his supporters want to take away the powers the police need to keep us safe."
'Every vote'
The BBC's assistant political editor Norman Smith said the policy was striking because law and order and policing were not traditionally seen as "Labour issues" and were something of a departure from the things that Mr Corbyn had campaigned on so far.
But he said there were bound to be questions about money and how the funding injection would be paid for.
Capital gains tax was slashed in the 2016 budget. The higher rate was cut from 28% to 20%, while the basic rate was reduced from 18% rate to 10%.
However, the Conservatives say Labour's sums do not add up, claiming their opponents committed in 2015 to spending £800m on 10,000 extra officers over a three-year period and were now saying the same money would stretch over five years.
On a campaign visit to the south-west of England later, Theresa May will claim that "every vote" for the Conservatives will strengthen her hand once Brexit negotiations get under way next month.
It comes amid media reports of big differences between the UK and EU officials following a Downing Street meeting last week.
The reports have been dismissed by No 10 as Brussels gossip but the prime minister will point to the media coverage as proof that the negotiations will be tough and that the EU is "united in their determination to do a deal that works for them".
"We need that same unity of purpose here at home to ensure we can get a deal that works in Britain's national interest too," she will say.
But the Lib Dems, who are seeking to win back a number of marginal seats from the Tories in the south-west, are warning that a "hard Brexit" will harm the very people that the Conservatives are claiming to represent.
Read more at BBC.co.uk