More money should be spent on the SAS and drones to combat the threat of Islamic State (IS) extremists, David Cameron has told defence chiefs.
The prime minister has asked them to look at increasing funding for special forces as part of the strategic defence and security review.
They have also been urged to consider new spy aircraft, including drones.
The priorities were set out after last week's Budget pledged to spend 2% of national wealth on defence until 2020.
Mr Cameron wants the defence review, due to conclude by the end of the year, to prioritise resources that will help to protect the UK from evolving threats – not only extremism but also a more aggressive Russia and the risks posed by cyber attacks.
The defence chiefs were briefed in a meeting following the unexpected Budget commitment to meet Nato's target of spending 2% of national income on defence every year up to 2020.
What are drones?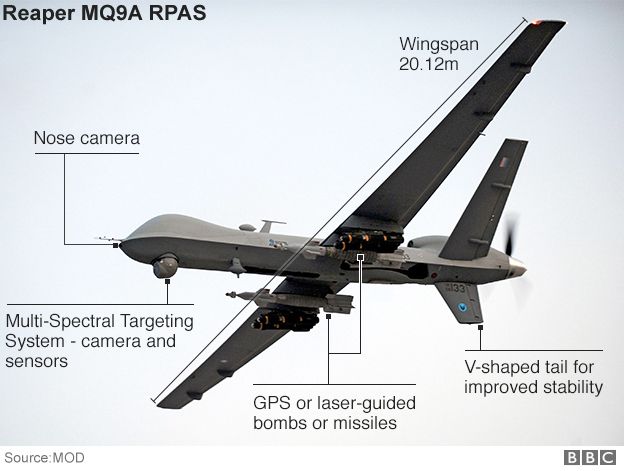 Drones are unmanned aircraft, often used in military situations where manned flight is considered too difficult or risky
They range from small intelligence-gathering craft, with radar and cameras, to large armed drones which carry missiles and laser-guided bombs
Trained crew can operate them from bases thousands of miles away
They can stay aloft for up to 17 hours at a time
The UK's drone base is in Waddington, Lincolnshire

'Vital assets'
Mr Cameron said: "As prime minister, I will always put the national security of our country first.
"That's why it is right that we spend 2% of our GDP on defence because this investment helps to keep us safe. It has only been possible because of the difficult decisions we have made to ensure a strong and secure economy.
"Now we know how much we will spend, what matters next is how we spend it. I have tasked the defence and security chiefs to look specifically at how we do more to counter the threat posed by Islamist extremism.
"This could include more spy planes, drones and special forces. In the last five years, I have seen just how vital these assets are in keeping us safe."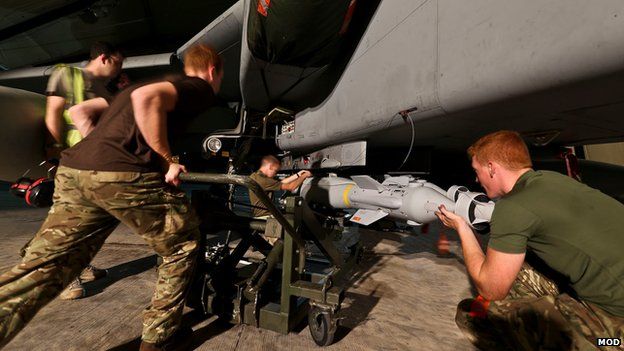 The review will also examine how the Royal Navy can work with partners such as the US to use the new aircraft carrier HMS Queen Elizabeth to deploy drones and special forces against terror groups.
The vessel is due to enter service in 2020 and Mr Cameron will welcome some of the ship's company to Downing Street on Monday.
The prime minister will also visit RAF Waddington, the UK's drone base in Lincolnshire, from where operators fly unmanned aircraft over Iraq and Syria.
The RAF's jets and drones are part of the coalition attacking IS in Iraq, but in Syria the drones are limited to a surveillance role – although ministers have begun setting out the case to extend the bombing campaign to the terror group's strongholds in that country.
'Parliamentary authority'
Meanwhile, Defence Secretary Michael Fallon told BBC Radio 4's Today programme that the government's recent announcement that intelligence spending is to be included in the defence budget was not a tactic to ensure the UK met Nato's target that every country should ringfence 2% of its GDP for defence.
He said: "The Nato table of how much each country spends is drawn up by Nato guidelines, so it is up to Nato to rule what is included and what is not included."
"There is a new fund being set up on intelligence and defence which we will bid into. Where there is defence work associated with that, where we spend money, then that will fall to our budget."
But he said: "That is not going to affect the 2%. We meet the 2% anyway and we meet it easily."
On the possibility of extending bombing into Syria, Mr Fallon said it was a decision which needed "parliamentary authority".
He said: "It's for the new Parliament to chew this over and decide whether its logical for the Americans and our Gulf allies in the coalition to be attacking them (IS) in Syria while we're doing a lot of the attacking in Iraq.
"That's a decision for the new Parliament in due course. We're not planning an early vote on it."
Mr Cameron has invited acting Labour leader Harriet Harman to a high-level security meeting on Tuesday about the threat posed by IS.
The government is seeking support from Labour MPs to extend the RAF's air campaign to strikes against IS targets in Syria, as well as Iraq.
Source: https://www.bbc.com