Britain's biggest pub group says some outlets are running out of certain beer brands as CO2 gas shortages continue to hit the food and drink sectors.
Ei Group, which has 4,500 properties, said it was working with publicans to source alternative beers where needed.
Some Wetherspoon pubs are temporarily without draught John Smith's and Strongbow cider.
Many pub landlords are unable to pick and choose which brands they can sell because of restrictions.
It comes ahead of England's World Cup group match with Belgium on Thursday, and predictions that the current UK heatwave could continue into the weekend.
Factory closures
Carbon dioxide has multiple uses in the food and drink industries, from putting the gas in beer and cider, stunning farm animals before slaughter, and as a preservative to increase the shelf-life of packaged products.
But the temporary closure of some UK and mainland European factories involved in producing the gas has created a shortage.
Ei Group, the former Enterprise Inns, would not disclose which brands are out of stock or running low. However, it is thought to include some Heineken products.
An Ei spokesman said: "We are aware of the issue relating to a shortage in the supply of CO2 and are working with our suppliers to minimise any disruption to our customers and our publicans."
A Wetherspoon spokesman said some of its pubs would be without John Smith's and Strongbow cider, which are both are made by Heineken.
He added: "Wetherspoon has the advantage that it sources its wide range of drinks from a number of suppliers, so has not been too badly affected.
"Heineken has been the company with the biggest issues and they have told us that all is getting back to normal."
'Full capacity'
Heineken said last week that the CO2 scarcity had caused production problems.
A spokeswoman said on Wednesday: "We'd like to reassure beer drinkers that all our breweries are operating at full capacity, and we're working 24/7 to get beers to our customers as quickly as possible."
Meanwhile, meat processors say changes to "sell by" dates may be needed because of delivery problems.
Many producers are having to use lower levels of CO2 in their packaged meat and need to shorten their sell by deadline.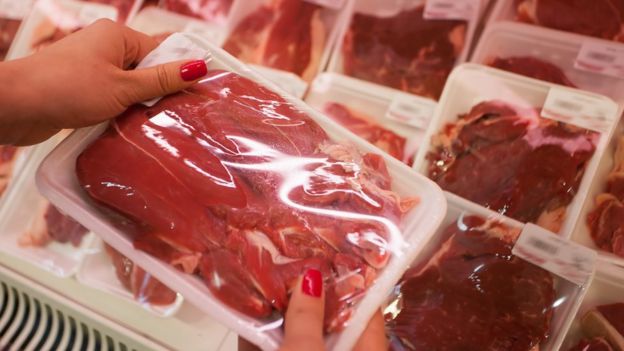 Nick Allen, spokesman for the British Meat Processors' Association, said that if the practice became widespread it could cause big logistical headaches.
"If you shorten the sell-by date everyone has to move stuff more quickly. The supply chain is very complicated," he said.
Science event cancelled
On Tuesday, Scotland's biggest abattoir shut until further notice because it ran out of C02 used to stun pigs before they are processed.
The facility, at Brechin, which processed 6,000 animals a week, is sending pigs to England for slaughter. But these abattoirs are also running low on carbon dioxide.
Also on Tuesday, the wholesale retailer Booker, which sells to bars and restaurants, started rationing beer, cider and soft drinks sales to customers.
Coca-Cola temporarily paused some production lines, and retailers Morrisons and Ocado has shortages of some frozen product lines. CO2 makes dry ice, used to keep products cool in transit.
The carbon dioxide shortage has also had a knock-on outside the food and drink sectors.
The Glasgow Science Centre (GSC) visitor attraction has cancelled a summer programme due to the shortage because it was unable to get the dry ice it needed for its new show.
Resident scientist Sam Langford said: "Here at GSC we use carbon dioxide in its solid form in our science shows to demonstrate a number of scientific phenomena, including sublimation, ocean acidification and the three states of matter.
"Our plans for our brand new summer show have been put on hold," he said. "Whilst this is a small problem for GSC, dry ice and other forms of CO2 being in short supply is a major problem for a number of industries for whom it is an essential product."
Source: www.bbc.com