Up to 2,000 Eurostar passengers have had their journeys disrupted after migrants in Calais got on to tracks near the Channel Tunnel in France.
Police were called on Tuesday night to SNCF tracks 2km from the tunnel, amid reports of migrants climbing on trains.
Two trains had to turn back because rail tracks were blocked for more than four hours, while two more Eurostar trains were cancelled on Wednesday.
Some stranded passengers were forced to spend the night in the French port.
'Rescue train'
Eurotunnel, which manages and operates the Channel Tunnel, said the tracks – used by Eurostar and national network freight trains – were blocked between 21:45 and 02:23 local time.
The issue resulted in long delays, and on Wednesday the 07:55 from London to Paris and the 11:13 from Paris to London were cancelled.
Another London-bound Eurostar train had a technical fault and could not get back to Paris, leaving passengers stranded overnight.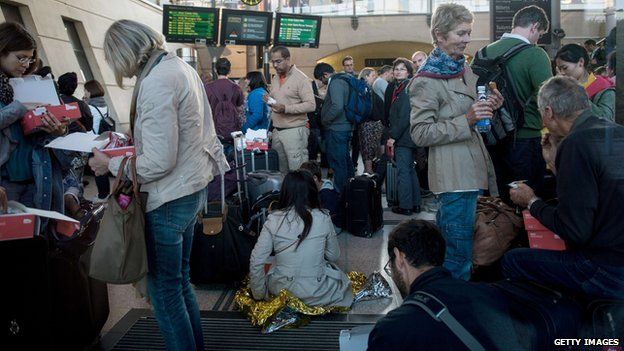 Eurostar said a "rescue train" to bring passengers back to London had just left Calais and was expected to arrive at London's St Pancras International shortly.
Other trains are expected to run normally on Wednesday, said Eurostar.
'No lights'
Some travellers said they had seen migrants on top of other trains, and many complained of their frustrations at the delays and re-routing overnight.
Anna Adkins, who was on a Eurostar train to London when it was stopped in Calais, told BBC News how passengers were asked to listen for people climbing on the train's roof.
Police then checked the train and a police helicopter flew overhead, she added.
"This all lasted about five hours. And in that time we lost power, so we had no lights and we had no air conditioning and we were locked in so we couldn't open any doors," said Ms Adkins.
"So for five hours that got quite hot and quite humid and quite horrible."
Passenger Danny Bell, on a train from Paris to London, tweeted: "We've been abandoned on a platform somewhere in the cold with NO INFORMATION."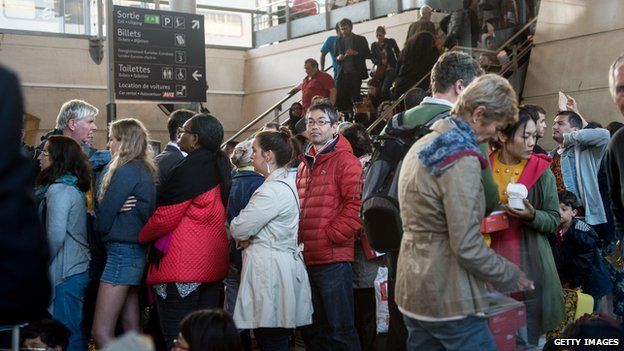 Fellow traveller Simon Gentry added: "On a Eurostar apparently 'surrounded by migrants'. Been asked to 'listen out for people walking on the roof' while we wait for the police."
Eurostar, which said the delays had affected up to 2,000 passengers, referred only to the people on the tracks as trespassers, but a number of commuters said they saw or were told of migrants in the area.
'Robust' service
Eurotunnel said the tracks had been "blocked by groups of migrants that French police were trying to deal with".
Spokesman John Keefe said: "Due to increased security at the Channel Tunnel they [migrants] are now trying to get on the tracks which Eurostar and freight trains use."
The current crisis in Calais is part of a wider migrant surge into Europe from north Africa and the Middle East.
Last month, Home Secretary Theresa May warned the ongoing migrant crisis could shift from Calais to other ports, saying she was "well aware of the possibility of displacement".
Source: https://www.bbc.com