s I left Bryn Williams at Somerset House, past the stiff-faced security man on reception and over the deserted courtyard, I decided: I am no longer eating dinner in wings of historical buildings. I'm through. And, yes, this might be the most princessy utterance my lentil-loving paymasters have ever published, but bear with me.
Years ago, during a heinous dinner at The Keeper's House in the Royal Academy (a Peyton restaurant lodging within a Palladian mansion dating from circa 1664), that I walked out of mid-entree, I began hatching a theory that old, protected buildings and pricey food should never meet.
They are a clash of cultures. The hospitality world is the refuge of nocturnal, lamb-fat-stained crackpots who want to "push envelopes", cater to the drunk until at least 11pm, and nurture atmospheres of warmth and largesse. Meanwhile, all museums, stately homes and National Trust properties are run by dusty committees of vehemently opinionated, single-interest protectionists. These people do not eat. They live mainly on dust inhaled from voluminous rulebooks.
Perhaps this is why there are no signs for Bryn Williams during the half-mile walk from The Strand to your dinner table in the south wing. It's a similar set-up with Spring, Skye Gyngell's place, also at Somerset House, which again is very tastefully done, but has all the cheer of a nuclear winter. Worst culprit of all, I'll wager, was 42 Raw in the Royal Academy (now closed), an expensive, wellness-focused dining experience in a room four times higher than it was wide and an ambience chillier than the £17 raw "Thai noodles" (magimixed carrot tossed in sesame oil). You know what would have been better in all these places? Somewhere selling fruit scones with a tiny ramekin of jam and the option of buying a nice commemorative postcard. If your stately building needs extra revenue, just open a bloody tearoom. If you already have one, open a spare. People need tea.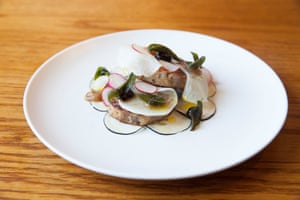 Nevertheless, I booked to eat at Bryn Williams' new place because Odette's in Primrose Hill, where he is chef patron, has a strong reputation, and also because the menu is veg-centric, making plant-based things "the star of the show", which is a way modern chefs dally with vegetarian and vegan cooking without going the whole, ahem, hog. Williams' food is all about "sustainability, seasonality and provenance", and the menu uses odd syntax such as "field mushroom, confit shallots, rib-eye steak, triple-cooked chips" as if the words are doing a fan-dance over the dead cow clearly dominating that plate. Or: "grilled hispi cabbage, apple, pork chop, cider dressing" – no font or clever comma will make these sentences sound anything less than arse-about-face. Still, I admire the veg-championing spirit, even though Bruno Loubet tried to do this type of thing with Grain Store, and that place closed and now he lives in Australia.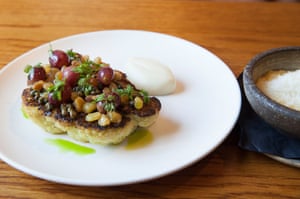 The room, once you have completed your mission to locate it, is sage-coloured and leather-banquette-strewn, and feels a bit like sitting for a Holbein painting. Mock-vintage vignettes of ye olde fruit festoon the walls as the odd nautical nod to the fact the wing was occupied by the navy from 1789-1873. Many of the clientele possibly remember this period.
The food ranges from pleasant to peculiar. A snacky pre-dinner warm loaf of soda bread transpires to be the highlight. A starter of discs of heritage beetroot, a piece of cured organic salmon and a blob of smoked rosemary mayonnaise feels simpler than a Celebrity MasterChef plate. Another starter, a scattering of pickled radishes and apple over a piece of damp pork belly with a large wobbly piece of fat attached, is simply unappetising. I manage almost none of the tough roast cauliflower, half an unspliced head, topped with golden raisins, capers and salted grapes, because, even for a vegan-food cheerleader – I seek this stuff out daily, damn it – the dish is a mess. My guest has red mullet, which was allegedly grilled, with a peculiar olive tapenade in tempura batter and roast broccoli.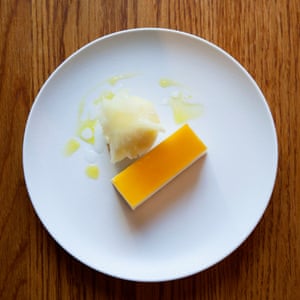 The puddings are clearly pre-made, but the passion fruit and banana baked vanilla cheesecake is definitely passable. We left as soon as possible, largely to escape the piped jazz muzak or any more cocktails such as the Blood and Mescal, served in a cheap highball glass, without garnish. As we left, security eyed us as if we were a nuisance, symbols of the downside of building revenue, treating the place like a restaurant when it is, in fact, living history. In truth, I can't say I disagree.
Bryn Williams at Somerset House, South Wing, Somerset House, The Strand, London WC2, 020-7845 4646. Open Mon-Sat 10am–4pm; 6pm–10pm; Sun 10am-4pm. About £45 a head, plus drinks and service.
Source:https://www.theguardian.com