Wage growth weakened again in January, making a near term interest rate hike from the Bank of England less likely.
Average wages excluding bonuses were up just 2.3 per cent year on year in the month, down from a rate of 2.6 per cent in December, according to the latest labour market report from the Office for National Statistics.
The three month on three month annual rate of growth for total average pay moderated to 2.2 per cent, also down from 2.6 per cent previously.
Pay growth slowdown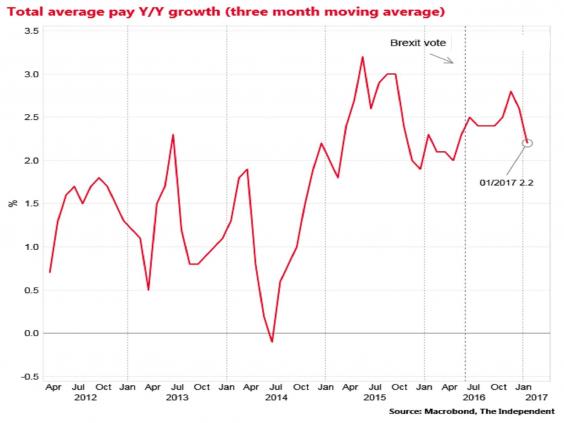 The rate of consumer price inflation was 1.8 per cent in January and is widely expected to rise above the Bank of England's official 2 per cent target in the coming months, spelling a period of negative real wage growth.
Sterling, which was trading at $1,2228 before the data release slipped to $1.2198, down around 0.25 per cent.
However, the ONS also reported that the overall unemployment rate dipped again to 4.7 per cent, down from 4.8 per cent in December.
In February the Bank of England revised down its estimate of the equilibrium rate of joblessness to 4.5 per cent and said it would be watching the wage data especially closely for signs that the judgement was accurate.
A lower equilibrium jobless rate is believed to alleviate pay inflation.
The number of unemployed fell 31,000 in the three months to January to 1.58 million, while the numbers in employment rose 92,000 to 31.85 million.
Read more at independent.co.uk