At the end of his press conference on Thursday morning, as he was getting up out of his chair to leave, Arsene Wenger made the unusual admission. "I think I have talked enough about myself," he said, with the bashful look of someone who had been too honest and given too much away.
The Arsenal manager had been talking about his future, of course, and how he will make the biggest decision of his life over the next few months. Does he sign a new deal, taking up to the brink of his 70th birthday, or does he walk away?
Wenger left no doubt that he wants to stay, although he knows that may not be possible once the season is finished. He promised to be "objective and lucid" enough to take the right decision, whatever it is. Those are the words of a man weighing his heart against head.
But what Wenger made clearer than ever before was his personal need to keep managing. It is about his own quest for self-improvement through work, his own willingness to "sacrifice his life" to become a better human being. It is Wenger's ascetic impulse, even more than emotional attachment, that is keeping him at Arsenal.
Back in 2015, two years after Sir Alex Ferguson retired, Wenger discussed how his old rival was comfortable out of management, more comfortable than he could ever be. "He has horses, I have no horses," Wenger said. Ferguson has a hinterland to fill his life after retirement, he meant, not just racing but books and wine too. But for Wenger, as curious and cultured as he is, there is nothing to match football. He has given up so much for his work and he does not want to trade back.
Wenger loves football and he loves Arsenal but this is about more than that. It is about his conception of the good life and how his current job, being a manager, allows him to fulfil himself as a human being. Wenger's ambitions are as personal as they are professional. He wants to "get to the next level" in a more meaningful sense than simply winning the league. He wants to grow, and if he does not sign his contract extension, he will wake up in June without a pathway. This is what he does not want.
"I believe [management] allowed me to get to the next level as a human being, to develop my strengths in what makes a human being great," Wenger said. "To get the best out of people, that is absolutely fantastic. Of course you have disappointments, with people, with results. But it is as well a fantastic opportunity in life to go for what is really great in human beings, to get yourself to the next level always. To improve, to invent yourself, to push your limits further up, and not to have an average life."
It is a remarkable thing for a 67-year-old to say. He has been 20 years in this job and 33 years in this profession. Some his age would worry about keeping up with the times but Wenger talks about re-invention and the next level as if he is at the cutting edge. It was the most persuasive case he has made yet for why he might sign and stay. "It is very demanding, but as well very interesting, if you really face the challenge," he said. "By accepting as well and facing the reality, in an objective way, of what you have to do to get better."
This is the drive for self-improvement that has always driven Wenger. It drove him to the University of Strasbourg in his early 20s to do a degree, an unusual choice for young footballer. It drove him to Japan to coach Nagoya Grampus Eight after leaving Monaco in 1994. And it still drives him in 2017 to try to build a new modern competitive Arsenal side, as far away as such a thing might look now.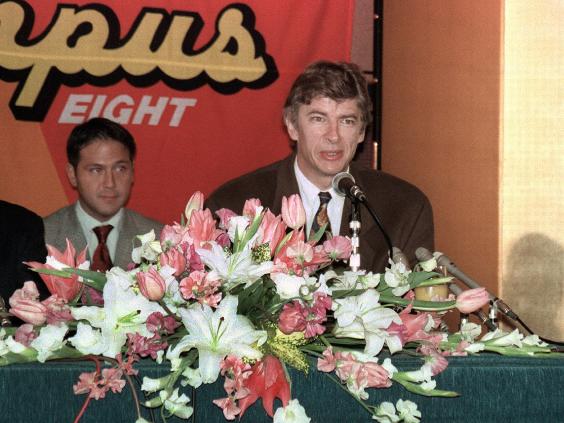 Wenger still needs to be ambitious. It is why he has said that if he does not stay on at Arsenal, which is possible, he wants to keep on managing elsewhere. He does not want to be a director of football, not yet, and he certainly does not want to retire. Yes, there is a price to pay, but it is better than not paying it.
"It's a sacrifice of your life," Wenger said. "You have nothing else happening in your life. Basically you get 90% aggravation and 10% top satisfaction, and you have to give everything in your life for that. You have to be ready for it. That's what I always say to all the young people who want to go into this job. 'Are you ready to sacrifice your life?' It is like [being] a priest."
Coaching is Wenger's calling and he has been, in his own words, a "football priest" for half of his life now. Some managers find that devotional life exhausting, but Wenger draws his power from it. Luis Enrique is resigning as Barcelona manager, five years after Pep Guardiola left to take a sabbatical. But Wenger wants to stay on unless it is politically impossible for him to do so.
Wenger said that he was still here because he was a "specialist in masochism". But this is about more than just enjoyment. It is about what he understands a well-lived life to be. He wants to "go for what is really great in human beings", for as long as he possibly can.
Read more at independent.co.uk