If history repeats itself once as tragedy and then as farce, how do you describe Arsenal's latest humiliation at the feet of Bayern Munich? A comedy? A cliche? A joke that's no longer funny?
They were beaten 5-1 in the Allianz Arena for the second successive trip here, but elements of this were worse than that thrashing of November of 2015. For one, there's the fact Carlo Ancelotti's Bayern are noticeably not as good as Pep Guardiola's, and yet they could seemingly switch off for a good stretch of the game, but still give Arsenal such a good beating.
It was as if they just knew, no matter what was going to happen, that they would get the same result they always do against this comically fragile side: easily cruising past them.
It is damning, really. These two clubs have similar resources, and are both notional "super clubs", but Bayern so often prove themselves superior. There can't be two such sides that have met so often in such a short space of time to see no deviation in terms of what happens. They have been drawn together four times in five years, and Bayern are now certain to finish on top four times.
On this lamentable showing, it is increasingly difficult to blame Alexis Sanchez for wanting out. He was the only Arsenal player to come out of the night with a bit of credit, and did look to actually try and affect the game in a positive way. Everything else for Wenger was oh so negative.
Bayern had started looking like the champions elect they profess to me. There was almost a casualness to the way they were toying with Arsenal, moving their defensive shape around at will with the way they moved the ball around.
Wenger's players initially seemed petrified in the face of that kind of finesse, and Bayern were too easily finding space in behind Francis Coquelin and Granit Xhaka. At that point, it all seemed so predictable, as appeared to be proved when Arjen Robben did the most predictable thing possible. He cut inside onto his left foot and scored.
Robben has done that so many times, and perfected it to such an extent, that you could forgive most teams for conceding it. It so often feels a case of 'you know exactly what's coming, but can't do anything about it'. Arsenal should surely have at least tried to do something here. Instead, Robben so easily skipped past Coquelin.
This was a further problem. Bayern were still creating so many chances, with Robert Lewandowski having three alone in the first half, despite Arsenal sitting back so deep. That space shouldn't have been allowed given how far back they were falling, rendering the whole exercise useless.
Sanchez certainly felt so. Right through that first 25 minutes, he was wildly gesticulating for Arsenal to play much higher up the pitch. His teammates weren't doing that, though, so he decided to do it himself.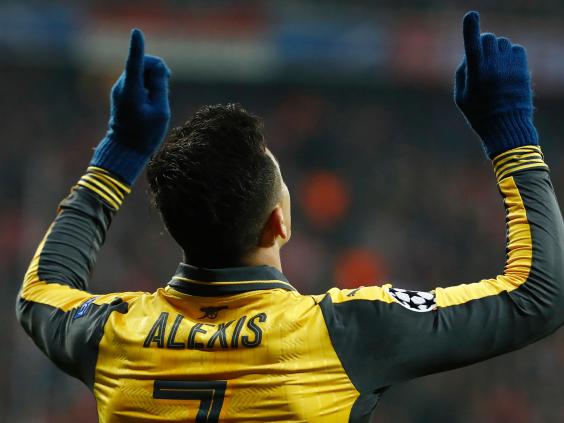 On 25 minutes, he took the ball just inside the Bayern half and decided to just run at them. It brought a desperate attempt at a tackle from an exposed Mats Hummels – and also brought Arsenal back into the game. Something definitely changed with that moment. Bayern suddenly went from slick to slack, Arsenal from timid to feeling this was on.
It certainly looked on when Lewnadowski somewhat unluckily caught Laurent Koscielny for what was still a penalty. Sanchez may have had his spot kick saved, but it felt like the kind of night where he wasn't going to be denied, as perfectly displayed by how he spun on the ball to brilliantly put the rebound past an irate Manuel Neuer.
The German was screaming at his defenders again when he had to get down for what probably should have been a goal from Granit Xhaka, the Swiss midfielder clearly looking to make amends after a talking-to from Wenger for repeatedly getting caught out of position.
He and Arsenal were suddenly looking in a much better position. It seemed, however, that this was to be a game of conspicuous momentum-turning moments. Shortly after half-time, Koscielny went off injured and Arsenal seemed to lose all their assurance along with their captain.
Bayern sensed blood, and went for it. It once again seemed rather predictable, especially when you keep allowing Lewandowski free headers in the box. Arsenal felt the full force of that with his fourth attempt of the game, as he powered a Robben cross past David Ospina on 53 minutes.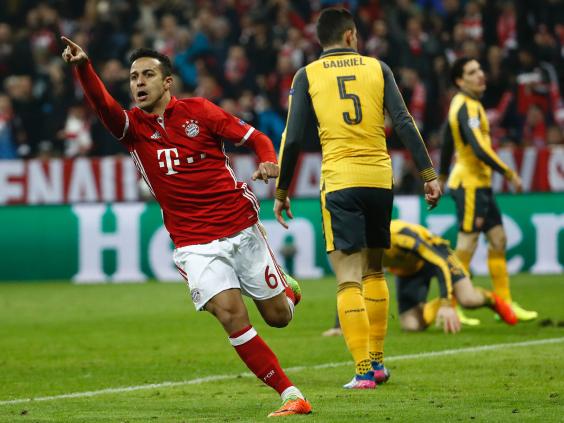 The Polish striker more than had his groove back, as he so gloriously showed just three minutes later with a divine first-touch flick to leave Thiago one-on-one with Ospina for a Bayern third.
They were back to toying with Arsenal, but also terrorising as they kept pounding the Chilean's goal. Lewandowski could have had another two in a frenzied spell, rising above the chaos to try and delicately lift the ball into the net after taking Ospina out wide, only to hit the bar.
Bayern had already raised the bar, though.
With Ospina having to make save after save, and the ball relentlessly coming back at him, it was only a matter of time until the dam burst again. The manner of that inevitable fourth from Thiago was somewhat unlucky for the goalkeeper given the deflection it took, but that's the kind of thing that happens when the ball is allowed pinball around your box.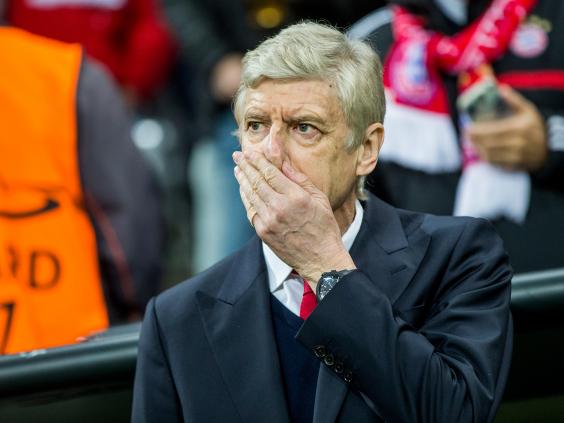 What was even worse than the score was the manner of things by that point. There were 117 minutes left of the tie, against a Bayern side so clearly vulnerable to pace on the counter, but there was no pace about Arsenal. They looked like a properly beaten team, as was made even clearer when substitute Thomas Muller powered in the fifth.
The game was up and, after temporary respite due to the weekend win over Hull City, it will raise more questions over whether Wenger's time should be up too. It is his dream to win the Champions League but that looks an utter fantasy. Arsenal have never been so far away.
You might well have said the same thing when they were drubbed by them last time. It has gone beyond farce.
Read more at independent.co.uk