Alchemilla, 1126 Argyle Street, Glasgow G3 8TD (0141 337 6060). Meal for two, including drinks and service, £30-£70
I have located the focaccia of the gods; the loaf of the Italian, high gluten, olive oil-enriched bread against which all others must now be judged. It's at Alchemilla in Glasgow. You will thank me for this information. Earlier this year I interviewed Francisco Migoya, co-author of the monumental six-volume work Modernist Bread. Migoya told me that focaccia had been one of the hardest loaves to get right. "It has a particular crumb structure," he told me. He should book a flight from Seattle to Scotland immediately. He won't be sorry.
The focaccia at Alchemilla is light but springy. The crumb has the pleasing elasticity of a hot toasted crumpet. The crust somehow manages to be both crisp and chewy. It is salty, but not in a way that has you reaching for the water. It is so satisfying, such a profound pleasure, that I had to use every last ounce of my insipid willpower to decline seconds. I know this is the smart thing to do, because I immediately think of this bread as the pilot fish for the monster of a meal heading my way. If the kitchen can be bothered to fret over something so simple as this bread, surely the rest of their cooking is worth leaving space for.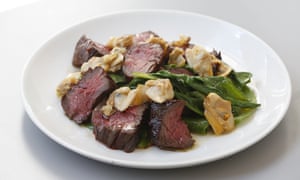 It is. Alchemilla, the scientific name for the plant Lady's Mantle, is on Argyle Street, in Finnieston where Glasgow's intriguing independent bistros gather in flocks. If you're in the city and don't know where to eat, go to this stretch of Argyle Street and window shop the menus. If you can't find something you want to eat, it's entirely your fault, not theirs. This one is very much Argyle Street cool. The double-height back wall of the open kitchen is a huge cliff of the city's hefty brick, whitewashed. There's a lot of laminate wood, and a fierce outbreak of orange along the bar. There are high ceilings, tattoos and a beard or two. Music plays and it could be a nightmare of clatter, but there's a clever space beneath the stairs if you are old, like me, and want to escape the noise.
What matters is the food, which is a thoughtful mix of great ideas and ingredients which are never overworked. The head chef is Rosie Healey, who trained with Yotam Ottolenghi. This may explain why it is vegetables which lead. It's also exceptionally good value with most of the plates priced at between £6 and £9 and only entering the low teens for large-scale meat or fish. Better still, at lunchtime there's a "two dishes for £10" deal. How about kohlrabi, fennel and herb paired with cauliflower and zhoug (a spiced Yemeni herb sauce), or chicory, anchovy and egg? They are dish titles which conspire to make you feel good about yourself just by reading them.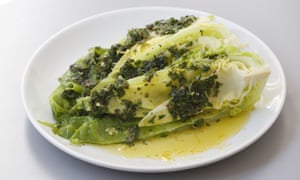 We begin with that roasted cauliflower dish, the florets first caramelised and singed, then dressed with the Yemeni herb sauce before being sprinkled with the salty hit of black olives and the sweet-soft of raisins. It's a multidimensional plate of food. Long, glossy quarters of hispi cabbage are cooked down in butter to soft and dressed with a salsa verde, punchy with salted anchovies. To banish the memory of the violated globe artichoke at the Farm Girl Café a few weeks back, I order it here and it is the time machine it should be. It takes me back to my old mum's grown-up dinner parties in the late 70s, when this was her go-to starter: the thistle properly trimmed top and bottom and simmered in a little acidulated water, a big generous dish of thickly emulsified vinaigrette for dipping, a little pile of salt on the side if you fancy a quick dredge. It is one of food's great, consuming pleasures. Pull off leaves, dip in dressing, drag over teeth. Ask for an extra napkin.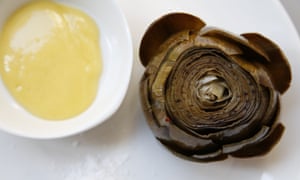 From the short list of fish dishes, a smoked haddock carpaccio is ribbons of the same, lightly cured in an acidic dressing, with knots and tangles of roasted and pickled red peppers. The only meat dish we try is onglet, that determined steak cut which makes up for a lack of tenderness with flavour. It is paired with pickled clams and I choose it because it sounds a little weird. But the moment I try it I'm reminded of a dish of onglet with pickled walnuts. The ripeness of the beef and the acidity of the clams dance happily. Across the top are thick leaves of spinach, wilting in the warmth. What's striking is the way the beef has been properly rested before reaching us. As a result, when we clear the plate, a glorious broth of juices and dressing has pooled. It takes a staggering effort not to pick up the plate and drain it straight into my mouth.
This food isn't intricate or precise. It is not made to be photographed. It is designed to be fabulous to eat. It is the product of extremely good taste. It is hugely satisfying. More to the point, even if the bread hadn't done the job, any one of those dishes would have convinced me I was in very safe hands.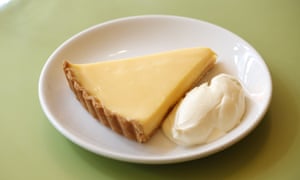 From the short dessert menu there is a lemon tart, with thin, darkly baked and crisp pastry, and a filling that is only just set. Some might want a little more acidity but the dollop of crème fraîche on the side helps. What's more, it comes in handy with the flourless chocolate and walnut cake, with a dark chocolate sauce. This is an adult take on chocolate cake. It's a cake that's sat in a wingback chair at debauched parties seeing things a cake should never have to see. One squidgy spoonful and it seems to suck the very light out of the room. My heart flutters. It is intense and serious, like it's read loads of Proust and understood too much of it. I try a spoonful of the lemon tart with the cake and all of a sudden both plates are empty.
We drink little save for a glass of a crisp Valencian cava full of fresh apple and apricot notes. I mention this because the wine list here is entirely "natural". I won't bang on about the subject because it now bores me as much as it does every one else, I'm sure. Save to say there are only good and bad wines and that this cava is one of the good ones. But then at Alchemilla everything is seriously good. It comes with the territory.
News bites
During my week-long trip to Scotland I was sustained by the Little Bakery in Queensferry just outside Edinburgh. Their huge, bulging scones with cream and jam are truly magnificent. The glass-fronted counter groans with cakes, clearly made by someone who has never heard the words 'enough already', and they do a very strong line in bacon bagels and soups. In short, it's the perfect hangover cure (littlebakery.co.uk).
Another bit of Edinburgh news. The brilliant Italian deli-cum-café Valvona and Crolla has introduced a new wine-pricing policy. During their weekend evening service you can buy any of the wines in the shop and drink them in the restaurant for just £4 corkage (valvonacrolla.co.uk).
More cake news. Patisserie Valerie continues to post startling results. Six-month revenues were up over 9% to £60.5m with pre-tax profits up 14.2% to £11.1m. As a result, they've been able to fund the opening of another 10 sites purely from cash flow. They now have 206 stores.
Source:https://www.theguardian.com