In what is now considered one of the classic entrances in American television comedy, the nose of Murray the Cop, making his debut as a character on The Odd Couple in 1975, appeared in a doorway for a reaction shot before the actor followed. That nose belonged to Al Molinaro, who has died aged 96.
The Odd Couple had been created by Garry Marshall, whose other hit show was the nostalgic comedy Happy Days. Marshall's sister, the actor and director Penny, had taken acting classes with Molinaro, and recommended him to her brother.
Molinaro had made one appearance on Happy Days in 1974, but after his Odd Couple character proved so popular, he was added to the Happy Days cast in the fourth series, in 1976, to replace Pat Morita, who was leaving the show, as the owner of Arnold's Diner. His Alfred Delvecchio was a lovable figure of fun, the approachable adult in what was supposed to be a teenage world. Molinaro stayed until the 10th series, in 1982, before leaving Happy Days, which ran for only one more year.
The sitcom was set in Milwaukee, which made it a natural for Molinaro, who was born in nearby Kenosha, Wisconsin. He was one of 10 children; his father was a prominent figure in Kenosha's Italian community, running taverns, restaurants and hotels, and serving as a sort of godfather to generations of immigrants. Two of Molinaro's brothers were successful in local politics, one as a district attorney and judge, the other as a legislator who rose to become speaker of the state house. He remained loyal to his home town, saying: "I love it. If it wasn't that I left it for show business, I'd still be there today."
Molinaro had played the clarinet in dance bands, but moved to California in the early 50s, acting in one small film, Love Me Madly, in 1954. It would be 15 years before he got his next screen credit. In the meantime, he started a debt collection agency and, after selling it, invested the profits in property. By the time he got his acting break in his 50s, he was already a wealthy man.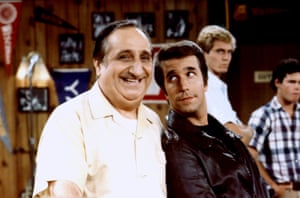 That break came in 1969, when he was cast as Agent 44 in two episodes of the spy comedy Get Smart, and played in three episodes of the comedy Green Acres. He made a few more appearances in shows including That Girl and Love, American Style (from which Happy Days spun off) before Officer Murray Greshler and his nose opened the door to success.
He played Al Delvecchio in the short-lived Happy Days spin-off Joanie Loves Chachi (1982-83), and in one episode of Laverne and Shirley (1976), which starred Penny Marshall. When he left Happy Days, he starred in a pilot for his own series, The Ugily Family (1982), in which Sal Ugily (Molinaro) and his family move into a neighbourhood of beautiful people. Mercifully, it did not sell.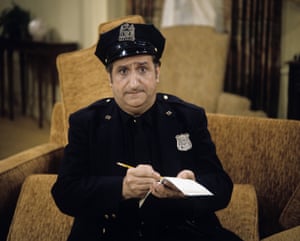 He returned to guest appearances in comedy programmes and TV movies, before, in 1992, starring in Family Man, as the father-in-law helping a widowed fire chief raise his children. Family Man lasted for only one series, and Molinaro retired from television, making his final appearances on a Happy Days reunion show, and in the Patrick Duffy-Suzanne Somers series Step By Step (1992). He later turned down offers to appear in an Odd Couple reunion in 1993, and a second Happy Days show in 2005.
He remained active in TV commericals for Cortaid, an anti-itching cream, and for OnCor, makers of frozen dinners. With his Happy Days co-star Anson Williams, who played Potsie, he opened a chain of Big Al's Diners in the American midwest, and appeared in a 1994 music video for the band Weezer, who hailed from Kenosha. The video, for the song Buddy Holly, was set in Arnold's Diner.
Molinaro was reported to be working on a memoir, which would include short stories set in his Kenosha boyhood. He is survived by his second wife, Betty Farrell, whom he married in 1981, and a son, Michael, from his first marriage, which ended in divorce.
Molinaro remained down-to-earth about his unlikely success as an actor. "I spent 20 years here before I got anything going," he said, "and from that I got lucky … You've just got to be lucky and in the right place at the right time."
Albert Francis Molinaro, actor, born 24 June 1919; died 30 October 2015
Source: https://www.theguardian.com