Only a short hop from Athens, this little island is to be avoided in high season (July and especially August, when all of Greece is on holiday), but in the quieter months is a fantastic place to visit, especially in combination with a city break in the capital. It is also not far from the famous ancient ruins of the Peloponnese.
What to do Chilling out is the order of the day, but kayaks are available to hire and a circuit of the island is possible if you are particularly energetic.
Where to stay Rosy's Little Village (doubles from €68) feels more like a community of friends than an impersonal hotel. Perched above the sea, on multiple levels, it has its own swimming platforms and sandy beach.
Where to eat A string of restaurants and small hotels lead out of Skala, the island's bustling main port. Gistri, a fish taverna, has a great location by the pebble beach, and reliable food.
GETTING THERE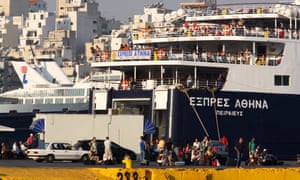 These lesser-known islands are surprisingly easy to get to. Some of the larger ones have airports and can be reached by charter flights in season, as well as scheduled airlines (such as easyJet, Ryanair and BA), and domestic flights from Athens and Thessaloniki. All of the islands can be reached by ferry from Athens' port of Piraeus (although Lemnos, for instance, is a 20-hour ride). Most islands are within two hours' ferry ride of a hub island. Arriving by ferry at an island is the best way to start to get to know the place, and by ferry you could combine two or three islands in one trip – proper, old-school island-hopping.
Read more at theguardian.com