It takes more than lots of bedrooms to keep a multi-family group happy on a rural break. You need space for everyone to come together – and have time apart when needed. You need easy, flexible activities close at hand for those who want to get out and about, and relaxing surroundings for those who don't. You need comfort but – in the case of most groups at least – nothing so fancy that the holiday organisers among the party spend their time worrying.
Windy Mundy Farm, stylishly converted from an 18th-century threshing barn, set within Shropshire barley fields, ticks all the boxes. Fusspots might notice the ruckled hall carpets, odd paint chips, and lamentable water pressure in the showers, and city slickers may decry the occasionally erratic wi-fi. Our group was more interested in the convivial living room, well-equipped kitchen, beautiful views and easy access to pleasant footpaths that made for a perfectly sociable weekend break.
The rooms
Windy Mundy has seven bedrooms in the main building and an eighth (a double) in a separate, self-contained wing that also houses a wood-burning sauna and games room with bar billiards. Of the seven, three are doubles and four are twins. Four bedrooms are en suite, two with roll-top baths, and there is a shared bathroom between two of the others. It's a matter of political taste as to whether the framed photos of Thatcher-era Tories in one of the rooms are a welcome addition to the traditional farmhouse decor…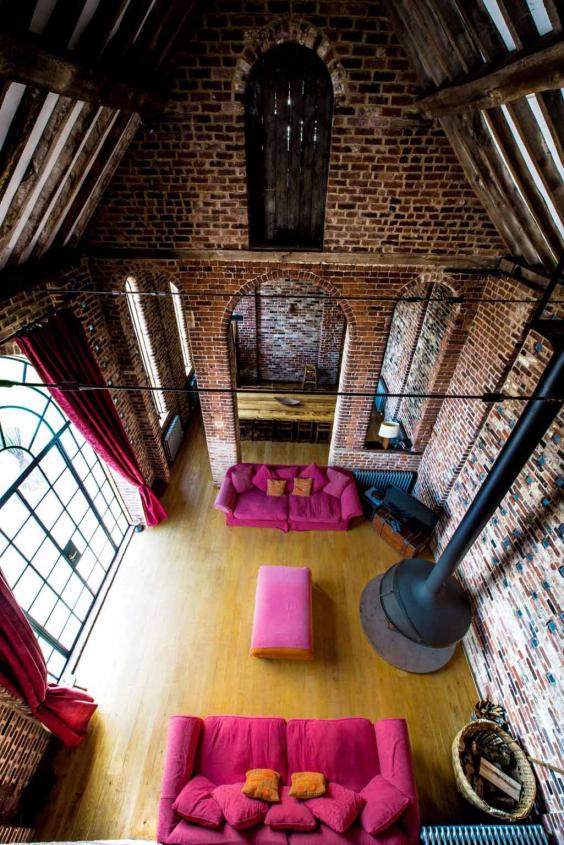 The seventh bedroom in the main house, a twin, is to be found at the top of a tall spiral staircase, in a mezzanine over the stunning, high-ceilinged central living space. This is a cosy, attractive bedroom but if your party includes night owls, or a dawn chorus in the form of young children, its inhabitants might need ear plugs.
The kitchen is stocked with big pans and plenty of crockery, and the living room has a huge table which is ideal for dinners en masse. There is a stylish suspended fireplace for cosy winter evenings, an enormous arched window for admiring the bucolic views, and a sizeable walled courtyard space where children can safely let off steam. Additional creature comforts include a large television, DVD player, and a barbecue.
Out and about
Anyone who has experienced the joys of herding large groups of semi-hungover adults and/or excitable toddlers will delight in the fact that at Windy Mundy, which is located down a farm track in the middle of the 1,000-acre Pitchford estate, you can simply step out of the door and find yourself on a countryside footpath. Rambles of assorted lengths can therefore be undertaken with minimal organisation, and there are enough rural vistas, farm animals, and tractors to keep walkers, big and small, entertained.
For more serious exploration, the dramatic upland moor of the Long Mynd, hills such as Caer Caradoc and sections of the Offa's Dyke Path, are all within a short drive. Shrewsbury's castle (
01743 358516; shrewsburymuseum.org.uk; closed 20 December to 15 February) and farmers' market are six miles away, while the foodie delights of picturesque market town Ludlow, and Much Wenlock, birthplace of the modern Olympic Games, are also close at hand.
Horse-riding, paragliding and quad biking can all be arranged locally (pitchfordestate.com), or for a more sedate day out try the National Trust's Attingham Park (
01743 708123; nationaltrust.org.uk/attingham-park) or the Unesco World Heritage Site at Ironbridge Gorge (
01952 433424; ironbridge.org.uk).
Food and drink
Splendid isolation is the name of the game at Windy Mundy. Although you can get to shops, including those of the market town of Church Stretton, in a few minutes by car, nothing is on the doorstep and nothing – not even a pint of milk – is provided. Unless you fancy doing a big shop en route, therefore, the best bet might be to order an online supermarket delivery; our Tesco driver had to call for directions, but found us eventually.
There are some great pubs in the area, including the Dorrington's Horseshoes (
01743 718 305; dorringtonshorseshoes.co.uk) and the Royal Oak at Cardington (
01694 771266; at-the-oak.com), which does good pub grub and local beer. It might be wise to call ahead if a large group is planning to descend for a meal. Ludlow is a renowned gastro destination where you'll find plenty of fine fodder to stock the fridge.
The essentials
Windy Mundy Farm, Dorrington, Shrewsbury, Shropshire. From £1,400 for a minimum three-night stay through Big Domain (
01237 426777; thebigdomain.com). Christmas and New Year is from £4,000 for a week. Pets are welcome, as are hen and stag parties.
Source: https://www.independent.co.uk