The week the Chiltern Firehouse opened in central London, it was so full of famous people that something went wrong with the cosmic ratios: my fella and I sat between Kirsten Dunst and Sol Campbell. We were outnumbered. Gordon Ramsay was there, and I asked him what he thought of Nuno Mendes, the superstar chef. I was in search of mischief, some spurt of alpha-male jealousy. Ramsay, smarter than that, said: "He's a chef's chef. Fingertip control."
Mendes was already known on the foodie circuit for the Loft Project in east London, where he pioneered tasting menus and unearthed young talent. Viajante followed, in Bethnal Green town hall, where he got his first Michelin star. The Firehouse got him talked about at a different order of magnitude. It is still rammed with names, a year and a half in; paparazzi wait dutifully outside, and the flashing through the night makes it look, from the enchanting garden, as if you are surrounded by police helicopters. It is a great circus of a restaurant, distilling all the excitement and horror of 21st-century London – we've taken our fire-service infrastructure, sacked all the firefighters, and filled it with stars and front-of-house staff more beautiful than makes any human sense. God knows what will happen if there is ever a fire; hopefully the paparazzi will be able to help.
"Don't call it a circus," Mendes says, ruefully. I met him outside his new restaurant, Taberna do Mercado, in Spitalfields market, London. It was 9.30am, and I couldn't figure out how he'd got so many stains on himself so early in the morning – at one point, I was idly checking his beard for crumbs while we chatted. "The combination of food and scene, that didn't exist before," he notes. "It seemed it was always about one or the other. If you go for the food, the scene is usually not as interesting. If you go for the scene, the food is …" he tails off. "Crap," I supplied. The food in the Firehouse, by contrast, was brilliant, his caesar salad an instant global hit.
When I first met Mendes in March, he was coy about Taberna, periodically muttering: "I may have some project that I might do …" The best chefs now remind me of poets in the Henrician court or painters in Renaissance Florence – they command huge cultural status, for good reasons, but they also rely on a patron, which in 2015 means a landlord or a proprietor. So there is always something they're not allowed to say, which, being in possession of these great big spirits, makes them constantly want to say it, always on the edge of calling Anne Boleyn a slag or mourning the rapacity of the London landlord.
But we had only just met, and he was quite reserved, and we started talking about his caesar salad: how you make an emulsion out of a lettuce so that it tastes like a super-lettuce; how the changing mouthfeel makes you focus; textural interruptions, such as the crunch of a crouton that means you taste the whole thing over again in a different way; why the anchovies come from the Azores. There is a whole arc of history, empathy, conflict, sensory perception, chemistry and intellect heaped into this one salad. He talked about it for half an hour. "And hopefully," he finished, "that makes it pretty tasty."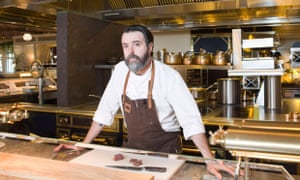 The food in Taberna do Mercado is different; it seems simple, but it's not. It is poetic, complicated, nostalgic – he talks about creating dishes from "blurred memories". "We, whether we like it or not, become ambassadors for our country … There are so many things being lost, little by little; there is lots of unemployment in Portugal, all these artisans losing their jobs. If you don't act quickly on these things, it will be a sterile environment to go back to." He pauses, looking a bit embarrassed. "I'm not even that patriotic."
When Mendes first arrived in London in 2008, he started with tasting menus at Bacchus, when Hoxton was still young and before young people turned foodie (I slagged it off at the time, said the myriad foams looked like the spit cuckoos do for their young. I just didn't have a clue). "It lasted two years. It was doing OK by the end; the first three or four months were fucking rough," he said. "But if Bacchus hadn't closed, I wouldn't have done the Loft, and that's probably the most interesting project I've ever done."
Mendes left Portugal in his late teens to study marine biology in Miami, but he was already in love with cooking. His father refused to countenance a change of course unless he came back and worked on their farm in Portugal for a year. "I think he was really scared. I was his only son, even though he had step-sons, and I think he realised that if I went, I would never go back." Although he studied in the US, the learning experience he always returns to is this year on the farm. I've never met a chef so soppy about animals: "I used to see little piggies when they're this small, they're adorable. I can't look at suckling pig on a board. And with cows, it is a bit emotional, we removed them from their mothers. It was mainly a dairy farm, and I used to go and feed and care for them, and hang out with them. They're really cool." He can't eat veal. He can barely eat pig.
Mendes worked in many seminal restaurants – Jean-Georges Vongerichten, El Bulli – learning as much about what he didn't want to do as what he did. "Jean-Georges had an open kitchen in Trump Tower and we did this amazing food. You looked into the dining room, and it was full of people who … this is what they ate every day. Amazing food was arriving at their table, and they were looking at their phones. I don't want to cook for people like that. I wouldn't want to go there for dinner. I want to cook for people who would be my friends."
He left the US after a constellation of unfortunate events – "a coyote ate my cat … I accidentally hit a cow … my dog …" he tailed off. (I didn't want to know what happened to the dog.) He arrived at El Bulli in 2003, two days after his 30th birthday. "What I was looking for was to see that it existed and that it was possible to do a restaurant based on ideas rather than a business plan. Everywhere I'd worked, as creative as they were, was always a business. It was always a service. I wanted to see a place that said: 'This is made to open your mind.' And I saw that, but I also realised how late I was; most of the other guys there were in their early 20s."
Portugal is the great untold story of food, eclipsed by Spain and undervalued for its global impact (Goan food has a huge amount of common etymology). Its curiosities are relatively unknown; its custard tarts the main calling card. There are the gentler, sweeter cured hams from chestnut-reared pigs ("How can they call Iberian ham world-beating?"); croquettes of cuttlefish; alheira, king of the Portuguese sausage, made from game ("Taste that sourness; that's fermentation, there's no vinegar in there"); pink marlin; dried moray eel, a sea crop spreading from the Algarve to the Azores; tinned fish; langoustines; prawns; goose barnacles, crazy little creatures that you tug the skin off like a leg warmer; botollo sausage, made from the spine of a cow, which gave us the word "botulism". At Taberna do Mercado, a lot of that is recreated, along with stews, mint hiding where you don't expect it, cockle broth underneath runner bean fritters, "blurred memories from the way I ate in my childhood". It is spectacular, but the emphasis is not on spectacle. "I want it to be a little portal into Portugal," says Mendes.
Five more chef's chefs
Thomasina Miers on René Redzepi, chef and co-owner, Noma
He has done such extraordinary things for Scandinavian food. I love following the progress of his restaurant touring the world, first in Japan and now in Australia. I love his unquenchable love of ingredients, and I love how he has just opened up and told everyone exactly how much he earns. As with many of the world's best chefs, he embodies this wonderful dichotomy of wanting to push food to the very limit of what you can do with it while loving absolute simplicity.
Raymond Blanc on Ollie Dabbous, chef and owner, Dabbous, London
Ollie is young and full of ideas and creativity. Seasonality is central to his cuisine, which I think is so important. He grows his own fresh herbs – it's what all of us should be doing at home, too. He is truly innovative with his cooking: I like that he is pushing gastronomic boundaries.
Allegra McEvedy on April Bloomfield, chef and co-owner, the Spotted Pig and the Breslin, NYC
So many chefs these days force things, with too much going on, too many unusual ingredients just to be different. But with April, there is no tension on the plate, just a beautiful simplicity. It's a joy to eat. And when you meet her, she's exactly the same, down to earth, relaxed; she doesn't care for fame. She just wants to make good food and make people happy.
Asma Khan on Cyrus Rustom Todiwala, chef proprietor, Café Spice Namasté
Much like Vivek Singh, Cyrus is keeping alive the roots of authentic, traditional Indian cuisine in his food, traditions that even in India are dying out. His Parsee heritage is a beautiful amalgamation of Indian and Iranian influences. I've loved it from the first time I ate at his Khaadraas Club – I was stunned to be eating dishes, here in London, that I hadn't tasted since I was a child eating at friends' houses in India.
Stevie Parle on Ruth Rogers, chef and co-founder, River Café
For her confidence, vision and dedication to delicious, simple food. And for the fact that, nearly 30 years after River Café opened, she's still on the pass.
Source: https://www.theguardian.com