Further proof that everything is going to hell in a handcart, as news breaks that Britain's biggest supermarket chain has launched a chocolate and cherry sandwich for Christmas.
Presumably, given reports of sad-looking sarnies reduced for a quick sale, this monstrosity was conceived in pursuit of publicity, rather than popularity, which is why I am not going to give the supermarket the satisfaction of a namecheck. But it has certainly worked: social media has whipped itself into a frenzy of righteous outrage over the cinnamon-flavoured harbinger of what one user described as "the end of days" – which can only mean that, for perhaps the first time ever, Twitter is speaking sense.
It is enough to make me ashamed to be British. The UK has given the world so little in the way of great food – trifle, haggis, Wotsits – and then we treat one of our finest culinary creations like this. We can't even claim it's a first offence. Just because you can put just about anything between two slices of bread, it doesn't mean you should, as this sandwich platter from hell makes horribly clear:
The strawberries and cream sandwich
Released for Wimbledon 2011, this "iconic feel-good treat" was another sales flop for the supermarket in question. No wonder, given that no one over the age of 10 has ever paid money for a jam sandwich.
The lasandwich
Promoted by the same repeat offender as perfect for anyone in need of a "solid snack between meals" this 565kcal white-bread monster filled with beef ragu, cheese-mayonnaise dressing and pasta, contained as much fat as two McDonald's cheeseburgers.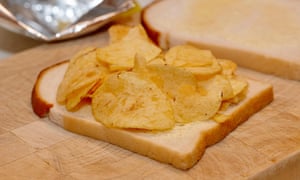 The crisp sandwich
Decried by shoppers as "the saddest product of the year", Asda's combination of buttered white bread and ready-salted crisps at least had the benefit of being a tried-and-tested favourite, albeit one rarely consumed in public while sober.
The Christmas Triple sandwich
The Christmas sandwich has become a bit of a thing in recent years – and, in this season of excess, Sainsbury's reasoned, three is surely better than one. Just ask those Wise Men. However, the multi-course extravaganza of smoked salmon, turkey and stuffing, and cheese and pickle met with mixed reviews – turns out there's a good reason you don't usually find fish and cheddar sharing the same cardboard box.
The KitKat sandwich
Our first foreign sandwich does not disappoint – in Japan, they don't give a toss what the Earl of Sandwich might have seemed fit material to shove between two slices of bread. Popular fast food chain First Kitchen's KitKat, candied peel and whipped cream sandwich, which it claims has "outstanding compatibility with coffee", makes that chocolate cherry number look like an amateur effort.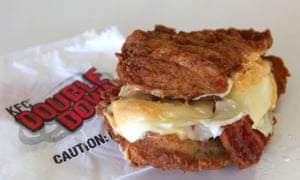 The KFC Double Down sandwich
In 2010, the fast-food giant decided to do away with any sort of bun in favour of two slabs of deep-fried chicken, filled with cheese, bacon, and its "secret sauce", a move panned by the New York Times as representing "a new low" in "stunt food". And then came the chocolate sandwich …
Source:https://www.theguardian.com