If imitation really is flattery, then Hillary Rodham Clinton should be thrilled by the American TV schedules. As she sets out on her second bid to become the country's first woman president, three fictional female politicians – all based to some extent on her – are running alongside.
In the latest series of Veep (broadcast in the UK on Sky Atlantic), central character Selina Meyer is already president; and, with CBS having commissioned a second term of Madam Secretary (the first season is currently on Sky Living), the narrative logic seems to point to secretary of state Elizabeth McCord (Téa Leoni) launching a bid for the White House. Viewers of House of Cards (Netflix) must also suspect that Claire Underwood (Robin Wright) will not remain content with merely being First Lady and US ambassador to the UN.
In fact, as soon as Kevin Spacey's President Francis Underwood was in the Oval Office, his wife was trying to exercise power in her specialist interest of environmental policy – a detail that encouraged the audience to think of Clinton's pursuit of healthcare reform during her husband's first term. Politically, involved wives have always been vulnerable to the "Lady Macbeth" slur – Mrs Clinton andCherie Blair were at one point suffering it simultaneously – and Mrs Underwood embodies the ultimate nightmare of a First Lady Macbeth, with the sub-plot likely to be expanded by creator Beau Willimon in next year's fourth season.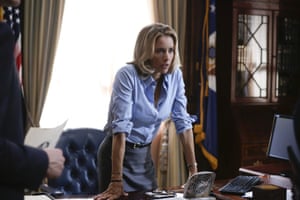 Barbara Hall, showrunner of Madam Secretary, has acknowledged Hillary Clinton as significant inspiration and some aspects of their tenures exactly overlap: McCord suffers a haircut controversy, much as Clinton did. But, unlike a British series about a woman PM, which has only one historical example to draw on, a State Department drama benefits from a broader base of examples.
Clinton was preceded as secretary of state by Madeleine Albright andCondoleezza Rice, and Madam Secretary reflects aspects of their CVs (both, like McCord, were recruited to politics from academia) and memoirs. In what may be taken as an endorsement of the show, Albright has reportedly just recorded a season two cameo giving advice to her fictional successor.
The protagonist of Veep also has biographical coincidences with Clinton who, like Selina Meyer, was a former US senator with a failed bid to become America's first woman commander-in-chief. The show's premise, in which the loser becomes the running mate of the man who defeated her, reflects a solution to getting a woman through the glass ceiling that was widely touted by Hillary supporters in both 2008 and 2012.
Meyer, however, is the least direct version of Clinton among the trio because creator Armando Iannucci chooses in this HBO series – as in its British ancestor,The Thick of It – to focus on process rather than personality. In The Thick of It, the prime minister was never seen and, while viewers in a presidential system might find that absence harder to accept (the original plan of The West Wing for Jed Bartlet to be a minor character was soon abandoned), Veep is equally concerned with the brutal tactics of seeking and maintaining power. It also explores – as did The Thick of It, through Rebecca Front's hapless overpromoted minister – the tendency of both men and women in politics to become misogynistic.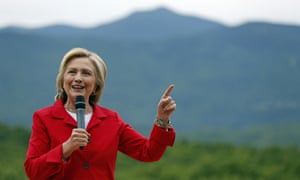 Meyer, though, is not American TV's first fictional female leader. That wasPresident Mackenzie Allen (Geena Davis), who, in the middle of the real George W Bush administrations, served a year on ABC in Commander in Chief. Rod Lurie's show had, like Veep, taken the view that a woman's most likely route to the job was through being vice-president to a man who suddenly leaves office. For most viewers, the ceiling that President Allen hit was the Emmy-winning level set by the recently departed West Wing, but another reason for the failure of the series was probably that, despite speculation about Hillary Clinton and Dr Rice possibly going for the top job, a female presidency felt at the time like a variety of science fiction.
Reducing their risk of being seen as a West Wing imitation, each of the current political series adds some extra generic element to the legislative procedural. Veep and House of Cards are both satires that exaggerate respectively the farcical and dark parts of politics, while Madam Secretary has a thriller strand: McCord's predecessor, who died in a plane accident, may have been the victim of a White House plot.
The Téa Leoni show, though, also carries on the policies of The West Wing by creating a politician who is a liberal fantasy. Almost matching Martin Sheen's President Bartlet – who had found time before his political career to win a Nobel prize for economics – Elizabeth McCord is conveniently fluent in the languages of all the US's major enemies and allies but, just in case the peak-time CBS audience finds her a bit of a liberal wimp, has the advantage of being married to a former fighter pilot who is now a theology professor, which strengthens her credentials on the crucial American issues of war and God.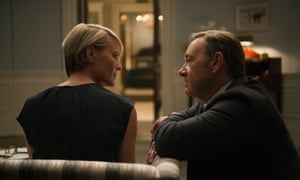 Despite their very different tones, both Veep and Madam Secretary have featured episodes in which the central character fails to read the speech that has been placed on the TelePrompter by her aides. But because it plays for drama – rather than laughs or the Jacobean melodrama of the Underwoods in House of Cards – Leoni's made-up politician seems the portrayal most likely to help Hillary's ambitions. As in the Scandinavian series Borgen, which remains the gold standard of fiction about political women, Madam Secretary hints that women may have reserves of sympathy and empathy unavailable to men who reach the same places: Secretary McCord has an uncanny ability to restore world peace through personal contact.
In both politics and television, the UK tends to follow the US. So if Yvette Cooper or Liz Kendall become Labour leader, British drama departments will surely war-game some sort of Madam Leader series, although a sensationalised version of one aspect of Cooper's situation – being married to a man whose own political career stumbles – has already been seen in Paula Milne's excellent BBC2 dramaThe Politician's Husband.
The dream ticket would be Iannucci returning to make a new Thick of It with the central character of an anglicised Selina Meyer.
Source: https://www.theguardian.com