From the ridiculous to the sublime: I've come an awfully long way to stare at a rubbish dump and a recycling centre. I park my car against a high metal fence that rears up along the lane, and there is an ugly bank of rubble, resembling a battlefield trench, that marks the perimeter of the tip. I'm on Benbecula, I tell myself, a place I've wanted to visit for years. I didn't think to bring my empty plastic milk bottles with me.
Then, breathtakingly, a huge bird rises up from behind the site, lifting my spirits as it pulls its own frame high into the air. Its wings are tipped in black ink – this is a hen harrier, a bird you will struggle to see back on the mainland, thanks mainly to decades of illegal persecution. The surprise is evidently mutual, and the bird soars away at an acute angle, jerking upwards as a kite might do as it finally catches the wind.
Benbecula is, I should make clear, staggeringly, mournfully beautiful, and my walk dismisses the waste tip at a stroke by simply striking out into open, unoccupied moorland. Here and there I pass large squared-off chunks of excavated peat, taken from huge gullies that cut deep and far into the moors, ending in a blur of inky black, soggy bleakness. Peat cutting has been practised here for centuries and in recent years, as fuel prices have increased, it has seen something of a resurgence.
Benbecula is often portrayed as a land of almost unrelenting flatness, though this depiction can be a little overplayed. The clue lies in the Hebridean island's Gaelic name, Beinn Na Faoghla, which translates as "the mountain of the fords". The single "mountain" in question is known as Ruabhal, 406ft above sea level, which rises abruptly from the surrounding low-lying lands. This modest summit is the goal of my walk.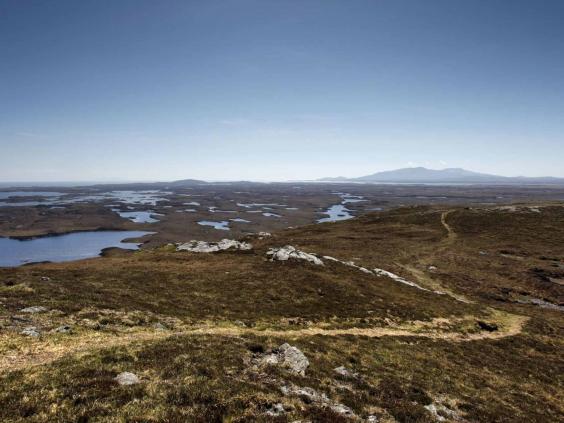 I can spot the hen harrier floating just below the summit of Ruabhal, occasionally settling and disappearing down in the bracken. Now is the time to catch them here before they head south for winter – not to Africa like the hardy swallows that still hang on here – but to the Pennines and Norfolk.
Short-eared owls frequently fly over the moors, hunting in broad daylight, and as I walk along the shore of Loch Ba Una, small wheatears and stonechats hover around the gorse. The grainy dots on distant ledges may well be sea eagles or golden eagles, while more easily identifiable buzzards float on the autumnal breeze.
In a land of so much water, and rain, I've hit the jackpot with a gloriously bright day. The sun inches towards the watery horizon and I feel that there can be nowhere more magical for autumn light than this little island squeezed between other islands.
Another saying attached to Benbecula is that it is "more loch than rock", and this feature becomes clear at the summit where, below me, is the fretwork of innumerable inlets and lochs that speckle the landscape.
The summit has also recently acquired more meaning for hikers. The Hebridean Way, Scotland's newest long-distance footpath, links the causeway-accessed islands that make up the Outer Hebrides, from Vatersay to Lewis. Walking up from the south – the recommended route – Ruabhal is the first sizeable bump you will encounter and need to clamber over.
The low-lying surrounding land gives Ruabhal a disproportionately elevated view and I can see how Benbecula is linked by causeways to its larger neighbours, North and South Uist, and the even smaller Grimsay. South Uist is laid out to the south, with its backdrop of mountains, that in turn give way to Barra at the southern end of the island chain.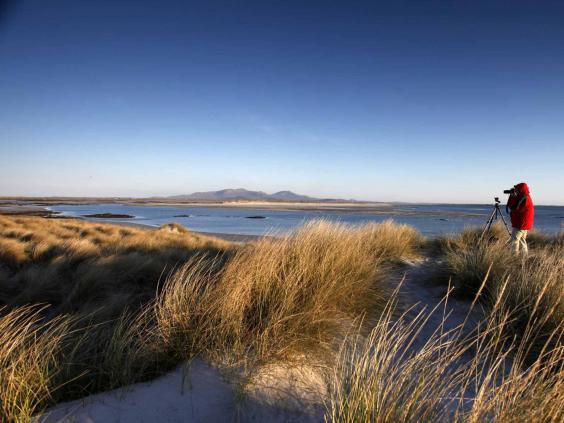 Looking north, Benbecula's tiny airport nudges against the sands by RAF Benbecula, which operates long-range radar tracking over the North Atlantic. To the east, across the Minch, the Cuillins on Skye bare their jagged peaks on the skyline.
At sea level a path leads eastwards seemingly into the water, but in reality to Roisinis, a place of historical resonance. After his defeat at Culloden in 1746, Bonnie Prince Charlie fled to the Hebrides and was blown ashore by a storm on to Benbecula. He hid around Ruabhal before later escaping to Skye from Roisinis, dressed as Flora MacDonald's spinning maid, Betty Burke.
I look back west, and north. Everywhere, houses look like pieces of Lego dropped from the sky. A sunny autumnal day provides a dazzling interplay of sand and heather, peat and rock, sky and water.
The Hebridean Way sounds inviting, and from the summit you can see more than half of its 149-mile length, and gaze deep into the North Harris hills. But this is autumn, and I suspect I'll be pushing my luck with the weather to press on. Instead, I descend, retracing my steps and make my way by car to the Island Deli on the edge of Balivanich; a welcome new addition to the Outer Hebrides, it has excellent coffees, cakes and hot meals, and there's not a recycling centre in sight.
Travel essentials
Distance: 5 miles
Time: Two hours
OS map: Explorer 453 – Benbecula and South Uist.
Start/finish: Municipal waste and recycling centre, off A865, Benbecula. Grid ref: NF813534.
Getting there
Mark Rowe travelled with Flybe (0371 700 2000; flybe.com) which flies from Glasgow and Edinburgh to Stornoway, Benbecula, and Barra from £140 return, and £116 return from Inverness.
Staying there
Mark stayed at Langass Lodge (01876 580285;langasslodge.co.uk), which offers double rooms from £115, B&B.
Source: https://www.independent.co.uk