Volkswagen lost ground against its competitors in September in a strong month for European car sales, as the German carmaker seeks to recover from theemissions-rigging scandal.
Volkswagen's share of the EU car market fell to 23.3% last month – from 23.6% a year earlier, according to the European Automobile Manufacturers' Association(ACEA). Its share was down from 26.5% in August. VW remains the market leader with brands including Porsche, Audi, Skoda and Seat, but rivals increased their share in September.
Europe's second largest carmaker, France's PSA Group, which includes Peugeotand Citroën, had 9.9% of the market – up from 9.7% in August but down from 10.3% a year earlier. BMW increased its market share to 7.4% from 6.9% a year earlier, while Daimler's share rose to 6.1% from 5.7%.
Overall, VW sales also lagged behind the market, growing 8.4% from a year ago to 315,905 vehicles compared with 9.8% for the industry.
News of the scandal broke on 18 September, when the US government ordered Volkswagen to recall almost 500,000 cars after discovering the company had deployed sophisticated software to cheat emission tests, allowing its cars to produce up to 40 times more pollution than allowed. It took several days for the full extent of the scandal to become known. Eleven million diesel vehicles worldwide are affected and on Thursday VW said it would recall 8.5m of the affected cars from across Europe.
David Bailey, professor of industrial strategy at Aston Business School, said: "It is too early to see the impact of the crisis on VW. It will take a while to play out. We might see some short-term impact over coming months, but the real impact will come if testing gets tougher and the cost of diesel goes up."
This would hit all diesel carmakers, in particular German manufacturers, which have "made the wrong bets" on diesel, Bailey said, while Japanese carmakers led by Toyota have been developing hybrid petrol cars. Other likely winners are Renault Nissan, which launched the electric Leaf in 2010, and California's Tesla Motors, which recently unveiled its latest electric vehicle, Model X. Volkswagen itself unveiled a strategy overhaul earlier this week to focus on electric and hybrid vehicles. The next version of the luxury Phaeton saloon car will be electric.
Former science minister Lord Drayson has admitted that the Labour government's support for diesel vehicles, through tax breaks, had been a mistake, and called for a scrappage scheme for old diesels. Bailey backed the idea. About half of cars on the road in the UK and Europe are diesels.
European car sales in September were boosted by ongoing scrappage schemes and the economic recovery across southern Europe, the ACEA said. Demand for new passenger cars rose in all major markets, with sales up 22.5% in Spain, boosted by a scrappage scheme. Sales rose 17.2% in Italy, 9.1% in France, 8.6% in the UK and 4.8% in Germany, the slowest major market. The UK market usually gets a boost in September due to the half-yearly change in registration plate numbers.
Across the EU, car sales climbed nearly 10% to 1,356,868 cars last month. Over the first nine months of this year, new passenger car registrations increased by 8.8%, breaking through the 10m mark (10,413,675).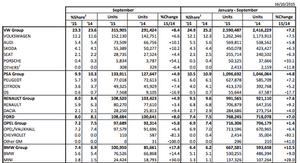 However, this is still far below the pre‐crisis level of almost 12m cars registered during the same period in 2007.
Estonia and Luxembourg were the only two EU countries where available data showed a drop in demand.
Source: https://www.theguardian.com