Virgin Atlantic has let in the cameras for the first time. Virgin Atlantic: Up In The Air (ITV) it's called. This is not the first time an airline has done this, of course. British Airways opened its doors last year, EasyJet ages ago, Britannia before that even. The Wright brothers would probably have done it if television had been around back then. Richard Branson has been slow on this one.
To be fair, RB hasn't been involved in the day-to-day running of Virgin Atlanticfor a decade. But here he is anyway, to kiss a few people on the airline's 30th birthday. That's very unlike the normally publicity-shy Branson, to turn up to be cheered by his staff while there are cameras around.
"The first thing you notice about Virgin Atlantic is that people tend to stick around," says narrator Peter Egan, about staff turnover. Is it Peter? That's really the first thing you notice? I'm beginning to suspect Virgin's not going to get the bumpiest of rides in this one.
After a lean period, financially (they lost a load of money), new cabin crew are being recruited, for the first time in a while. What kind of qualities are they after? I'd have thought a short temper, social awkwardness, a touch of menace, wild hair, body odour … oh, turns out I'm wrong. "Natural enthusiasm, that natural warmth and friendliness," says Jonathan in cabin-crew recruitment.
Age is no barrier, though. Katrine, a 58-year-old granny, is attempting to swap her job in the ticket office for one in the sky. Attempting and … succeeding! What a lovely opportunity for Virgin to show that it is an amazing equal-opportunities employer. Maybe it really is the best company in the world.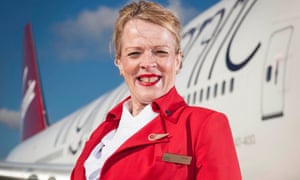 It is getting some new planes too – Boeing 787 Dreamliners – and design manager Nick is in Washington state to choose the interiors. Nick's favourite toilet is the biggest one. Does a big toilet make it more likely there will be new members of the mile-high club at the end of a flight? Nick doesn't say. Nick doesn't say an awful lot of interest, to be honest. I'm sure he, and Jonathan, and Katrine when she's trained up, are and will be brilliant at their jobs; but what works as an employee doesn't necessarily work as good television. What kind of qualities am I after, for that? Eccentricity, humour, possibly dancing … David Brent, basically.
Come on, it's about an airline, flying, travel, glamour, beef or chicken, cross check, doors to manual … that's always going to be fascinating isn't it? Well yes, if it wasn't so familiar. Because this is almost exactly the same as the BBC British Airways one (A Very British Airline) last year. That, too, had new planes, with new interiors to be chosen, and an old plane with a mechanical problems. They were recruiting, there was staff training, emergency simulation, sliding down the chutes … I don't remember very much about it (so it can't have been that good – and, again, there weren't any stand-out characters), but it was better than this one. Because it was before this one. And because not all of the cabin-crew trainees made it through. And because there was more about death – as in what to do when someone dies (don't put them in the toilet, it's not dignified, plus the still-living might want to use it).
Virgin: Up In The Air is all good news. Nick chose the biggest toilet, and the best seats. For Upper Class, none of what Boeing offers is good enough, so the airline has its own made in Wales, trimmed in black cherry and espresso, at £130,000 a pop. Because that's the Virgin way. Then they're fitted at the Boeing factory, one of the biggest indoor spaces in the world, 75 football pitches big (isn't that about the size of Wales). So vast it actually creates its own weather systems, including rain and clouds (they always say that about big buildings, have you noticed?).
And all the new cabin crew pass, with flying colours, they get their wings at a special ceremony, with their proud families there; I'm surprised Richard doesn't show, for more kisses and good publicity. Where will they be taking off for then? New York, yay! Cancún in Mexico, ole! Katrine – the new flying nanna – is off to … Aberdeen. No, of course she's not, she's going to Dubai. Actually, I think I'd rather go to Aberdeen. But Katrine's happy. Everyone is. Including – especially – the Virgin PR department.
Source: https://www.theguardian.com