Parts of the UK could reach a sweltering 33C (91.4F) later, hotter than some of Europe's top holiday destinations including Tenerife.
It comes after the Met Office issued a new-style extreme heat weather warning and told people to watch out for sunburn and heat exhaustion.
The amber warning covers large parts of Wales, all of south-west England and parts of southern and central England.
It will be in place until Thursday, when temperatures are expected to peak.
It advises staying out of the sun between 11:00 BST and 15:00 BST, drinking plenty of fluids and avoiding excess alcohol and physical exertion during the hottest parts of the day.
The Met Office is warning that over the next few days many people could be at risk of sunburn or heat exhaustion, including dehydration, nausea and fatigue.
The more vulnerable are being warned of more adverse health effects.
It also warned that, as temperatures soar, some heat-sensitive systems and equipment may fail, leading to power cuts. There could also be delays to road, rail and air travel, meaning people experiencing long delays might suffer.
The Met Office said the high temperatures were expected in the day and at night, meaning restless nights for many.
It comes after a record-breaking number of heatwave deaths were recorded in England last summer.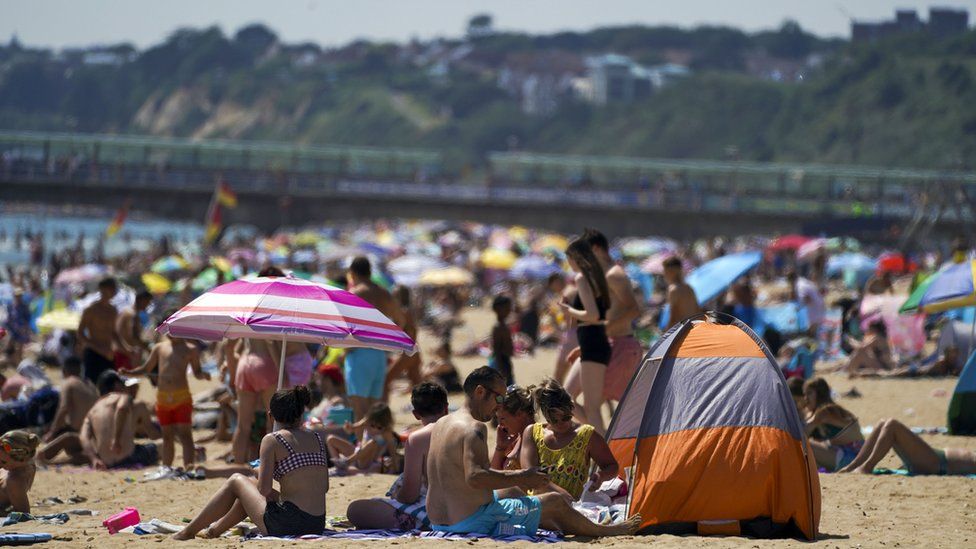 The Met Office also warned that as more people visited coastal areas, lakes and rivers, there was an "increased risk of water safety incidents".
What to do if someone has heat exhaustion
If they can be cooled down within half an hour, then heat exhaustion is not normally serious.
Move them to a cool place.
Get them to lie down and raise their feet slightly
Get them to drink plenty of water – sports or rehydration drinks are also OK
Cool their skin – spray or sponge them with cool water and fan them. Cold packs around the armpits or neck are good too
However, if they do not recover within 30 minutes, then what follows is heat stroke.
It is a medical emergency and you should call 999.
People with heat stroke may stop sweating even though they are too hot, their temperature could have passed 40C and they may have seizures or lose consciousness.