Britain's service sector surprised the City with stronger growth last month, but worries about financial market turmoil and the possibility of "Brexit" pushed business confidence to a three-year low.
The Markit/Cips services purchasing managers' index edged up to 55.6 in January from 55.5 in December, confounding expectations of a dip to 55.3. The figures come ahead of the latest Bank of England interest rate decision on Thursday, which is expected to see rates kept at the current level. Many economists do not expect a rate rise any time soon, while traders on money markets have pushed back their expectations to early 2018.
Samuel Tombs, the chief UK economist at Pantheon Macroeconomics, was not impressed with the latest numbers. "January's services report indicates that the UK's economic recovery is a shadow of its former self," he said. "The index remains well below its average of 57.2 recorded in the three previous years."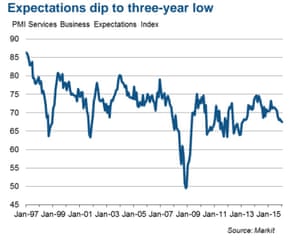 The survey's findings were mixed – new business at services firms rose at the fastest rate since July. However, output growth was weaker than the trend rates achieved in the last three years, and the mood among companies is sombre. Expectations for the next 12 months fell to a three-year low.
Chris Williamson, the chief economist at Markit, said: "The economy defied expectations and picked up speed in January, but cracks continue to appear in the country's resilience to the various headwinds.
"Worries about a Chinese 'hard landing', financial market jitters, higher interest rates in the US, more austerity at home and the possibility of 'Brexit' and EU tensions have collectively pushed the business mood in the dominant service sector to its darkest for three years."
Inflationary pressures remained historically weak in January. The rate at which companies' costs rose was among the weakest registered over the past six years, despite reports of rising salaries.
Williamson said that combined with surveys for the manufacturing and construction industries, the services report points to a slight upturn in GDP growth in the first quarter to 0.6% from 0.5% in the fourth quarter – if current levels are sustained. While Britain's factories enjoyed an upturn in activity last month, construction growth slowed to a nine-month low.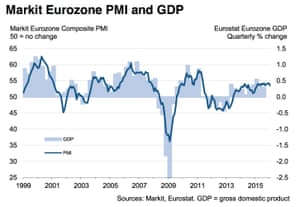 The UK fared better than the eurozone, where service sector growth slowed to a 12-month low in January, adding to the case for more economic stimulus at the European Central Bank's next meeting in March. Markit said the currency bloc made a "disappointing start to 2016" as overall economic growth slowed to a four-month low, with the composite output index falling to 53.6.
Source: https://www.theguardian.com