Growth in Britain's manufacturing sector has weakened and costs are falling sharply, suggesting inflationary pressure remains subdued, and Bank of England policymakers are unlikely to be in a rush to raise interest rates.
The purchasing managers' index (PMI) for manufacturing, based on a survey of the sector, declined to 52.7 in November, from a revised 55.2 in October.
That remained above the 50-level that signals expansion; but suggested momentum in the sector is weakening.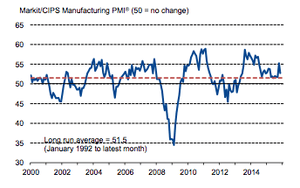 Analysts at data provider Markit, which carries out the survey, also pointed out that prices are falling at one of the fastest rates in the survey's 24-year history, as declining global commodity costs feed through the supply chain.
Rob Dobson, of Markit, said: "If this mix of subdued growth and weak price pressures is reflected in other sections of the economy, the Bank of England will have further cause to push any potential rate increase into the spring of 2016."
Bank of England governor Mark Carney has suggested that the decision about rate rises is likely to "come into sharper relief around the turn of this year;" but continued deflation across industry is likely to undermine the arguments for an increase in borrowing costs at next week's monetary policy committee meeting, the last of 2015.
Dobson added that growth among manufacturers remains focused on consumer sectors, rather than the exports the government is keen to promote; and is concentrated in larger firms.
"While the improvement in recent months is a welcome trend, scratching beneath the surface of the manufacturing numbers stills exposes a number of weaknesses," he said.
Samuel Tombs, of consultancy Pantheon Macroeconomics, said the survey underlined the fact that while the chancellor may want to rebalance the economy towards manufacturing, creating a "march of the makers", growth is likely to continue to be reliant on the key services sector.
"With the strong pound making exports uncompetitive and domestic consumer demand likely to grow less robustly next year as real income growth slows, the manufacturing sector is unlikely to see sustained growth in the near-term."
Source: https://www.theguardian.com