Shifera Sahilu thought Uber would be his passport to a better life in America. Instead, he said, the ride-sharing company almost ruined him.
The fast-growing tech company has built a global business promising new sources of revenue for "freelance" drivers like Sahilu. This week, in a major blow to the company, a court questioned exactly how freelance those drivers are. Uber's critics cheered the decision. Sahilu is not so sure it will make a difference.
Like many Ethiopian immigrants in San Diego, Sahilu gravitated towards driving a cab because he didn't speak much English and couldn't get recognition for his educational qualifications – in his case, a chemistry degree.
At the time he started driving for Uber, in 2013, the company promised greater independence and, potentially, higher earnings than he'd had in five years behind the wheel of a city-licensed yellow cab.
But in his experience, at least, the promises turned out to be hollow. He invested in a Lincoln Town Car for the Uber black limousine service and, at the company's insistence, put another $15,000 into the car for improvements. Then Uber told him the car still wasn't good enough and refused to let him use it. Now Sahilu borrows his wife's Nissan Versa to drive for the more downmarket Uber X service, earning what he says is less than the minimum wage.
He can no longer afford a car of his own. "At the beginning they invite us in a very warm way. They say they need us," said Sahilu (not his real name, which he was afraid to use). "But we just invest money and we don't get the money back … Most of my friends get a loan to buy a car and they drive for Uber for a dollar a mile. That's the worst thing ever."
In theory, Sahilu should have been delighted by this week's news that the California state labor commission has declared Uber's designation of its drivers as independent contractors to be illegal. If the commission's ruling is upheld, it would mean he and thousands like him would be reclassified as employees, with a legal right to a salary, benefits, payment of expenses mandated by the company and overtime.
But Sahilu has little faith now in the company he hoped would help put him through community college and get him an American chemistry degree. "Maybe Uber headquarters is treating drivers badly, maybe it's the local office, I don't know," he said. "But they just collect money. The drivers collect money and give it to the company. The company is rich and the drivers go back home with empty pockets."
According to Sarah Saez, an organizer with the United Taxi Service of San Diego, which advocates for labor rights, Sahilu's experience is typical. More than 70% of the city's taxi drivers are from east Africa, and more than 90% are immigrants. "Uber has built a whole empire on the backs of these drivers, getting them to buy cars and take on expenses, telling them how to dress, how to talk, how to have their cars a certain way," she said.
"The company is charging them to work but also misclassifying them and denying protections like social security, workers' comp, unemployment, healthcare and collective bargaining rights."
Established taxi companies clearly have a vested interest in attacking Uber, which has taken a chunk of their business. But the independent labor commission ruling is the latest of several indications that Uber's wildly successful challenge to the traditional taxi-cab industry may be hitting a serious obstacle.
The company recently announced its ambition to reach a valuation of $50bn, but it is unclear how much Uber is worth if it has to start picking up expenses it has up to now pushed on to the shoulders of its drivers. Florida recently made a similar ruling saying the drivers had to be classified as employees, not independent contractors. A high-profile class-action suit in federal court in San Francisco is also making headway and more suits are likely to follow in the wake of the commission's ruling.
In March, the California court rejected Uber's request for summary judgment in its favour and described the company's claim to be merely a technology company as opposed to a taxi company as "fatally flawed in numerous respects".
Advocates of the "sharing economy" business model that has gleefully disrupted traditional service sectors from transport to hospitality have expressed dismay at the labor commission ruling. Berin Szoka of the Silicon Valley thinktank TechFreedom said it would have a "chilling effect"on Uber, Lyft, Airbnb and similar companies. "The commission's ruling could force sharing-economy companies to scale back their offerings and increase prices, which could also rob consumers of the flexibility and broad range of choices currently offered by these companies," Szoka said.
Activists like Saez agree wholeheartedly – the difference being they don't think it's a bad thing. "What these companies represent is a form of supercapitalism," Saez said. "It's all based on consumer convenience, but that comes at a price … We have drivers out there competing for scraps. We are beyond thrilled [by the labor commission ruling]. These companies are getting what they deserve."
The case that led to the labor commission ruling was hardly a high-powered effort backed by expensive lawyers and noisy consumer groups. Rather, it was brought by a single Uber driver, who worked for the company for just eight weeks and represented herself.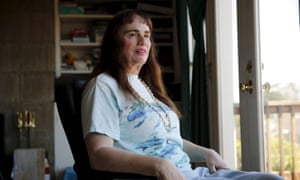 Barbara Berwick of San Francisco could politely be called an eccentric – a one-time local political candidate who runs her own very small investment business, once wrote a pamphlet on non-violent parenting and enjoys lodging complaints with public watchdog groups like the labor commission. She worked for Uber for just eight weeks before deciding she needed to be treated like an employee with a right to overtime, compensation for every mile she drove and state employment insurance benefits.
Her victory before the labor commission only became public, ironically, after Uber decided to appeal against it. Berwick said it was puzzling that Uber would want to publicise its defeat and spend a lot of time and money on what, ostensibly, was an administrative ruling that applied, in the first instance, only to her own circumstances.
"It's a stalling tactic, and it's going to be a very expensive one," she said. "The only benefit I can see is that by having a new hearing and appealing and appealing and appealing, Uber gets to have their drivers as independent contractors for a longer time and makes money accordingly."
Uber itself argued in a statement that the labor commission's ruling was non-binding and applied only to Berwick. It did not comment on why it was pursuing its appeal.
Many of the players – on both sides of the argument – feel this is a watershed moment that will determine whether Uber is the face of capitalism to come or a flash-in-the-pan company destined to shake up an industry, make a lot of money very fast and then vanish off the face of the planet like so many revolutionary startups before it.
In many cities, Uber and Lyft have been successful because the traditional taxi industry has been bound by antiquated rules and systems of control. In San Diego, for example, the city imposed a cap on the number of taxi licenses it issued, forcing drivers to work for companies that owned those licenses on terms the companies could more or less dictate at will.
Now that Uber and Lyft have made their presence felt, however, San Diego has lifted the cap on licenses entirely. Saez, for one, hopes this will lead to a boom in individual owner-operators who can run their own apps and keep 100% of the money they take in. "We are all about democratizing the industry," she said. "I don't think Uber has any intention of doing that."
Source:https://www.theguardian.com