At least 10 people, most of them foreigners, have been killed in an explosion in a tourist area of Istanbul, Turkish officials say.
Turkish officials say a Syrian national carried out a suicide bomb attack in the Sultanahmet district, near the city's famous Blue Mosque.
Fifteen people were also wounded, the Istanbul governor's office said.
President Recep Tayyip Erdogan said Turkey was the "top target for all terrorist groups in the region".
His country, he added, was "fighting against all of them equally".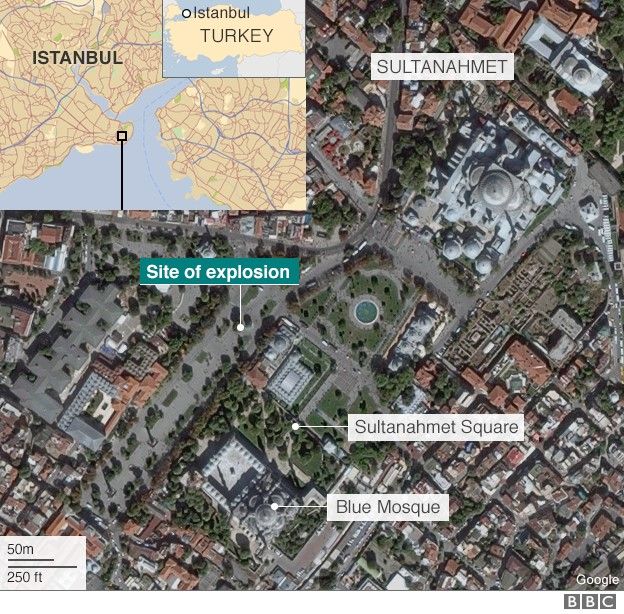 Turkey's Deputy Prime Minister Numan Kurtulmus said most of the victims were foreign and that the suicide bomber was a Syrian born in 1988 who had been identified from body parts.
Two of the injured were in a serious condition, he added.
Eyewitness Murat Manaz told the BBC: "It was a suicide bomb. I went there and saw it and came back to the hotel. There was chaos. Everybody was running somewhere.
"Policemen did not see this coming. They were distressed but at the same time they were trying to evacuate the area because they said there was a possibility that a second bomb could go off."
The authorities are investigating the type of explosive used, the governor's office said.
Norway's foreign ministry said a Norwegian man was receiving treatment in hospital, while Germany's foreign ministry said it had reports that German citizens were among the casualties.
The ministry has on its website (in German) urged German tourists in the city to avoid large crowds and tourist attractions and warned that further violent clashes and "terrorist attacks" were expected across Turkey.
The BBC's Mark Lowen in Istanbul says in recent months there have been sporadic attacks by a far-left group in Istanbul, while violence has soared between Turkish forces and PKK Kurdish militants, mainly in south-eastern Turkey, after a ceasefire broke down.
Turkey has also been hit by bomb attacks blamed by prosecutors on the so-called Islamic State group.
Two suicide blasts in the capital Ankara in October killed more than 100 people and more than 30 people were killed in an attack near the border with Syria in July.
Source: https://www.bbc.com