US President Donald Trump is in Brussels for what his team are describing as "tough" talks with other members of the Nato military alliance.
Mr Trump is also due to meet European Union officials on Thursday. He has been critical of both Nato and the EU.
He wants Nato to commit resources to the fight against so-called Islamic State and may also press members to pay their full financial share.
European leaders will seek assurances of Mr Trump's commitment to US allies.
European Council President Donald Tusk tweeted: "I'll aim to convince POTUS [President of the US] that euro-atlanticism means the free world co-operating to prevent post-West world order."
After landing in Brussels on Wednesday, Mr Trump met the Belgian king and queenwhile thousands demonstrated against his presence in the centre of the city.
Earlier, he was granted a short private audience with the Pope at the Vatican.
'Core message'
Mr Trump has voiced criticism of other Nato countries for spending less on defence than an agreed 2% of national output.
Ahead of Thursday's meetings, US Secretary of State Rex Tillerson told reporters that Mr Trump "really wants to persuade Nato members to step up and fully meet their obligations".
He added: "I think you can expect the president to be very tough on them and say… 'We are doing a lot. The American people are doing a lot for your security, for joint security. You need to make sure you're doing your share for your own security as well.'
"That's going to be the core of his message to Nato."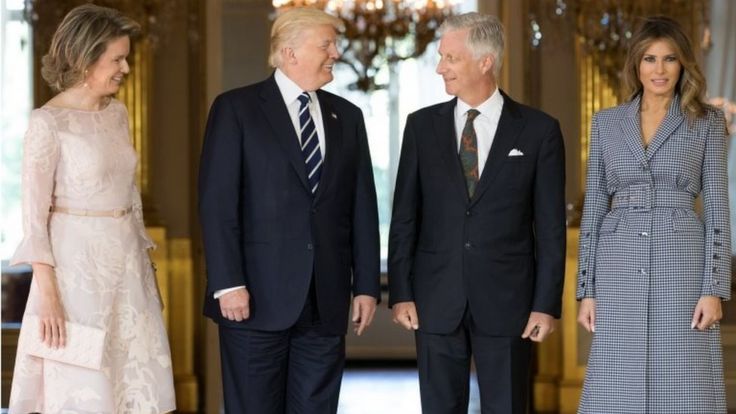 Mr Tillerson also said President Trump had yet to make a final decision on whether the US would remain in the Paris climate agreement.
The Nato gathering will see the alliance agree to a US plan for Nato to take a bigger role in the fight against Islamist militants, particularly jihadist group Islamic State (IS) – but France and Germany insist the move is symbolic.
Nato Secretary General Jens Stoltenberg said this would send a "strong political message on Nato's commitment in the fight against terrorism", but said this did not mean that Nato would engage in combat operations.
The US wants Nato to join the anti-IS coalition as Nato, but there are concerns that this could lead to the alliance becoming embroiled in post-conflict Iraq or Libya as it did in Afghanistan, says the BBC's Jonathan Marcus.
Before going to Nato HQ, where he will deliver a short speech, Mr Trump is due to have a private lunch with new French President Emmanuel Macron after meeting the leaders of the European Commission and European Council.
Mr Macron is expected to try to persuade Mr Trump not to renege on the Paris climate accord.
---
'Minor diplomatic masterpiece' – BBC Europe correspondent Kevin Connolly
Donald Trump's timetable in Brussels is a minor diplomatic masterpiece of its kind, maximising as it does the number of meetings and minimising the amount of public speaking and press scrutiny which will follow them.
In the morning he'll meet leaders of the EU, among them European Commission President Jean-Claude Juncker, who once complained that two years would be wasted educating the new president about a world he does not know.
In the afternoon he'll be at the headquarters of Nato, an organisation he once described as "obsolete" and whose European members he's criticised for not spending enough on their own defence.
It won't be difficult, though, to construct an agenda for those meetings which focuses on very broad areas of agreement – like the importance of the fight against terrorism – and if the day proceeds without diplomatic incident, Europe's leaders will at least be able to reflect on face-to-face meetings with the world's most talked about political personality.
---
Earlier on Wednesday, Mr Trump said he was "more determined than ever" to pursue peace in the world after meeting Pope Francis at the Vatican.
The two men had in the past clashed on issues such as migration, climate change and a Mexico-US wall.
The Vatican said afterwards that the two men shared a commitment to "life, and freedom of worship and conscience" and expressed hope that they could collaborate "in service to the people in the fields of healthcare, education and assistance to migrants".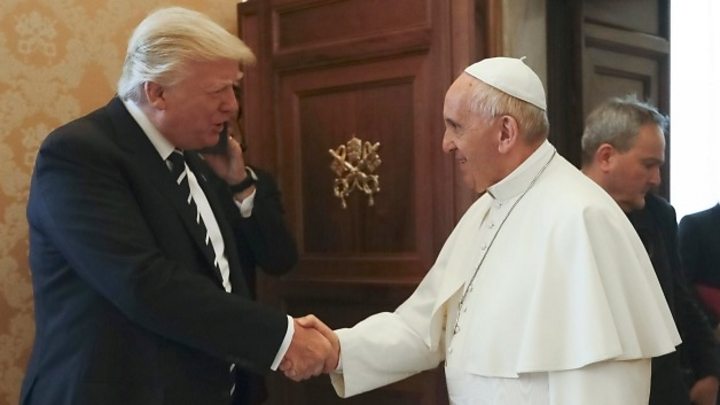 Mr Trump also met Italy's president and prime minister while in Rome.
He arrived in Europe from Israel and the Palestinian territories, where he vowed to try to achieve peace in the region.
The US leader began his foreign trip with a two-day stop in Saudi Arabia over the weekend, urging Muslim countries to take the lead in combating radicalisation.
Mr Trump will end his tour on the Italian island of Sicily at the G7 summit on Friday.
Read more at BBC.co.uk