Spoiler alert: this blog details events in the first episode of the second season of True Detective which airs on Sunday nights on HBO in America, and Mondays in the UK on Sky Atlantic at 2am and 9pm.
For the first season of True Detective click here.
'I welcome judgment'
Welcome to Vinci, California, a (fictional) city lurking in the shadow of Los Angeles, and mired as much in institutional corruption as the smog generated from its power plants. In the back of a Cadillac, a man with sunglasses lurches back and forth, possibly asleep, possibly dead. Who is he? And where is he headed?
If you somehow missed the memo, or the endless #truedetectiveseason2 memery, and were expecting the further adventures of Marty Hart and Rust Cohle, well, I've got some bad news for you: they're gone to that big flat circle in the sky. In their place shuffle in an entirely different pack of slumming-it A-listers – Colin Farrell! Vince Vaughn! Rachel McAdams! Tim Riggins (Taylor Kitsch) from Friday Night Lights! There's a new setting, too, with the action now taking place amidst the strip malls and sleaze of Los Angeles County. Yessir, we're a long way from Carcosa, Toto.
How much you enjoy this opening episode will probably depend on how easily you're able to let go of that first season of True Detective. It's not just the location and characters that have changed, it's the show's genetic makeup. Those time jumps between the past and the present that provided such a secure anchor in the show's first season are absent here (though you suspect that might change in future episodes). Gone, too, are Rust's florid pronouncements, replaced by the terse, economical language of gumshoes and con men. Most notably absent is that sense of the southern gothic, the antic unknown that set True Detective apart from the rest of the detective drama field. We're in more familiar territory here, the murky Californian underworld depicted by everyone from Raymond Chandler to James Ellroy, in cinema, television and video games, where everyone has grit under their fingernails, whatever side of the law they're on.
'I used to want to be an astronaut. But astronauts don't even go to the moon anymore'
Straddling both sides of the criminal cop divide is Ray Velcoro, played with unblinking intensity by Farrell. A lieutenant with Vinci's police department, Ray has a sideline as an enforcer for career criminal Frank Semyon (Vaughn), who 20 years earlier provided him with information about the man who raped his wife. It's that meeting that makes up the episode's sole flashback and, like those time jumps in True Detective's first season, the difference between past and present is striking. Ray, clean-shaven and uniformed in the flashback, looks a far shadier character in the present. An alcoholic, he's now divorced from his wife and struggling to find common ground with his schlubby, bullied son. Ray's parenting swings erratically from tender to violent; the best way to dissuade his son's bully, he determines, is to have him watch as he bludgeons his entirely innocent father to a pulp, yet he also swaps tender messages with his son via a Dictaphone.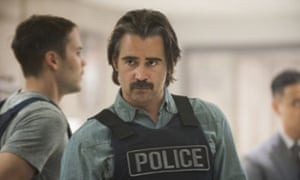 'Never do anything out of hunger, not even eating'
While Ray has descended into the gutter in the years since that flashback, Frank has sought to ingratiate himself with the stars, recasting himself as a respectable businessman: a casino owner seeking to make a fortune from the construction of a $68bn high-speed railroad though Vinci. Of course Frank's criminal tendencies haven't abated: he's just better at hiding them these days. When the first instalment of an eight-part LA Times article on Vinci's corruption lands on his desk, his immediate response is to have Ray terrify the reporter into shelving the rest of the piece. Yet there's an insecurity in Frank that Vaughn – the person most likely to have a McConaughssance this season, you suspect – does well to communicate: he craves the chance to swim in LA's high-class circles (the rail corridor offers "a chance for the grandkids to become part of those old California families," he tells a Russian investor), and worries that he should have held an investor meeting in a country club rather than his slightly rough-around-the-edges casino.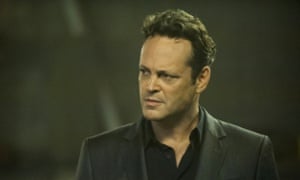 If the link between Ray and Frank is clearly defined from the off, the connections between the rest of this season's major players are more fuzzy, at least at first. There's Ani Bezzerides (McAdams), a tough cop trying to separate herself from her hippy father and camgirl sister. Paul Woodrugh (Kitsch), meanwhile, is a highway patrolman who finds himself suspended from duty after being accused of soliciting a blowjob from a Hollywood actress. Both Ani and Paul seem drawn to extremes of recklessness: Ani carries a concealed weapon in her belt and sock, and picks fights with casino bouncers, Paul leaves his girlfriend late at night to drive round highway bends at high speeds with his motorcycle headlights off. Perhaps this extreme behaviour can in part be explained by past trauma: Ani's mother seems to have died in suspicious circumstances ('walking into a river' is how she puts it), while Paul is covered in rather severe-looking scars.
For so much of this episode, the connective tissue between this quartet remains hidden, as if writer Nic Pizzolatto is happy just to wallow in the murk and misery of their circumstances. Only in the final few moments do we learn what joins them together: the man in the back of the car. His name is Ben Caspar, and he's a city manager who has been heavily involved in setting up the Rail Corridor deal. Caspar is dead, his eyes burnt out by acid, his corpse left in a rest stop on the freeway for Paul to discover. It looks as if we've got a major investigation on our hands …
RECOMMENDED READING
As anyone who found themselves thumbing through The King In Yellow can attest, True Detective loves a good literary reference. While The Western Book Of The Dead doesn't feature anything quite as significant as Robert Chambers's book, there are a few telling texts on show. Ani, for example, seems to have taken an interest in martial arts literature: Hagakure, Musashi's Book Of Five Rings, and a book simply titled Knives all appear on her kitchen table. Casper, meanwhile, owns – unsurprisingly – a copy of the Kama Sutra.
For a comprehensive list of literature that looks to have influenced this season of True Detective – from Chandler to Newton Thornburg – check out Chris Ryan and Andy Greenwald's Tumblr Double Down Book Club.
NOTES AND OBSERVATIONS
Another significant change this season is the replacement of Cary Fukunaga – who is busy making movies – with a roster of directors, beginning this week with Justin Lin (Fast And The Furious films).
Amidst all the changes elsewhere, T Bone Burnett remains the show's music supervisor. This year's opening credits – which are terrific, incidentally – are soundtracked by Leonard Cohen. Meanwhile the closing credits feature a fantastically gloomy cover of The Gatlin Brothers' All The Gold In California, courtesy of Nick Cave and Warren Ellis, and the haunting performance in the bar where Ray and Frank met was by country singer Lera Lynn.
"Did you see that too, right?" Ray's reaction to that strange work of art in Caspar's house (a naked woman floating in milk, by the looks of it) felt to me like a playful reference to Rust's hallucinations in season one.
Judging by the skeletal statue in Caspar's living room, it looks like he might follow Our Lady of the Holy Death, the religious movement referenced in Breaking Bad.
An early clue that Frank is a bad egg is in his choice of home. If the movies have taught us anything it's that LA villains tend to live in gleaming modernist houses.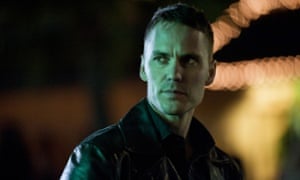 Source:https://www.theguardian.com