Back in 1835, Brussels became the world's first capital city to get a railway line – two years before London. Although Midi remains the city's main station, the area around a stop on the old line is becoming something of a trainspotter's paradise.
In the north of Brussels, the handsome old station building at Schaerbeek (plus a new annexe) is now home to Train World, a national railway museum which launched last September. But while you can clamber aboard the carriages, you can't stay the night in them – for that you'll have to head around the corner to the new Train Hostel. Opened late last year, it's home to a rooftop suite housed in half a real railway car, which looks like it might just topple off the edge of the building.
The bed
Dorms at the Train Hostel are styled like couchettes, complete with fold-down beds. But the suite on the roof is in a different class. Well, first class. It was designed by artist François Schuiten, who also led the creative team behind Train World.
You can admire the engineering from your own private terrace, accessed through the carriage door, which would be perfect for summer suntanning, though it's a little chilly in winter. Inside there's a comfy bed, fold-down tables, and a wicker easy chair – you feel like a Victorian gent on a Grand Tour. Train posters line the walls and there are vintage clocks too. It's not exactly luxurious (no toiletries, for example) but it's warm and welcoming, and there's a clean shower room with a toilet.
There's no danger of sleep-walking out through the doors that lead down to a four-floor drop – they're locked shut. Because it's on the top floor, it's quite private and quiet – though remember you are in a youth hostel with a serve-yourself bar …
There are four sister "Train Flats" nearby, which are also furnished with railway memorabilia.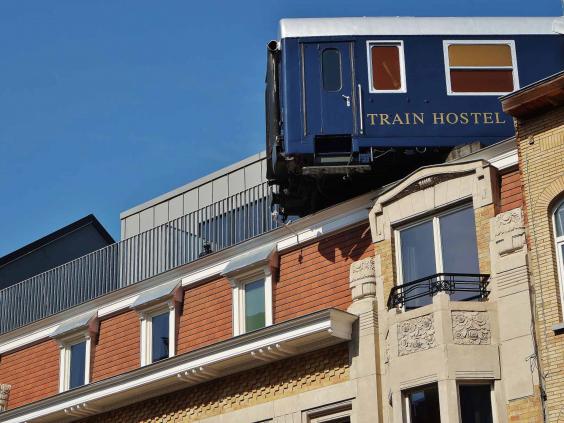 The breakfast
A good spread is served from 7am until 10am, with bread, croissants and pains au chocolate. There's a couple of cheeses and some charcuterie, yoghurt, fruit, tea, coffee and juices. You need to clear the table yourself afterwards. I imagine it could get rowdy if big groups were staying, but during my visit there was nary a soul around.
The hosts
Convivial staff welcome you and are eager to tell stories. I met the manager, Yves, and receptionist, Margot, both of whom were very friendly and spoke perfect English.
The weekend
It's hard to know whether kids or big kids would be more wowed by Train World (00 32 2 224 75 88; trainworld.be). It's big, bold, brash and fun, and clearly influenced by York's National Railway Museum. To that end, there are dozens of locomotives and carriages to check out, and really imaginative displays, including a slightly harrowing level crossing crash, plus a look at the history of Belgium's railways. It's not niche – this all feeds into British history too, as the engineers who built the trains and track often came from our shores. Posters, a bookshop, old uniforms and a handsome bar make this a place you'll want to buy a return ticket to.
Alternatively, hop on a tram to the nearby Atomium (atomium.be). It's the city's most eye-catching building, with great views, and also hosts displays about architecture and science; at the moment there's a great Exhibition called Modernika (until 10 April), which examines how Brussels rebuilt great swaths of itself in the aftermath of Expo 58, which the Atomium was built for. And in December, the Art & Design Atomium Museum (00 32 2 475 47 64; adammuseum.be) opened next to the Atomium, with a permanent collection called the Plasticarium, which comprises several thousand plastic objects.
The pit-stop
Brasserie de la Presse (00 32 2 201 50 85; restauration-nouvelle.be) is a new café and relaxed restaurant a few tram stops from the Train Hostel. This friendly place is plastered in photos culled from decades worth of Le Soir, the Belgian newspaper that has its offices next door (hence the name). The eclectic menu ranges from coffee to caipirinhas, and from crêpes to carpaccio of beef.
The essentials
Train Hostel, Ave Georges Rodenbach, Schaerbeek, Brussels (00 32 2 8080 6176; trainhostel.be). Train suite from €99 (£74) per night, including breakfast. Eurostar (03432 186186; eurostar.com) offers rail travel from London St Pancras to Schaerbeek via Brussels Midi from £34.50 one way.
Source: https://www.independent.co.uk