Topshop has said it is halting new orders of an unrealistically tall and thin mannequin after a customer complained that it was "ridiculously shaped".
Laura Berry addressed the company directly on Facebook, accusing it of encouraging young women to aspire to a "cult image".
Berry took a photograph of one of the mannequins, which the company said was a size 10, but taller than the average woman – at 6ft 1in – and "stylised to have more impact", while shopping at a store in Cribbs Causeway mall near Bristol.
She posted it on Topshop's Facebook page and said: "I'm calling you out, on your lack of concern for a generation of extremely body conscious youth."
In a matter of hours, the message received more than 3,000 likes and generated more than 700 comments, including a response from the retailer.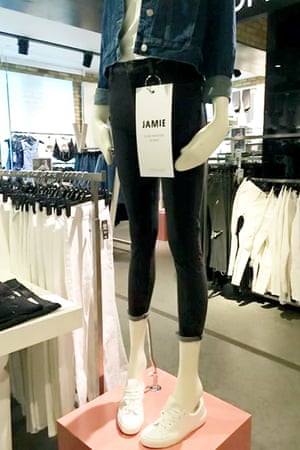 Topshop said that following the frank views expressed by Berry and other customers, it was "not placing any further orders on this style of mannequin", which was "not meant to be a representation of the average female body".
In a lengthy post, Berry, a customer services assistant from Stroud, Gloucestershire, said the mannequin was "quite frankly ridiculously shaped" and she hoped many would read and share her message to show solidarity. Berry wrote that she had "used my size 10/12 legs to walk straight out of your store".
She said: "I'm fairly certain if any of us were to witness this in our teenage years, it would have left us wondering if that was what was expected of our bodies."
Berry said studies showed that unrealistic mannequins made young, impressionable women feel insecure. She wrote: "So what makes you feel you can ignore everything that's been said and considered by other high street stores and even some high fashion designers? What makes you so superior, Topshop? Perhaps it's about time you became responsible for the impression you have on women and young girls and helped them feel good about themselves rather than impose these ridiculous standards."
Topshop initially asked for Berry's details to contact her privately, but later posted a public response.
The company said: "This particular style is used in small number of our stores and is based on a standard UK size 10.
"The overall height (187cm) is taller than the average girl and the form is stylised to have more impact in store.
"As the mannequins are solid fibreglass, their form needs to be of certain dimensions to allow clothing to be put on and removed easily; this is therefore not meant to be a representation of the average female body."
Source: https://www.theguardian.com