Labour has "rediscovered losing", former Prime Minister Tony Blair warned as a poll put left-winger Jeremy Corbyn ahead in the leadership contest.
Mr Blair said Labour could win again – but not from a "traditional leftist platform" and said it had to "move on".
The YouGov poll for The Times suggests that in the final round of voting, Mr Corbyn would get 53% of support, six points ahead of Andy Burnham.
Yvette Cooper and Liz Kendall are the other candidates for the leadership.
The YouGov poll suggests Mr Corbyn is the first preference for 43% of party supporters, ahead of Andy Burnham on 26%, Yvette Cooper on 20% and Liz Kendall on 11%.
Taking second preferences into account the poll, of 1,054 people eligible to vote in the contest and carried out between Friday and Tuesday, pointed to a 6% Corbyn victory.
Conservatives 'vulnerable'
Addressing the Progress think tank, Mr Blair attacked the SNP, saying nationalism was "caveman politics".
The "debilitating feature" of the leadership contest was that it was being presented as a choice "between heart and head", he said, adding that people who say their heart is with Mr Corbyn should "get a transplant".
Even if Mr Corbyn could win power, something Mr Blair thought would be unlikely, he said it would not be the right choice for the country.
"It would not take the country forward, it would take the country back," he said.
Since he became Labour leader 21 years ago, the party had "discovered winning successively" then "rediscovered losing successively", he said, adding: "Personally I prefer winning."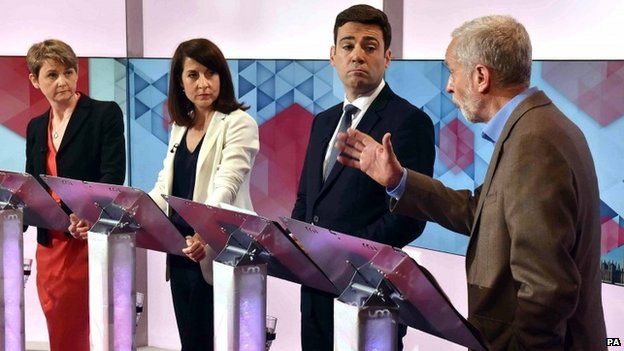 Labour should not "despair", he said, adding that the Conservatives were "vulnerable" and were "going to get cocky" in government.
He recalled the 1979 election, when Labour adopted "the theory that the electorate is stupid" and responded to a Conservative victory by moving to the left, and losing four successive elections.
May's election was "out of the playbook of the 1980s" with the Conservatives seen as the party of economic competence and Labour of compassion, he said, adding that the party should avoid repeating past defeats by occupying the centre ground of politics.
Describing his "disagreement" with former Labour leader Ed Miliband – who he paid tribute to for his courage, he said: "He thought the centre ground had shifted left, I do not think the centre ground shifts in that way."
'Philosophical struggle'
Earlier speaking on BBC Radio 4's Today programme, Shadow Education Secretary Tristram Hunt, who is backing Ms Kendall for the leadership, suggested Labour's "progressive, modernising" wing had not made a good enough case on issues like public spending and welfare reform.
"It's a big philosophical struggle inside the party," he said.
"The danger is that the Labour Party, one of the great governing parties of the 20th and early 21st centuries, that did enormously important things for Britain and Britain in the world, would be on a trajectory to becoming a pressure group, would not have that broad reach into all parts of the United Kingdom."
Mr Corbyn's supporters, he said, wanted to "rack up" more votes in Labour areas rather than Conservative ones, comparing the left-winger's popularity to that of anti-austerity parties in Greece and Spain.
Labour announces its new leader at a special conference on 12 September.
Former Tony Blair adviser John McTernan told BBC Newsnight two of the other candidates should withdraw in favour of an "anyone but Corbyn" candidate.
He also said Labour MPs who lent their support to the Islington MP – who struggled to get enough nominations to make it onto the ballot – were "morons".
Source: https://www.bbc.com