Vienna's image can often seem a little staid, like a buttoned-up aristocrat tottering off to one of the city's famous balls. But since the 1990s, this stridently cosmopolitan city has emerged from its traditional chrysalis with a band of entrepreneurs and restaurateurs that has created fashionable new places to shop, eat and, more recently, sleep. One of these, set just off the Danube Canal is the defiantly named This Is Not A Hotel, a three-suite boutique B&B that aims to offer a more intimate experience than a standard hotel.
The bed
There's no signage outside This Is Not A Hotel, which cements the impression that you're in for something different. Built in a 1970s former milk shop, each of the three spacious suites has a separate entrance from the street. Inside, interiors are populated with flea-market furniture, vintage finds, and artwork created by the owner.
Each has its own merits: The Hunter's Shop is emblazoned with stag motifs and has an opulent raised platform for the bed; The Pomp Shop is decked out in blues and golds that hint at Vienna's history as the seat of the Habsburg monarchs. My room, The Inventor's Shop, featured a full-wall mural of Hedy Lamarr, the Austrian screen siren and inventor who, during the Second World War, became a pioneer in wireless communications. All suites come kitted out with kitchenettes.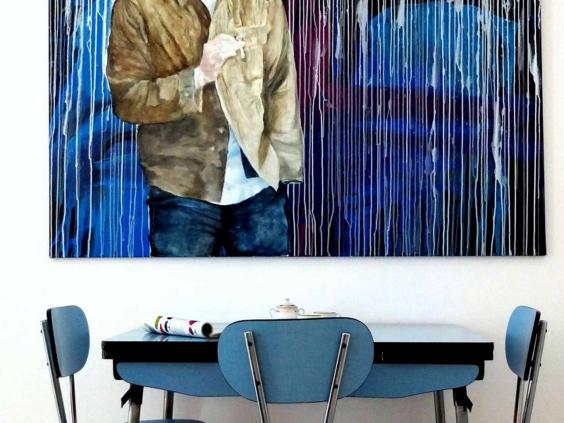 The breakfast
A simple selection of hams and cheeses, homemade jams, and unusual breads, come with delicious yogurt and seasonal fruits. You can also order eggs cooked any-which-way, all served in a room that's done up to resemble a retro café or American diner. Strong coffee and fresh orange juice come as standard.
The host
Susanne Zanat worked in Austrian television, before launching her dream B&B. Tired of the traditional hotel model, she wanted to set up something that offered individual design and intimate service. Susanne is always on hand to offer tips.
The weekend
Set on a residential street, little surrounds this (non) hotel apart from Autgarten park. Stroll across the Siemens Nixdorf Steg bridge, however, and you reach Rossauer Lände U-bahn station, which connects with all the main sights – including the Museums Quarter (00 43 1 523 58 81; mqw.at), St Stephan's cathedral (00 43 1 515 52 30 54; stephanskirche.at), the Hofburg Palace (00 43 1 533 75 70; hofburg-wien.at) and the Spanish Riding School (00 43 1 533 90 31; srs.at). For shops, head to the Freihausviertel neighbourhood (freihausviertel.at) in the 4th District of Wieden. Especially good is Flo Vintage at Schleifmühl gasse 15 (00 43 1 586 07 73; flovintage.com), where Ingrid Raab and her husband, Karl, have been selling vintage clothes to the likes of Stella McCartney and Marc Jacobs for 37 years. Next, pop in to quirky Vollpension at Schleifmühlgasse 16 (00 43 1 585 04 64; vollpense.at), a new social-enterprise-cum-café where grannies struggling to live off their pensions are employed to cook cakes in wonderfully chintzy surroundings.
For cycling enthusiasts, there's the new Radlager bike café at Opern gasse 28 (00 43 6991 777 99 30; radlager.at) with vintage and up-to-the-minute bikes and accessories plus equally carefully chosen coffee blends, while Bananas at Ketten brückengasse 15 (00 43 664 312 94 49; bananas.at) is the place for stylish 20th-century homeware.
After zigzagging the streets, stop for a bite at lively Naschmarkt, where you can browse the eclectic food stalls or grab a table at such restaurants as ON Market at Linke Wienzeile 36 (00 43 1 581 12 50; on-market.at); noodle soup costs €8.50 (£6.15).
The pit-stop
Until October, you have time to take in Vienna's lively "urban beach" scene. Start with a sunset stroll along the Danube, walking towards town. You'll take in high concrete walls sprayed with street art and buskers playing tunes beneath bridges, before reaching Tel Aviv (neni.at/tel-aviv). It's one of a parade of beach bars that operate throughout summer. Dig your feet into the sand and sip cocktails from €7.50 (£5.45).
If you're travelling after autumn, a more permanent new addition is Moss am Fluss (00 43 1 252 55 10; motto.at), where you can soak up the atmosphere inside a striking building that arches over the water.
The essentials
This Is Not A Hotel, Obere Donau- strasse 9, Vienna, Austria (00 43 1 348 300; thisisnotahotel.at). Doubles start at €99 (£72), including breakfast.
British Airways Holidays (0844 493 0787; ba.com) offers flights on its new Gatwick to Vienna route from £87 return.
Go to wien.info for more details.
Source: https://www.independent.co.uk