Technology companies must go "further and faster" in removing extremist content, Theresa May is to tell the United Nations general assembly.
The prime minister will also host a meeting with other world leaders and Facebook, Microsoft and Twitter.
She will challenge social networks and search engines to find fixes to take down terrorist material in two hours.
Separately, tech giant Google has said it will give £1m to fund counter-terrorism projects in the UK.
The prime minister has repeatedly called for an end to the "safe spaces" she says terrorists enjoy online.
Ministers have called for limits to end-to-end encryption, which stops messages being read by third parties if they are intercepted, and measures to curb the spread of material on social media.
At the general assembly on Wednesday, the prime minister will hail progress made by tech companies since the establishment in June of an industry forum to counter terrorism.
But she will urge them to go "further and faster" in developing artificial intelligence solutions to automatically reduce the period in which terror propaganda remains available, and eventually prevent it appearing at all.
'Best brains'
Together, the UK, France and Italy will call for a target of one to two hours to take down terrorist content wherever it appears.
Internet companies will be given a month to show they are taking the problem seriously, with ministers at a G7 meeting on 20 October due to decide whether enough progress has been made.
A Downing Street source said: "These companies have some of the best brains in the world.
"They should really be focusing on what matters, which is stopping the spread of terrorism and violence."
Technology companies defended their handling of extremist content after criticism from ministers following the London Bridge terror attack in June.
Google said it had already spent hundreds of millions of pounds on tackling the problem.
Facebook and Twitter said they were working hard to rid their networks of terrorist activity and support.
YouTube told the BBC that it received 200,000 reports of inappropriate content a day, but managed to review 98% of them within 24 hours.
Addressing the UN General Assembly, Mrs May will say terrorists will never win, but that "defiance alone is not enough".
"Ultimately it is not just the terrorists themselves who we need to defeat. It is the extremist ideologies that fuel them. It is the ideologies that preach hatred, sow division and undermine our common humanity," she will say.
'Mystified'
A new report out on Tuesday found that online jihadist propaganda attracts more clicks in the UK than in any other country in Europe.
The study by the centre-right think tank, Policy Exchange, suggested the UK public would support new laws criminalising reading content that glorifies terror.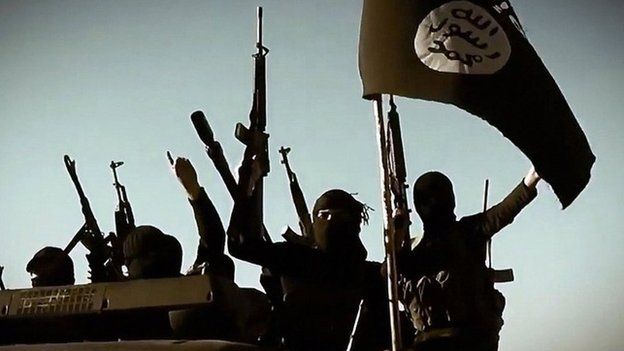 Google said the UK counter-terrorism fund was part of a $5m (£3.7m) global commitment.
The search giant has faced criticism about how it is addressing such content, particularly on YouTube.
The funding will be handed out in partnership with UK-based counter-extremist organisation the Institute for Strategic Dialogue (ISD).
An independent advisory board will be accepting the first round of applications in November, with grants of between £2,000 and £200,000 awarded to successful proposals.
ISD chief executive Sasha Havlicek said: "We are eager to work with a wide range of innovators on developing their ideas in the coming months."
A spokesman for the Global Internet Forum to Combat Terrorism, which is formed of tech companies, said combating the spread of extremist material online required responses from government, civil society and the private sector.
"Together, we are committed to doing everything in our power to ensure that our platforms are not used to distribute terrorist content," said the spokesman.
Mrs May's appearance at the UN comes days before she is due to give a major speech on Brexit – a subject that led to repeated questions from journalists on her visit.
Foreign Secretary Boris Johnson was accused of undermining her plans by writing a 4,000-word newspaper article setting out his own vision for Brexit.
Speaking to the Guardian, Mr Johnson said he was "mystified" by the row his article had prompted, saying he had "contributed a small article to the pages of the Telegraph" because critics had been saying he was not speaking up about Brexit.
Read more at bbc.co.uk