High levels of immigration make it "impossible to build a cohesive society", Theresa May is to warn.
The home secretary will tell the Conservative Party conference Britain "does not need" net migration at current levels and that is it "difficult" for key services to cope.
Prime Minister David Cameron said he agreed with her comments.
Net migration into the UK currently stands at a record high, reaching 330,000 in the year to March.
In other developments:
Boris Johnson – seen as a potential Conservative leadership rival to Mrs May – is expected to say welfare reforms must protect low-paid workers
Mr Cameron told BBC Radio 4's Today programme Labour leader Jeremy Corbyn does not "see the risk" posed by so-called Islamic State
The PM also defended tax credit changes after Health Secretary Jeremy Huntsuggested they would persuade people to "work hard"
The UK's ban on prisoners' rights to vote looks set to continue after a European ruling
Parents in England who refuse to pay a penalty after their children play truantwill have their child benefit docked
Ministers have admitted missing their target to reduce net migration below 100,000, blaming the scale of migration from within the EU.
Addressing the party conference in Manchester, Mrs May will say the "desire for a better life is perfectly understandable" but that "there is a limit to the amount of immigration any country can and should take".
Controls are needed, she will say: "Because when immigration is too high, when the pace of change is too fast, it's impossible to build a cohesive society. It's difficult for schools and hospitals and core infrastructure like housing and transport to cope."
Wages are also forced down and some people "forced out of work altogether", she will say, adding: "But even if we could manage all the consequences of mass immigration, Britain does not need net migration in the hundreds of thousands every year."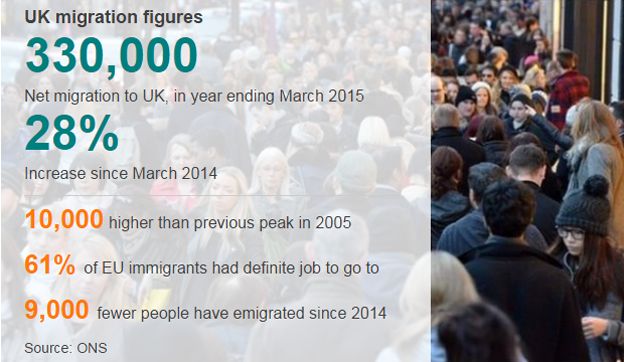 Speaking on BBC Radio 4's Today programme, Mr Cameron said he agreed with the home secretary's comments, saying integrating new arrivals was "more difficult if you have excessive levels of migration".
The PM also said he was "incredibly proud" the UK had built one of the "most successful multi-racial, multi-ethnic democracies anywhere in the world".
But he said that for an "integrated, successful society you have to make sure there are enough school places and that hospitals aren't overcrowded".
Leadership clues
According to the latest figures released in August, net migration of EU citizens was 183,000, up 53,000 from the year ending March 2014.
The number of those arriving from countries outside the EU was still larger, with net migration measured at 196,000, up 39,000 on a year earlier.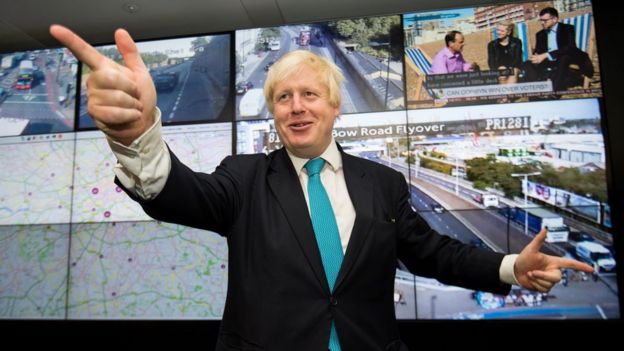 Ministers said the figures were "deeply disappointing".
BBC political correspondent Alex Forsyth says that with talk of who might succeed Mr Cameron continuing on conference sidelines, both Mrs May and Mr Johnson's speeches would be closely watched for signs of any leadership ambitions.
The London mayor and Conservative MP will warn that any welfare and tax reforms must not reduce support for "the hardest working and lowest paid".
"Shops workers, cleaners, the people who get up in the small hours or work through the night because they have dreams for what their families can achieve – the people without whom the London economy would simply collapse," he will say.
"[These are] the people Labour is leaving behind and then there is an even more important requirement.
"Because if Labour is once again becoming the party that pointlessly bashes the rich it is we who give everyone the tools to make their own lives and their own successes."
Source: https://www.bbc.com