Peas and beans are as synonymous with British summer as strawberries and cream. Thanks to modern technology, we can now get them for much longer than their natural season, and with no loss of flavour (which is, sadly, not the case with strawberries): freezing peas and broad beans arrests the process that turns their natural sugars into starch, keeping them sweet. Even so, there's a lot to be said for buying them fresh and enjoying their season, not least because children, in particular, seem to enjoy the lovely, meditative task of podding and shelling. Oh, who am I kidding? I love it, too.
Spaghetti with squid, peas and chilli
Beautifully simple flavours yet full of punch. The colours and contrast of the garlicky squid, sharp lemon and chilli bite make this ideal for hot, sunny days. Serves four.
400-500g fresh squid, cleaned (ask the fishmonger to do this, if need be), tubes and tentacles left whole
300g fresh or frozen peas
300g spaghetti
6 tbsp extra-virgin olive oil (the best you can afford)
Salt and freshly ground black pepper
3 cloves garlic, peeled and sliced fine
1 small handful marjoram leaves, finely chopped
2 small dried red chillies, crumbled
Zest and juice of 1 lemon
1 handful mint leaves, finely chopped
Cut open each squid tube and open their bodies like a book. Scrape out any remaining residue inside with a knife, then finely slice the bodies into strips and pat dry with kitchen paper. Cut the tentacles into thirds or quarters.
Bring a pan of water to a boil, blanch the peas for a couple of minutes, until just done, and drain.
Bring a large pan of well-salted water to a rolling boil and cook the spaghetti until al dente, then drain, reserving some of the cooking water, to help finish the sauce.
Meanwhile, put a large, heavy-bottomed frying pan on a high heat and add half the olive oil. Throw the squid into the pan, season generously and stir-fry for a minute. Add the garlic, marjoram, peas and chilli, stir-fry for a few minutes more, until the squid is tender and starting to brown at the edges and the garlic is cooked. Scatter over the lemon zest, juice and mint, and stir to combine.
Toss the squid through the cooked spaghetti, then pour on the remaining oil and a few tablespoons of reserved cooking water. Quickly toss to combine, season to taste and serve at once.
Morcilla with broad beans and mint on toast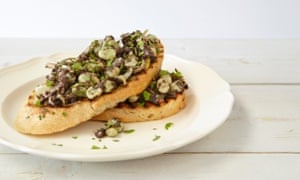 The gutsy, earthy flavour of black pudding is delicious with young, sweet broad beans. This is my favourite type of food: simple, gutsy and hard to stop eating. If you can't find young, small beans, use peas; old broad beans tend to be bitter. Likewise, if you can't get morcilla, use black pudding. Serves four as a first course.
250g shelled young broad beans, fresh or frozen
30g butter
1 leek, finely shredded
3 tbsp extra-virgin olive oil
2 garlic cloves, finely sliced, plus one for rubbing
250g morcilla, skinned
2 tbsp sherry
1 tbsp sherry vinegar
1 handful mint leaves, roughly chopped
4 slices rustic-style bread
Bring a medium pot of water to a boil and simmer the broad beans until just done, about four to five minutes. Drain and leave in the colander to steam dry.
Melt the butter in a large frying pan over a medium-high heat. Once sizzling, add the leek, half the oil and a generous pinch of salt (or two). Saute for three minutes, then add the garlic and cook for a few minutes more, until the leek is just softening. Crumble the morcilla or black pudding into the pan and use a wooden spoon to break it up further. Fry for about five minutes, until the pudding is caramelising on the outside and just cooked through, then stir in the beans, sherry, sherry vinegar and a splash of water. Turn down the heat and cook, stirring gently, for a couple of minutes more, so the liquid reduces to a syrupy sauce. Season to taste, and add a splash more vinegar if it needs to be a little sharper, then stir in the mint.
Meanwhile, toast the bread (on a char-grill if you can, so you get those lovely char lines). Rub the cut side of the spare garlic clove over the toast (the hard bread will act a bit like a grater), then drizzle with the remaining oil. Place on plates and spoon over the broad bean and black pudding mix. Add a final sprinkle of mint and serve at once.
And for the rest of the week…
The sauteed squid is delicious tossed into a salad as well as with the spaghetti. Allow it to cool once fried as above, and save for tossing with rocket and dressed with olive oil and more lemon juice – that makes a great bruschetta topping, by the way, if you want a laid-back but glam dish to hand round before dinner (and way less work than a formal starter). Blitz any leftover cooked peas with some goat's cheese or fresh curd, lots of mint, a little garlic and seasoning, and use to fill fried wontons, quesadillas or wraps.
Buy more morcilla or black pudding than you need for today's dish – like chorizo, it keeps for weeks in the fridge. It's a real winner fried and served in salads with sliced pears, shallots and baby gem, or with roast red peppers. Eat young broad beans any which way – I often serve a pile of the pods whole in the centre of the table, alongside a bowl of grassy extra-virgin olive oil, some good country bread and a hunk of pecorino, and leave guests to shell the beans themselves… it's fun, not to mention gloriously easy.
Read more:https://www.theguardian.com