You may have noticed that those Protein World adverts – the ones that demanded to know you if you were "beach body ready"? on your daily commute – have largely disappeared after a Change.org petition to have them removed garnered more than 71,000 signatures. However, the Advertising Standards Agency has since ruled that they are not, in fact, offensive or socially irresponsible as the petition – and many social media campaigns – claimed. In its assessment of the advert, the ASA wrote: "We considered the claim 'Are you beach body ready?' prompted readers to think about whether they were in the shape they wanted to be for the summer, and we did not consider that the accompanying image implied that a different body shape to that shown was not good enough or was inferior."
Interestingly, of the 71,000-odd petitioners, only 378 felt moved to complain to the ASA directly, prompting its scrutiny of the Protein World adverts. While it's certainly not a meagre number, it doesn't perhaps reflect the column inches, social media outcry and Hyde Park protest against body-shaming that came in the wake of the advert. However, the adverts will not be returning, says the ASA: "We told Protein World that, due to our concerns about a range of health and weight loss claims, the ad could not appear again in its current form." Unfortunately for Americans, though, the campaign hit US shores last week, and the protest has just begun again.
'Vontouring' is a thing now
If you still think that the word contouring refers to something you do with a map, rather than a beauty trick championed by the likes of Kim Kardashian and her sisters, then vontouring is going to leave you really baffled. The beauty and fashion industry has always had a soft spot for the portmanteau (see the belfie, jegging etc), and this latest term is a catchy combination of – you guessed it – the words "vagina" and "contouring". Vontouring refers to a relatively new innovation in labiopasty, Protégé Intima (it's actually been available in select clinics since last year); a non-invasive, non-surgical treatment that promises to "reduce the size of the vaginal lips, plumping up the labia's collagen to tighten the entrance, according to Cosmopolitan. And there you were, thinking designer vaginas were a thing of the past. Although something tells us it's not going to take off the way contouring did. Unless, perhaps, Kim Kardashian becomes a fan.
Katy Perry's accountant roars
Was anyone else surprised to see Katy Perry named as wealthiest female celebrity by Forbes this week? The 30-year-old pop star has quietly (kind of) gone and amassed a pre-tax fortune of $135 million, beating Beyoncé and Taylor Swift to claim the title. And it really is all down to hard work (and some very healthy merchandise sales as well). In the past year, Perry has played a whopping 124 shows in 28 countries, not to mention making some savvy choices when it comes to product endorsement. But even more impressive than her work ethic is her unapologetic attitude to being a businesswoman. "I'm an entrepreneur," she told Forbes. "I don't want to shy away from that. I actually want to kind of grab it by its balls."
Despite this, Perry – along with Beyoncé and Taylor and, well, most high profile women you can think of – failed to bag a place on this year's Woman's Hour Power List of the world's most influential women, being beaten in the culture category by Sia. Scotland first minister Nicola Sturgeon topped the list.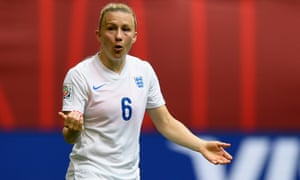 Jezebel takes on the box
If you're watching the new season of True Detective and have found yourself yearning for some insightful analysis of its females characters, may we point you in the direction of Jezebel's brilliant new TV review series, The Lady Parts. Fear not, this isn't an up close look at those parts, rather a critique of the female roles and representation of women in some of today's most-watched shows. Which are often the programmes that so often do not do their female characters justice. Or, in the case of some of the writing in True Detective, try to join the feminist conversation but end up missing the point entirely.
#proudofBassett
It's safe to say that few people would have wanted to have been in Laura Bassett's football boots when she scored the injury-time own goal that cost England a place in the World Cup final. Heartbreaking as it was, it did spark one of the more positive trending topics for women on Twitter. Yes, of course there were the trolls, there always will be, but #ProudOfBassett did a very good job of silencing them as people took to the internet to show their support for the footballer. While Bassett has united sports fans – both male and female – Fifa president Sepp Blatter will still not be making an appearance at this Sunday's final in Canada citing "personal reasons".
It seems Blatter and his colleagues are still no closer to understanding their comments on their female counterparts need only refer to their performance, and not their appearance. In an article on Fifa.com ahead of the United States semi-final against Germany, US forward Alex Morgan was described as "a talented goal scorer with a style that is very easy on the eye and good looks to match". Oh, Fifa.
Grinding our gears
British women on average pay £45 more than men for car repairs, a new study has found. Research by ClickMechanic, a online marketplace, surveyed nearly 200 independent garages across the UK and claims that most charged "female premiums".
After mystery shoppers requested quotes to replace the clutch on a 2011 Ford Focus, the results showed that men would have to pay an average of £571, whereas it would cost £616 for a woman. Worryingly, eight out of 10 cities were guilty of price-hiking for females – Birmingham proved to be the worst offender, with male car owners being quoted an average of £445 whereas women had to dish out £582, a difference of more than 30%.
News about the so-called "woman tax" is nothing new. From deodorants to dry cleaning, perfumes to razors, studies and campaigns have shown over and over again that it costs more to be female.
Source:https://www.theguardian.com