Without tips and money he gets from the service charge, Matias says simply, "I wouldn't survive." He works as a waiter for a restaurant chain, and is paid around the minimum wage; the extra can mean £120 a week more in his pay packet. "It makes a big difference to me," he adds. "And that is money that comes from the customer's pocket, not money from the company's profit. The money should come from the company, rather than relying on tipping." To make matters worse, he says, the company takes a percentage of the service charge as a "fee" for processing the payment before it is passed on to him and his colleagues. A number of other restaurant chains have been revealed to be doing the same by a series of newspaper investigations over the past few months.
According to these reports, it is all about greedy bosses (usually big, profitable groups that own several chains of restaurants); waiters who have been told to lie to customers about where the money goes; and a bewildering array of terms, such as "troncmaster" – a restaurant employee responsible for distributing tips among the rest of the staff, in what is known as the tronc system – and "discretionary service charge". There are certainly dubious practices, but what closer inspection mainly shows is inconsistency. In an industry made up of lots of disparate, independent businesses, everyone seems to have a different system – and a different idea of what is fair.
Earlier this month, it was reported that the Mexican street-food restaurant chain Wahaca asks waiting staff to hand back money (3.3% of card sales) at the end of every shift to be shared with other restaurant workers. At the end of September,Jamie Oliver's chain Jamie's Italian was found to have a similar policy, deducting 2%. Unlike those accused of deducting fees for "admin or business charges", these restaurant chains have pointed out that the company doesn't pocket the money – it is all distributed to staff who work behind the scenes, such as chefs, kitchen porters and cleaners, through the tronc system, and is considered a fairer way of rewarding everyone. Reported complaints from front-of-house staff relate to the fact that it is calculated as a proportion of their sales, rather than actual tips earned. One Wahaca waiter likened it to being asked "to pay rent" to work. On the other hand, in restaurants running systems where individual waiters are trusted to share a percentage of their tips, there are often complaints from other staff that this is not done honestly.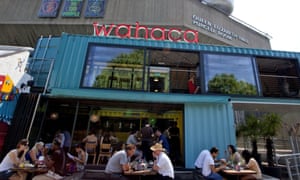 In September, it was reported that Latin American restaurant chain Las Iguanashad bowed to public pressure and reversed its practice of deducting 3% of sales (or 4.4% in London restaurants), which it claimed were put towards "incentives" and "enriched training". According to reports in August, Las Iguanas's charge on waiters totalled £34,000 in one week, based on sales, regardless of actual tips left (the company says staff were not expected to pay back any money if their tips didn't cover it). In August, the Giraffe chain was criticised for taking 10% of tips made by card payments for "administrative and other business costs"; Pizza Express was taking 8%. Both have announced they will stop. The steak chain Gaucho was reported to be taking 16% of tips and 2.3% of each waiter's monthly sales to share with other restaurant staff. The owners of French restaurant chain Côte denied claims that the company kept the entire 12.5% "service charge" it puts on customer's bills, stating this was redistributed to behind-scenes-staff.
But as bad as it seems today, things have actually improved. In 2008, many restaurant chains, including Bella Italia, Loch Fyne, Carluccio's and Strada, were found to be using tips to top up salaries so they met the minimum wage. The Hard Rock Cafe was paying its staff just £2.06 an hour, with tips making up pay packets to the legal minimum. This was addressed in 2009, when new rules were introduced to ensure that restaurants paid employees the minimum to start with.
A voluntary code was set up by the Labour government on how restaurants should deal with tipping, which urged fairness for staff and transparency for the customer. But, given the confusion and obfuscation around tipping today, it seems to have been widely ignored. "A tip should be something left by a customer as a reward for good service – it should be no concern of the employer, who should be paying staff a decent wage for the work they do," says Dave Turnbull, Unite's regional officer for the hospitality sector. "The problem is that employers have come to consider tips and service charge as a revenue stream they can dip into at will in order to take a cut, or to divert a percentage away from waiting staff in order to subsidise low wages in the kitchen." The business secretary Sajid Javid has launched an inquiry, which runs until next month, into tipping abuses, and will decide whether more rules, rather than self-regulation, need to be brought in. Clearly, the whole issue is a mess and no one is happy – including the dining public, left confused and feeling ripped off.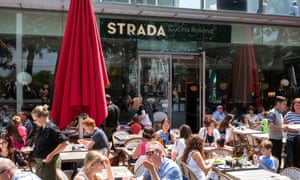 The Observer's restaurant critic Jay Rayner, a man who eats out more than most, must have a failsafe formula for tipping. "That's what everybody thinks, but it's a bloody nightmare in this country," he says. "We are caught between two competing cultural traditions. In the US, it's very clear – you are expected to leave a tip of between 20% and 25%. In France, it's all included. Here, sometimes it's discretionary, sometimes it's not there at all. It can be 10%, 12.5%, 15%." It is heartening to realise the professionals are no more clued up than the rest of us. Recently, the Guardian's restaurant critic Marina O'Loughlin asked a cocktail barman if the service charge she added on the credit-card machine went to him. "The answer was: 'Not all of it,' which resulted in me scrabbling around in my purse for coins in front of him – notes would have been too much for two drinks. It wasn't an edifying experience for either of us."
Given it was the British who apparently introduced the custom of tipping to the US in the 19th century, there is something very unsuited to the British temperament about the whole thing (and in New York, change is afoot as influential restaurateurs are clearly wondering if it hasn't been one of those regrettable imports). It's the deeply uncomfortable combination of handling money with an overt public expression of appreciation for good service, or the self-loathing that comes when you've had bad service but you're too embarrassed not to leave a tip. In your fluster, you have to work out how much to leave. It was easier in the days when 10% was the norm, but now you've heard it is supposed to be 13%, or even 15%. And then, physically how? In cash (did you remember to bring enough?) or by card?
And those are just the practicalities. Should you then demand to know how much of the tip you leave will actually go to the person who has served your food? "When I ask a server, at the end of a meal, where the service charge goes to and the answer doesn't come back, simply, 'To us,' it leaves an unpleasant taste," says O'Loughlin. "I think worse of the restaurant, I feel ripped off at having to leave more, or tight if I don't. So I frequently don't ask and come away feeling shifty and vaguely guilty." Despite good intentions, asking a waiter can be risky, says Turnbull. "Waiting staff are often told by employers what to say in response to customer questions about tips, and subject to disciplinary measures if they deviate [from the script]" he says. "This is often policed by mystery diners, and waiters can easily find themselves subject to performance-management measures. So, if in doubt about where your tip is going, ask to speak to the manager rather than potentially placing your waiter at risk."
Over the past few years, more restaurants have started automatically adding a service charge, which in theory should mean you know where you stand – except it is even more confusing. "Generally, I just pay the included service charge," says Rayner. Does he ever leave a tip on top because the service charge isn't the same as a tip? "Isn't it?" Well, only if the restaurant decides so. If he wasn't aware of that, how are the rest of us supposed to know? "There you go, that's how muddy this is," he says. "As far as I'm concerned, anything that goes on top of the price that is on the menu is a tip, a payment in return for service."
Legally, the service charge, as well as any tips separate from the service charge but paid by card, belongs to the restaurant, not the waiter. Although that word "service" leads you, not unreasonably, to expect that it is to reward the server, in reality the restaurant can do what it wants with it. Or rather, it has three choices, says Peter Davies, an employment tax director at the firm WMT, where he specialises in advising hospitality businesses. "I can pay it to staff [to make up] their contractually agreed wages over and above the minimum wage, or I can choose to put the money in a tronc system and it is distributed to people in addition to their contractual wage." The third option is to "just keep it and not give it to anybody. If I choose to do that, I'm probably not going to have any members of staff for very long. What I don't have the option of doing, legally, is to say at the end of the night: 'Our customers have paid £1,000 in service charges tonight; let me go to the till and take it out in notes and give it to you.' If I do that, I'm going to run into problems with HMRC very quickly."
In ethically dubious, but perfectly legal, territory are the restaurants that use part of the service charge to cover things they perceive as staff "faults", such as breakages, till shortfalls and customers who walk out without paying. It is also fine, legally speaking, to charge an admin fee before passing the rest on to staff.
The recommended practice for customers keen to keep tips out of the company's hands has been to ask for the service charge, which is almost always optional, to be removed from the bill, then leave a cash tip, which should go to the waiter or into the staff pot, untouched by the company. But even that isn't failsafe – in 2009, waiting staff at the Cafe Rouge chain were reported to have been threatened with the sack if they encouraged customers to leave cash tips. The chain denied this. But it seems that similar ruses are happening elsewhere, even today. "We have been told to tell the customer that it doesn't matter if they leave a credit-card tip or cash, that we get the money anyway, but it's not true," says Matias. "You are not supposed to talk about it unless the customer asks you a question. You are not supposed to tell them you prefer cash rather than credit-card tips."
Is the ethical option to pay the service charge, to boost the earnings of all restaurant staff, then leave a bit of cash for the waiter? I ask Fred Sirieix, the general manager of the Michelin-starred London restaurant Galvin at Windows, if he leaves a tip on top of the service charge when he eats out. Yes, he says – if the waiter deserves it. Because this is the other issue – should your tip only go to the person who served you? The tronc system sounds fair, but why should it be up to the waiters to top up the low wages of the person who washes the dishes?
"I'm quite convinced by the argument that if you choose to become a waiter, interacting with the Great British public, which must be a very annoying job, then you are entitled to that [tip] element," says Rayner. As for the chefs and cleaners, the restaurant should "just pay them properly. In the end, this is what it comes down to – pay your staff properly, don't make them dependent on the goodwill of the British public." Matias, perhaps unsurprisingly for a waiter, agrees: "My opinion is a tip should go only to the person who served you. [The company] like to convince you that the kitchen and the cleaners are part of the service, but they're trying to make you feel guilty." There isn't a right or a wrong answer, counters Sirieix. "You can see the restaurant as a whole – the chef, the receptionist, the cleaner, the waiter, the person who runs the floor – and they should all be getting the tip. The waiter isn't going to get a tip if the food is late or the restaurant is dirty. Or you can [think] only the person at the sharp end of customer service should get it. Different restaurants have different philosophies."
The Hawksmoor group of restaurants runs a tronc system, where everyone shares the tips. "We don't take any cut, we don't take any money to cover the administration of it – all of it goes to the staff," says Will Beckett, the Hawksmoor co-founder. "There is no absolutely perfect answer, but I think fairness and transparency are the key things. What we do, we think and our staff seem to agree, is fair. Everybody who works in a restaurant is responsible for whether customers have a good time. Really, that is what the service charge is supposed to be there for." He agrees the UK system is troublesome.
Wouldn't it be better to do away with service charges and tipping altogether? There have been moves towards this in the US, where tipping is far more ingrained. Last week, the influential and trailblazing restaurateur Danny Meyerannounced a tipping ban at his 13 restaurants starting from November, including Gramercy Tavern and The Modern. There will be no separate service charge and no tipping on top, but menu prices will go up to cover it, and it is intended to increase wages across the whole restaurant (in the US, waiting staff can earn good money from tips; those who work behind the scenes often miss out, despite having trained at catering college – this was a large part of Meyer's reason for the change). It is seen as a risky move which, if it works, will fundamentally change eating out and the way catering staff are paid. The industry, both there, and here, will be watching with interest. But while Meyer's announcement is game-changing, he is not the first. Last month, the high-profile chef Tom Colicchio started trialling a tipping ban during lunch service at his New York restaurant Craft.
"Personally, I think it would be better [to end it]," says Beckett, of the UK system, "but you couldn't do that unilaterally." Any restaurant that tried would have to put their menu prices up to be sustainable and pay their staff a decent wage, and they would suffer – even if you ended up paying exactly the same, and had the advantage of no tip-related mortification, seeing past those higher prices to begin with may be too much of a psychological leap for many customers.
In the meantime, tips and service charges are going to be a tangle of confusion, exploitation and post-prandial discomfort. "From an industry angle, until something comes in that legally states what you can and can't do with the service charge, restaurants are always going to use it differently," says restaurant consultant Adam Hyman. "That's the problem in an industry like this – everyone has to do it, or it will never happen."
Some names in this article have been changed.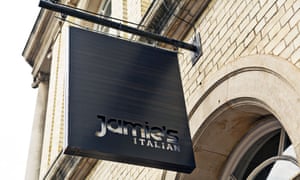 'We were asked why we don't have a fair tipping policy – we do'
Simon Blagden, CEO, Jamie's Italian on why they use the tronc system
Ever since Jamie started working in restaurants, he's known that it was a team effort. Without the people in the kitchen, there is no food. Without the waiters out front, there is no service. And without hard-working people doing the washing-up, there is chaos. When we started Jamie's Italian in 2008, we wanted tips to be shared fairly between the staff. Sometimes customers tip a specific person for good service, so it didn't seem right to put every tip into a collection. When we launched the first restaurant in Oxford, we asked the team how to make the system fair. They proposed the sharing of tips based on the net table sales received by each waiter. This tronc system continues to operate today, run independently from the company. The waiting staff retain all their cash tips immediately, and are paid the credit-card tips that they receive from their tables on a four-weekly basis. A maximum of 2% of their net table sales is deducted from their credit card tips, to be shared among the staff. It is run, usually, by the restaurant manager, a senior person with access to sensitive payroll information who can allocate everything fairly. We've never had an issue with any staff believing that a manager has shortchanged them. Last week, a union asked why we don't have a fair tipping policy. The answer is – we do, because we want to reward the dedicated man or woman who does the washing-up at the end of service as much as the dedicated man or woman who takes the orders at the tables.
Source: https://www.theguardian.com