Everyone has their "Where were you when…?" moment. If the question draws a blank, it's a dead giveaway as to a person's age, while the question itself often reveals much about someone's interests and passions.
For example, "Where were you when you had your first tomato moment?" "My what moment?" would be most people's reply to that, but some obsessives will have a shortlist of their top five tomato moments, all waiting to be shared. They're also likely to have a shot of some mixed chopped tomatoes as their phone screensaver (or is that just me?), or to entice us to open an Instagram image by giving it the tagline "Hello, sexy" – only to reveal a single heirloom tomato in its full, naked, perfect glory.
I've had many such moments of my own: sublimely sweet cherry tomatoes, chopped and piled high on dakos biscuits, the Cretan barley rusk for which I fell so heavily a year or two back; a spectacular tomato and pomegranate salad at Hamdi, a kebab restaurant near Istanbul's spice bazaar. My most memorable moment, however, came while hiking in the Italian coastal region of Liguria a few years ago. In the village of Manarola, we came across a patch of tomato vines heavy with intensely ripe, wonkily shaped, unevenly red and perfectly warmed fruit: the temptation to reach out was just too great, and the taste was unimprovable.
These holiday experiences can be hard to replicate at home. Meals are savoured, phones get forgotten for large chunks of the day, actual conversation takes place, books get read. The holiday over, depsite all our good intentions to build these life-affirming habits back into our day-to-day lives, it's all too easy to revert back to the habitual phone-checking, the box set and the meals eaten on the run.
And so it is with tomatoes: the difference between those we'd happily feast on for breakfast, lunch and dinner while abroad, and what often passes for a tomato back home can be enormous. But if you shop wisely (and these days there's a much bigger range on offer, in both local greengrocers and larger supermarkets), you can come pretty close to those holiday memories. Fill that basket with as many different varieties, sizes and colours as you can: orange Sungold cherry tomatoes, large ridged Brandywines, green, striped, you name it. When you get them home, keep that holiday sun in mind and don't put them in the fridge: this dulls their fragrance and flavour. And if you can, put your tomatoes out in the sun for a few hours before turning them into a salad: it makes a remarkable difference to the taste.
Tomato, rhubarb and elderflower salad
This salad is all about the quality and range of the tomatoes involved, so make an effort to get hold of as many different kinds, colours and sizes as you can, making sure they are all good and ripe. Elderflower is still just in season, so if you have any nearby, do go out and pick some: it makes the finished dish look even more stunning. I've kept this dairy-free, but it also works very well with some soft goat's cheese dotted on top. With thanks to Esme Robinson. Serves six to eight.
2 tbsp elderflower cordial
2 tbsp olive oil
4 tsp cider vinegar
2 tsp Dijon mustard
1 garlic clove, peeled and crushed
Salt
160g rhubarb (1-2 sticks; pink, ideally)
1.4kg mixed tomatoes, large ones cut into 0.5cm rounds, medium ones into 0.5cm-wide wedges, cherries halved
5g fresh oregano leaves
1 handful fresh elderflowers (optional)
Put the first five ingredients in a bowl with a half-teaspoon of salt and whisk. Cut the rhubarb on an angle into 2mm-thick slices, add to the bowl and leave to marinate for 30 minutes. Arrange the tomatoes on a platter and sprinkle with a pinch of salt. Spoon over the rhubarb and dressing, scatter the oregano on top, and finish with elderflowers, if using.
Tomato salad with horseradish cream
This has quite a lot of horseradish, which I find works really well with the cream and the acidity of the tomatoes. If you don't like the intensity, just use less. Serves six as a side dish or first course.
30g finely grated fresh horseradish (or 40g shop-bought horseradish sauce)
1 small garlic clove, peeled and crushed
1½ tsp white-wine vinegar
Coarse sea salt
3 tbsp olive oil
100ml double cream
10g tarragon leaves, torn
15g basil leaves, roughly shredded
900g red tomatoes (a mixture of types and sizes, ideally), cut into 5mm-thick slices
In a medium bowl, whisk the horseradish with the garlic, vinegar, half a teaspoon of salt, a tablespoon of the oil and two tablespoons of cold water. Pour in the cream, whisking all the while, until you have a uniform, runny sauce (don't over-whip: you don't want the sauce to thicken), then stir through the tarragon and two-thirds of the basil.
To serve, spread the horseradish cream on the bottom of six shallow bowls and top with the tomatoes, making sure to leave some of the cream visible underneath. Drizzle over the remaining oil, and add a sprinkle of basil and a pinch of salt.
Chopped salad with tahini and za'atar
The addition of tahini paste to a familiar tomato and cucumber salad is a revelation. Serves four.
6 ripe plum tomatoes, cut into 1cm dice
2 mini-cucumbers, trimmed and cut into 1cm dice
1 red pepper, seeds, stalk and pith removed, cut into 1cm dice
5 spring onions, trimmed and thinly sliced on an angle
15g coriander leaves, roughly chopped
2 tbsp lemon juice
3 tbsp olive oil
Salt
200g feta, cut into 4 rectangular blocks (optional)
4 tbsp tahini
2 tsp za'atar
Put the chopped tomatoes in a sieve over a bowl for 20 minutes. Discard the resulting juice and put the tomatoes, cucumbers, pepper, spring onions and coriander in a large bowl. Add the lemon juice, oil and half a teaspoon of salt, and stir gently to combine.
To serve, arrange the feta (if using) on four plates and spoon the salad on top, making sure some of the feta remains visible. Pour a spoonful of tahini over each portion and finish with a sprinkle of za'atar.
Tomato and mozzarella salad with buckwheat and curry leaves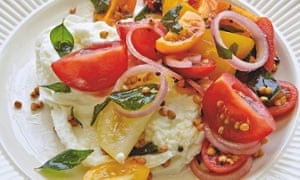 Buckwheat is one of my favourite ingredients: I love its earthy, slightly nutty and smoky notes, and the welcome crunch it lends to any dish. Just leave it out if it's not to your taste: the dish works well without it. I have to thank my friend Peter Gordon for the unusual flavour combination here. Serves six, as a first course.
1 large banana shallot, peeled and cut into thin, 2mm-thick rounds
1 tbsp Pedro Ximénez (or other sweet sherry) vinegar
3 tbsp olive oil
Salt
600g tomatoes (as wide a range as you can get – the more colours, shapes and sizes, the better)
40 fresh curry leaves (ie, from about 3 stems)
1½ tsp black mustard seeds
25g kasha (aka roasted buckwheat; optional)
450g buffalo mozzarella, torn into six
Put the shallots in a large bowl with the vinegar, a tablespoon of oil and a quarter-teaspoon of salt, and set aside to steep for at least 30 minutes. Cut the larger tomatoes into 1cm wedges and smaller ones into halves or quarters – you're aiming for tomato pieces of a roughly uniform size.
Put a small saucepan on a medium heat and add the remaining oil. Once hot, tip in the curry leaves and mustard seeds, and fry for just a minute. Stir quickly, remove the pan from the heat and set aside to infuse and cool. Once cooled, pour the spiced oil over the onions, then mix into the tomatoes with another quarter-teaspoon of salt and half the kasha, if using.
To serve, put a piece of mozzarella on each plate, spoon the tomato mixture on top and finish with the remaining kasha.
• Yotam Ottolenghi is chef/patron of Ottolenghi and Nopi in London.
Source:https://www.theguardian.com