Officially, Bratz dolls went out of circulation for a while because of some industrial battle between two toy companies. Nobody talks about that now. "We're a very tight industry, the toy industry. Nobody holds any grudges," says the MD, Andrew Laughton. The way people describe toy manufacturing is incongruously grown up. "The toy industry is incredibly risk averse, it's very, very difficult to persuade them to do things differently," observes Jess Day, from the online pressure group Let Toys Be Toys, making it sound like a cross between the mafia and shipping insurance.
So the new Bratz dolls may come as a surprise: they have a more sports-based, motivational look. The heels have been replaced by trainers and Doc Martens. With the obvious caveat that they are still inanimate objects, the new generation Bratz seem more like active agents, less like passive wearers-of-clothes. "We have tempered down the extremeness of the makeup on the bulk of the range," says Laughton. "Nobody wears makeup at the gym so why should these dolls?" But have they seen the light of female empowerment, or have they just seen some new market research?
There was, from their inception in 2001, a real controversy about what Bratz dolls looked like. Tamsin Kelly, 47, says they had "enormous heads, and this strange bondage clothing, lots of leopard print and plastic. My daughter started playing with them when she was about eight. Inappropriate would be a bit strong but I thought they were ugly." However, Kelly is more scornful of parental taboos than the BDSM aesthetic of the dolls. "My mother never gave us Barbies because they were supposed to give us an eating disorder."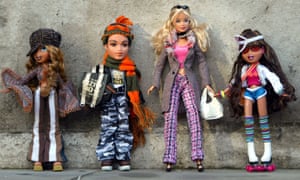 My mother, I share, wouldn't get me a Girl's World because she divined a deep-seated misogyny in making a doll that was the disembodied head of a woman in the first place. "Mine wouldn't either," says Kelly. "And she was just laughing the other day about how much fuss I made, and I thought, 'but I really, really wanted one! This is no laughing matter.'"
Developmental psychologist Margaret McAllister says: "I deplore the sexualisation of children, of children's toys, the encouragement to be old before their time. But it doesn't make any sense at all to put in strict embargos. That will simply make it more attractive. It's better to use diversionary tactics."
And that is broadly Jess Day's line. Her daughter plays with Lottie dolls, which are based "on the actual proportions of an average nine-year-old girl". She says: "It's a doll for children which is childlike, all the outfits and the themes are the things that a nine-year-old might authentically be able to do. There's no doctor Lottie, but there's a fossil hunter Lottie." Some parents navigate, some divert, some don't mind the incredibly heavy lip liner, so long as there's a creative undertow.
Jodie Pearce, 20, was into Bratz in 2004, with her two sisters. "We'd play for hours, come down for food, be off for the rest of the day. It was really immersive. I think that's why my mum never objected, because she saw that it was a healthy thing." And perhaps there's such a natural progression from the eight-year-old who wants to dress as a Bratz, to the 12-year-old who would rather die than do so, that it doesn't matter.
Zahrah Yusuf, 18, remembers thinking: "One day, when I'm older, I can wear this really cute, tiny red dress. And actually, I can see this doll's butt, that's crazy." She says: "Other people would play scenarios, act out different things. I never used to do that. I think there were probably more creative things I could have done with my time." If you've seen Toy Story 2, look away now. "And then, I just gradually stopped. Until they never came out of their box."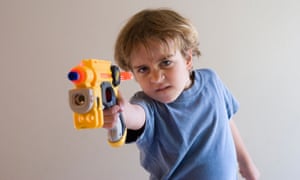 The toy industry as a whole has a long and proud history of resisting cultural critique. Who won, in the end, between the pacifists and toy gun makers? Obviously, Nerf guns won. A research company called Pineapple Lounge produced a report this month, Little Miss-Understood, which Day describes: "They've spent some time talking to girls about what actually interests them. They don't want everything to be focused on their appearance. They want to connect with technology, they want to have fun, they want to be creative. Fashion and glamour is only a slice of it. Once you start dividing things up by gender, you get these very narrow definitions of what it means to be one gender or the other."
Source: https://www.theguardian.com