Sam and Sam Clark's coca
Great for lunch, each coca will serve two as a starter or one as a main course.
Makes 4 cocas
For the flatbread dough
unbleached strong white bread flour 225g, plus extra for dusting
fine sea salt ¾ tsp
dried yeast ½ tsp
tepid water 150ml
olive oil 1 tbsp
For the spinach with pine nuts, currants and salted anchovies topping (enough for 2 cocas)
olive oil 5 tbsp, plus an extra drizzle
onion 1 large, finely chopped
fresh oregano or marjoram 2 tbsp, chopped
spinach 500g, washed (make sure the leaves are well dried – otherwise the cooked spinach can be a bit watery)
currants 50g, soaked in warm water until plump, then drained
pine nuts 50g
salted anchovy fillets 8, halved lengthways (optional)
For the onion, red pepper and aubergine topping (enough for 2 cocas)
aubergine 1 medium, cut into 1-1½cm cubes
fine sea salt 1 tsp
olive oil 10 tbsp (150ml)
Spanish onions 1½ large, roughly chopped
red peppers 2, cut in half lengthways, seeded and thinly sliced
fresh rosemary 1 heaped tbsp, finely chopped
To make the flatbread dough, place the flour and salt in a large mixing bowl. Dissolve the yeast in the water and add the oil. Now make a well in the middle of the flour and pour in the yeast mixture a little at a time, mixing constantly. We like to do this by hand, squelching out the lumps as they appear.
When all the yeast mixture has been incorporated, transfer the dough to a floured surface and knead well for at least 5 minutes. If the dough is still sticky, add a little more flour; if it is stiff, a little more water. It is ready when no longer tacky but soft, elastic and smooth. Put the dough back in the bowl, cover with a cloth and leave to rise in a warm place until doubled in bulk – approximately 1-2 hours.
While the flatbread dough is proving, make the toppings.
For the spinach topping, heat the oil in a large saucepan over a medium heat. Add the chopped onion and a pinch of salt and fry, stirring occasionally, for 15 minutes or until the onion is golden and sweet. Add the oregano or marjoram and fry for a few seconds, then add the spinach a handful at a time. Give the spinach a quick stir and cook for a few minutes, until tender. Set aside to cool and drain in a colander, then chop roughly. Stir in the currants and taste the mixture for seasoning. Set aside the pine nuts and anchovies for later.
For the onion, red pepper and aubergine topping, first toss the aubergine with the salt and set aside. Heat the olive oil in a heavy saucepan about 25cm wide and, when hot but not smoking, add the onions with a pinch of salt. Give them a good stir, and cook over a medium heat for about 15 minutes, stirring every now and then. Add the peppers and cook for 15-20 minutes, until the onions are golden and sweet and the peppers soft. Be sure to stir them often so they cook evenly and do not stick to the bottom of the pan. Blot the aubergine dry, add to the pan along with the rosemary and cook for a final 15 minutes, stirring often, until the aubergine is soft all the way through. Remove from the heat and drain off any excess oil. Check for seasoning and set aside to cool.
To make and bake the cocas, preheat the oven to its maximum setting. Divide the dough into 4 balls, and roll the first one out very thinly to make a 20 x 30cm oblong. Place it on a large baking sheet (aluminium is best) and spread half of one of the fillings evenly over the surface, right up to the edges of the dough. The spinach cocas should be topped with the pine nuts and anchovy fillets, if using, and the spinach pressed down and drizzled with a little extra oil to stop it burning. The onion, red pepper and aubergine topping is ready to go as soon as it has been spread on the dough.
Bake for 10-15 minutes, until browned and crispy underneath. While one coca is in the oven, start rolling and topping the next one. They are great served piping hot straight from the oven, or at room temperature.
From Moro East by Sam & Sam Clark (Ebury Press RRP £17). Click here to buy a copy from Guardian Bookshop for £14
Colman Andrews's black rice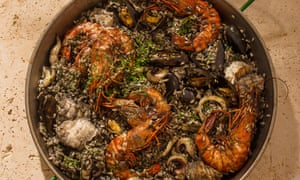 This is a recipe for which you should splurge on the best and the freshest possible seafood. Even fresh cuttlefish is available in some parts of Britain, though it is hard to find. It is not the same thing as squid, exactly. Its flesh is thicker and sweeter, and its ink is richer in flavour. Nonetheless, fresh squid (and squid ink) may be substituted – or you could use a combination of canned Spanish cuttlefish (sold in some Spanish shops), for its ink, and fresh squid.
The ink sac in both cuttlefish and squid is a little silver-grey pouch located beneath the tentacles. It is easy to find, but treat it gently so that it doesn't break.
With the growing popularity of Italian-style black rice and black pasta, cuttlefish or squid ink has recently become available in small jars or plastic pouches (like soy sauce at Chinese take-away places). The quality of such ink is fine – but why pay for something (and it's generally quite expensive) that comes free with the cuttlefish or squid itself? If you are using such ink, substitute about 2 teaspoons of it for the ink called for in this recipe.
Serves 6 as a main
cuttlefish 1 medium-sized (about 250g) or squid 2-3 large, cleaned and cut into small pieces, with ink sac(s) set aside (see above)
olive oil
onions 2, chopped
tomatoes 2, seeded and grated or peeled, seeded and chopped
monkfish 500g, cut into 6 pieces
mussels 12, cleaned
prawns 6 large, shells on
short-grain rice 650g
fish stock 1.25-1.5 litres
garlic 2 cloves, finely chopped
parsley 2 sprigs, finely chopped
salt
Cook the cuttlefish or squid in a cassola, flameproof casserole or large frying pan in a small amount of olive oil until just done (about 2-3 minutes).
Add the onion, with more oil if necessary and cook until soft; then add the tomato and cook, stirring well, until it has almost dissolved.
Add the remaining fish and shellfish to the cassola and mix in well.
Place the ink sac(s) in a sieve, hold it over the cassola and crush sac(s) with the back of a spoon. Pour a few tablespoons of water through the sieve to extract more ink.
Bring the fish stock to a boil; then reduce to a simmer.
Meanwhile, add the rice to the cassola and stir well so that all grains are coated with oil and ink.
Slowly add the fish stock, stir well and bring to a boil. Add the garlic, parsley and salt to taste; then reduce the heat and cook on very low heat, uncovered, for 15-20 minutes or until all the liquid is absorbed but the rice is still creamy. (Do not stir.)
When the dish is finished, let it stand for 5-10 minutes off the heat before serving.
From Catalan Cuisine by Colman Andrews (Grub Street, RRP £14.99). Click here to buy a copy from Guardian Bookshop for £11.99
Nieves Barragán Mohacho's chicken with romesco sauce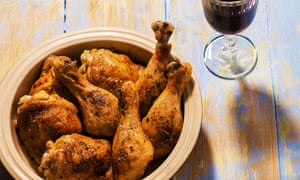 Serves 4 as a main
chicken drumsticks 4 x 150g
chicken thighs 4 x 160g
olive oil 1 tbsp
Maldon salt and freshly ground black pepper
romesco sauce ½ recipe quantity (see below)
toasted flaked almonds 20g
For the romesco sauce
Enough for 6-8 generous portions (about 650ml)
dried red chilli 1, soaked in warm water for 2 hours
dried choricero peppers 4, soaked in warm water for 2 hours
plum tomatoes 5
olive oil 100ml, plus 3 tbsp
Maldon salt and freshly ground black pepper
garlic 1 whole head, halved horizontally
blanched almonds 100g
good-quality white bread 1 slice, about 2cm thick
sherry vinegar 50ml
To make the romesco sauce, heat the oven to 180C/gas mark 4. Drain the soaked chilli and choricero peppers, then remove the seeds and set aside.
Put the tomatoes into a roasting dish. Drizzle them with a tablespoon of olive oil and season with salt and pepper. Wrap the two halves of garlic in foil and add to the roasting dish. Roast in the oven for 20 minutes. When cool enough, pop the garlic cloves out of their skins and set aside.
Meanwhile, in a separate smaller roasting dish, toast the almonds in the same oven for 2 to 3 minutes until lightly browned. Be careful – they burn fast! Heat 2 tablespoons of olive oil in a small frying pan and fry the bread on both sides until golden brown.
Put the chilli, choriceros, roasted tomatoes, garlic, almonds, bread and vinegar into a blender or food processor. Add 100ml of olive oil and blitz until smooth. Season with plenty of salt and pepper and keep in the fridge until needed.
For the chicken, preheat the oven to 200C/gas mark 6. Put the chicken into a roasting tray. Drizzle it with olive oil, season it with salt and pepper and cook in the oven for 30 to 40 minutes, until cooked through and golden brown.
Gently warm the romesco sauce in a small pan and serve with the chicken, with the nuts sprinkled over the top.
From Barrafina by Nieves Barragán Mohacho (Fig Tree, RRP £25). Click here to buy a copy for £20
Ben Tish's braised hake with mussels, chorizo and olive oil mash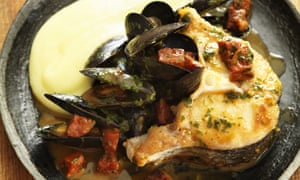 Serves 4 as a main or 6-8 as a tapa
hake steaks 4 x 180g, bone in
hot cooking chorizo 150g, peeled, diced 1 small banana shallot peeled and diced
mussels 24, washed well
medium dry sherry 100ml
white wine 100ml
unsalted butter 30g
flat-leaf parsley 1 tbsp, chopped
lemon a squeeze
olive oil for cooking
sea salt and black pepper
For the mash:
Dèsirèe potatoes 2 large, peeled, diced
unsalted butter 20g
double cream 120ml
extra virgin olive oil 75ml
Simmer the potatoes in a pan of salted water until tender. Drain well and mash until very smooth. Return the mash to the pan over a low heat and stir in the butter and cream. Season the potatoes well and then slowly whisk in the olive oil until incorporated.
Heat a non-stick pan over high heat and add a lug of olive oil. Season the hake and sear on one side for 2 minutes. Turn the fish over and add the chorizo, shallots and mussels. Cook for a further minute or 2, until the chorizo has started to release its oil and the mussels have started to open. Drain off a little of the oil, and then add the sherry and wine. Bring the liquids to the boil and reduce steadily. After 2-3 minutes turn the hake again and then add the butter and parsley. Stir, making sure the butter and wines have combined well. Scrape any sediment from the bottom of the pan to flavour the sauce, which should achieve a syrupy consistency. Check the hake is cooked by pushing a small knife in near the bone. Check the sauce for seasoning and add a squeeze of lemon juice.
Spoon the mash onto serving plates and top with the hake, chorizo and mussels. Pour over the sauce.
From Salt Yard: Food & Wine from Spain & Italy by Sanja Morris, Ben Tish, Simon Mullins (only available secondhand)
Jason Atherton's salt and pepper squid with aïoli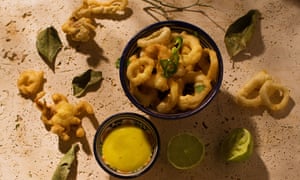 Serves 4-5
baby squid 450g, defrosted if frozen
Szechuan peppercorns 1 tsp
fine sea salt 1 tsp
freshly ground black pepper 1 tsp
tempura batter ½ x 150g packet
plain flour 5 heaped tbsp
groundnut oil, for deep-frying
For the aioli (makes about 200ml)
garlic cloves 2, peeled and finely crushed
egg yolks 2 medium
saffron threads a small pinch
olive oil 75ml
vegetable oil 75ml
white wine vinegar 1 tsp, or to taste
sea salt
To serve
chilli 1 green, finely sliced into rounds
coriander leaves to garnish
limes 2, cut into wedges
coarse sea salt to sprinkle
First make the aioli. Put the garlic, egg yolks and saffron into a food processor and blitz to a thick paste.
Put both oils into a measuring jug. With the motor running, trickle the oils into the food processor and blend until all the oil has been incorporated and you get a thick sauce. (If the sauce splits, transfer it to a jug then put another egg yolk or two in the food processor. Whizz until thick then slowly blend in the split sauce.) Season the sauce to taste with the vinegar and some salt and pepper. Transfer to a bowl, cover and chill until ready to use. Store any left over in the refrigerator for up to 3 days.
Wash the squid well and pat dry with kitchen paper. Set aside the squid tentacles and slice the body pouches into rings. Again, pat the squid dry with kitchen paper.
Lightly toast the Szechuan peppercorns in a small dry pan. When fragrant, grind them with the salt using a pestle and mortar. Sift this into a large mixing bowl, then add the black pepper and tempura mixture. Make the batter according to the packet instructions. Put the flour into a shallow bowl and season with the salt and pepper.
Dip the squid in the flour, then the batter. Heat the oil in a deep-fat fryer or other suitable deep, heavy pan to 180C. Deep-fry the squid rings and tentacles in batches in the hot oil for 1-1½ minutes until lightly golden and crisp. (Make sure you don't overcrowd the pan or the temperature of the oil will drop.) Remove with a slotted spoon, carefully shake off the excess oil, drain on kitchen paper and keep warm while you deep-fry the rest of the squid.
Sprinkle the deep-fried squid rings and tentacles with a little coarse salt. Divide between warm plates and scatter over the sliced chilli and coriander leaves. Serve at once with lime wedges and the aioli.
Source:https://www.theguardian.com