Afghan officials say they have regained control of key areas of the northern city of Kunduz from the Taliban.
An operation launched overnight saw forces recapture government landmarks and inflict heavy casualties on the militants, officials said.
But the Taliban has insisted it still control large parts of the city.
The city's capture on Monday by the militant group was a huge blow to President Ashraf Ghani, coming on the first anniversary of his taking power.
---
Analysis: Justin Rowlatt, BBC South Asia correspondent
If confirmed this represents a crucial victory for the Afghan army, its biggest test since the withdrawal of coalition forces back in December last year.
And it would be a dramatic turn-around. On Wednesday it looked as if retaking Kunduz would involve a tough battle. Eyewitnesses reported Taliban fighters mining roads and digging in to strategic positions ready to defend their prize.
Yet the Afghan government is today claiming that its forces swept the Taliban out of Kunduz in a couple of hours.
It is jubilant at what will be seen as a crucial victory in the battle against the Taliban insurgency. "This is a huge blow for the Taliban", Sediq Sediqqi, spokesperson for the interior minister said. "It proves Afghan special forces are elite fighters who can win battles."
---
The government assault began overnight with fighters infiltrating the city and launching a series of simultaneous attacks from different positions.
Kunduz police chief spokesman Sayed Sarwar Hussaini told BBC Afghan on Thursday that the military had retaken the governor's office, the police chief's office and the intelligence agency building, adding: "Taliban bodies are lying around."
Interior ministry spokesman Sediq Sediqqi tweeted that the city had been re-taken. He later told the AP that 200 Taliban fighters were killed in the operation and said an operation to "clear the city" of the last pockets of resistance was ongoing and could take some days.
But the Taliban denied what it called "enemy claims regarding the Kunduz situation".
"Mujahideen [Taliban fighters] are resisting in the city's security circle," spokesman Zabihullah Mujahid told Reuters, adding that the militant group still controlled most of the city and surrounding districts.
---
The battle for Kunduz

---
Residents in Kunduz are said to be nervous after a night of bombardment, and after militants set up checkpoints and placed mines on roads to prevent people leaving and troops entering.
Reports also said local boys and men were being forced to fight with the Taliban, who had seized police equipment, ammunition and vehicles and raided banks.
One resident, living close to the centre of Kunduz, told the Associated Press on Thursday morning that the "fighting is intensifying".
"The situation is really critical and getting worse, and I've just heard a huge explosion from a bomb near my house,' Zabihullah said by telephone.
Foreign forces
The US Army confirmed that American and Nato military advisers, including special forces, were in the area, but denied they were fighting on the ground. "But these are dangerous situations and if they need to defend themselves, they will," said a spokesman.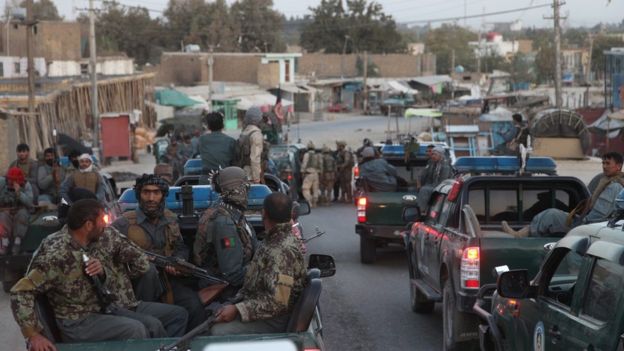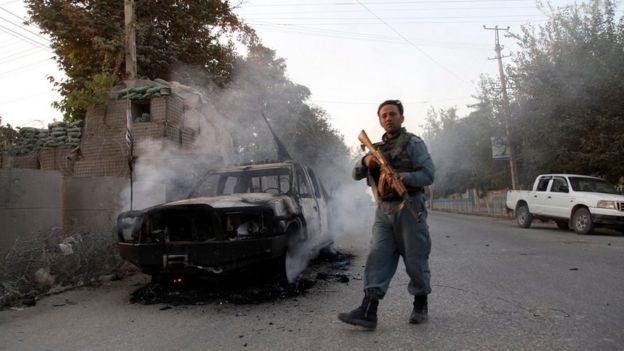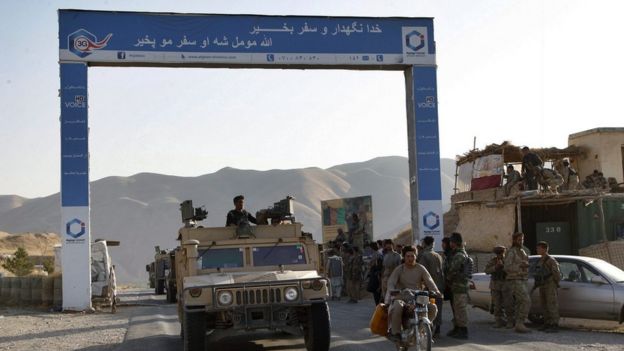 The situation at a strategic Kunduz hill fort captured by the Taliban on Wednesday remains unclear.
Militants had blockaded the Bala Hisar fortress for two days before nearly 200 Afghan security personnel abandoned the position after running out of food and ammunition, according to security officials.
In recent days there have also been reports of fighting in neighbouring Baghlan province, where a former Nato base was said to be under attack, and in several districts east of Kunduz. The Taliban also claimed to have taken a district in western Farah province.
The BBC's Dawood Azami says the Taliban is trying to open multiple fronts to divert the attention of the Afghan military from Kunduz and stretch them thin.
Surprise attack
Kunduz, with a population of around 300,000, is one of Afghanistan's largest cities, and is strategically important as a transport hub for the north of the country. It is also a bread-basket for the region and possesses significant mineral resources.
Militant violence has increased across Afghanistan since Nato ended its combat mission in Afghanistan in December, leaving a 13,000-strong residual force used for training and counter-terrorism operations.
Nearly 10,000 of those troops are American and the crisis has heightened worries over Washington's plans to pull more of them out. Military leaders are understood to want to keep at least a few thousand in the country after 2016.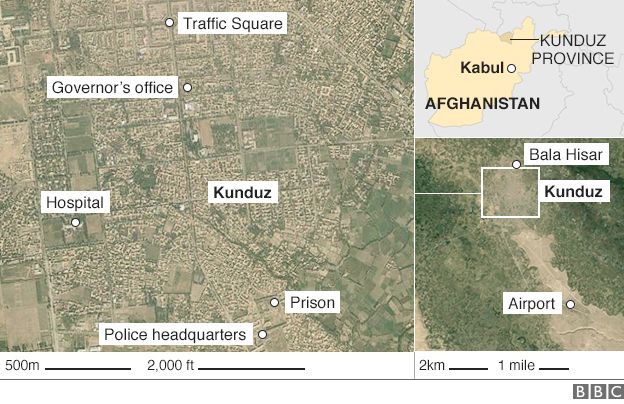 Source: https://www.bbc.com