For anyone born after 1970, there was only one Cilla Black: Blind Date Cilla. It was a world of hairspray, peach-coloured power suits, nudge-nudge, wink-wink humour and that horsey grin, with Cilla as Queen Matchmaker. In the days when collective memory served as both Wikipedia and Google, you were told that she had had a stellar career as a singer in the 1960s and was a "great friend of the Beatles". But you never quite believed it. Nor did you care.
The producers understood this and Cilla was not a singer presenting Blind Date. She was Blind Date. Which is especially weird considering that Anyone Who Ever Had a Heart was the best-selling record by a female artist of the 1960s. No matter. This was not how we knew Cilla. (And everyone thinks of her as "Cilla" and not "Cilla Black".) She was teeth, hair and catchphrases. "A lorra, lorra laughs" – along with "our Graham" – was my grandma's favourite phrase and oft-repeated in our household in a thick and terrible Liverpool accent. It should have got old. It never got old.
It's easy to forget how massive Blind Date was in the mid to late 80s. You watched Gladiators, then you watched Blind Date. Or Blind-Da-Date as the assonant Graham always called it in the opening credits. It was must-see TV for the whole family with a 1980s aesthetic but a peculiar, end-of-the-pier 50s innocence. It was the Saturday night show, in a way that not even Strictly Come Dancing is now. At the height of its popularity its viewing figures hit 18 million. (By comparison Strictly manages around 10 million.)
The show was arguably the early model for many tropes of reality TV, including those used in Simon Cowell's empire: the video diaries, the picking and rejecting of contestants, the "getting through to the next round", the banter with an amiable host. Cilla's down-to-earth presenting style paved the way for the careers of Ant 'n' Dec, Dermot O'Leary and Alan Carr. Interestingly, no female presenter like her has emerged since. Look at Tess Daly, Davina McCall or Holly Willoughby (who is now presenting a reworked Surprise, Surprise). They have no teeth compared with Cilla. (Pun intended. And true in both senses.)
Yes, Cilla was lovable but there was also an edge there. You would not want to mess with her. In 1997 there was a scandal on Blind Date when a journalist from Cosmopolitan went undercover as a contestant. When she was rumbled on air, Cilla looked at her haughtily and said, "You've robbed someone of coming on a proper blind date." It was as if the woman had committed genocide. Cilla encouraged the audience to boo. She played herself as a caricature of a matronly Carry On type ("Ooh, shall I buy a hat?") but she was also deadly serious about it all.
Lord Grade described her in yesterday's tribute as "a friend in your living room" but there was something else going on. Cilla represented a sort of weird cool Britannia before the phrase existed. You can imagine the thinking in TV land: you would never get Paul McCartney to present a chat show but you could get Cilla and it was the next best thing. Her TV debut came with the music-themed Cilla in 1968, making her the first woman to host a primetime chat show on BBC1. Tom Jones was the first guest. They duetted. But the show was short lived.
In the late 1970s and early 1980s it must have seemed to Cilla that it was all over. Ever the grafter, she returned to cabaret. But then an appearance on Wogan in 1983 changed everything. She name-dropped for England ("Brian Epstein … the Beatles … Cathy McGowan …") and told a story about staying at a hotel in London doing the Palladium for the first time and feeling as if she had made it because she had a phone by her bed. And then realising that she couldn't call anyone because no one she knew in Liverpool had a phone.
Cilla was back. Soon after came Surprise Surprise (1984-2001) and Blind Date (1985-2003). Perhaps the less said about Surprise, Surprise the better. Although it had an achingly, brilliantly awful theme song. ("Surprise, surprise! The unexpected hits you between the eyes!") In 2004, it was reported that Cilla's earnings per week when she left Blind Date were £17,000, making her the highest-paid presenter on television (and not the highest-paid female presenter, as is usually assumed).
The biggest part of Cilla's appeal, though, is that she was fiercely matriarchal. And at the time she was not alone in projecting this quality. Margaret Thatcher was elected for a third time in 1987. Cilla always came across as the showbiz Thatcher: curiously asexual (TV bosses called her "sexless"), authoritative, no-nonsense. Or maybe Thatcher was the upper class Cilla. They even dressed similarly, although Cilla's skirts were shorter and she wore more colour. You could imagine the two of them admiring each other's brooches. From a feminist perspective Cilla has the same complications as Thatcher. As in, the space that she occupied was probably helpful to women in a broad sense. But it's unlikely that she self-identified as a feminist or was going to do much to help the cause.
Cilla Black was quizzed about this when the Sheridan Smith biopic about her came out last year. "Do you think it's a myth that women can have it all?" asked a BBC news reporter. "Well, I did it, didn't I? I have it all. I'm living proof. You know, when people ask me, do I believe in feminism … well, I didn't even know I was a feminist. I was the top of the bill. I've always been the top of the bill. So I don't know what equality is." An interesting response. When you are top of the bill, you don't have to think about these things.
Viv Groskop's Edinburgh show Say Sorry to the Lady is at The Stand from 7-30 August. Previews from 5 August. Further information: www.edfringe.com
Nancy Banks-Smith on the moment Cilla rebooted her career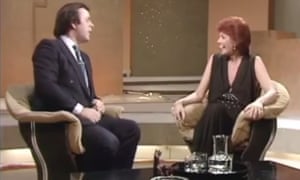 I remember the moment Cilla Black kick-started her career with a jolt like the swinging impact of a winklepicker shoe. It was a kick that would have brought Anfield to its feet. Her career took off and soared.
It was on Terry Wogan's chat show, Cilla had done all that could be done with a small, heartfelt voice but her No 1 days were done. Now, with time on her hands, she was at home listening to local radio. And not just listening but loving it. She began to talk with fizzing enthusiasm about the ordinary people who ring local radio, telling him about a presenter who was trying to run a quiz but had run into a Liverpool woman.
"What was Hitler's first name?"
"Heil."
Liverpool is the place where, after nights of relentless bombing, survivors were found sitting on the ruins of a top-notch jewellers, digging for gold in the street. They had several names for Hitler.
Cilla collapsed with laughter helplessly followed by Wogan and the studio audience. And somewhere out there someone who mattered made a note that this woman could probably present her own show. Something to do with people.
Source: https://www.theguardian.com