Islamic State fighters have entered the Syrian town of Kobane, months after being driven out in a long battle with Kurdish troops, activists say.
The Syrian Observatory for Human Rights says a number of people were killed in fierce clashes in the centre of the town on the Syrian-Turkish border.
The earlier battle made international headlines – heralding what some saw as a symbolic defeat for the IS.
IS has suffered a string of defeats to Kurdish forces since then.
Early this week, Kurdish Popular Protection Units (YPG) forces said they had captured a key town, Ain Issa, just 50km (30 miles) from the IS headquarters at Raqqa, days after seizing Tal Abyad and cutting a major supply line for IS.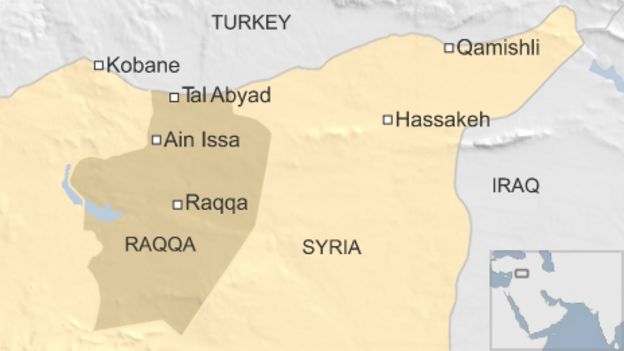 Kobane: Key facts:
Kobane, known in Arabic as Ayn al-Arab, and the villages surrounding it were home to about 400,000 people, most of them Kurds
Kurdish parties have governed the area since the Syrian army withdrew in 2012
IS launched a major offensive in September 2014, prompting more than 100,000 people to flee to Turkey
Kurdish forces re-took it in January 2015
Key events in battle for Kobane
Kobane: Inside the town devastated by fight against IS
Battle for Iraq and Syria in maps

As well as cutting an IS supply line, the YPG's capture of Tal Abyad allowed the Kurds to link up other pockets they control along the Turkish border, from Iraq in the east to Kobane in the west.
Raqqa is the de facto capital of the caliphate whose creation IS announced a year ago after it captured large swathes of northern and western Iraq.
"IS detonated a suicide bomb in the area near the border crossing with Turkey," Syrian Observatory for Human Rights director Rami Abdel Rahman said.
"Fierce clashes erupted afterwards in the centre of the town and there are bodies lying in the streets," he added.
He said fighting was still raging on Thursday morning.
Hospital officials say at least 12 people have been killed and some 70 injured so far.
It is not clear how many people live in Kobane.
The Observatory also reported heavy casualties as IS forces were involved in heavy clashes in two neighbourhoods of Hassakeh in north-eastern Syria, about 270km (180 miles) east of Kobane.
The militants have tried to capture Hassakeh for months.
Elsewhere, Syrian rebels opposed to President Bashar al-Assad attacked government-held areas of the southern city of Deraa.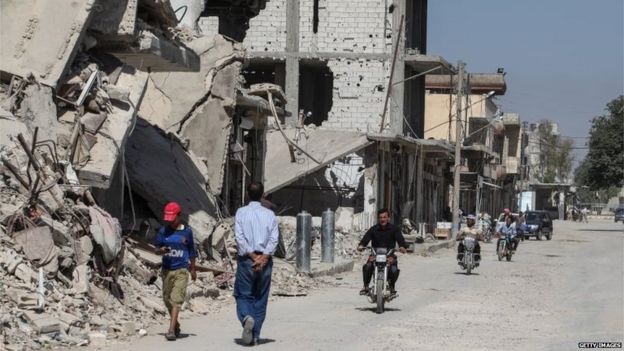 State TV says government forces, backed by air strikes, managed to repel the attack.
More than 200,000 Syrians have lost their lives in four years of armed conflict, which began with anti-government protests before escalating into a full-scale civil war.
More than 11 million others have been forced from their homes as forces loyal to President Assad and those opposed to his rule battle each other – as well as jihadist militants from IS.
Source: https://www.bbc.com