The first talks bringing together all foreign powers backing rival sides in Syria's civil war have opened.
The meeting in Vienna will seek to close the gap between the US and its allies, who support the rebels, and the key foreign allies of the Syrian government, Russia and Iran.
It is the first time Iran has been involved in the diplomacy.
Meanwhile, activists in Syria say a bombardment by government forces killed at least 40 people near Damascus.
Footage uploaded to the internet – which cannot be independently verified – showed bodies strewn across the ruins of a marketplace in the rebel-held suburb of Douma.
Douma is often targeted by the government, and rebels fire rockets from there into Damascus.
The four-year-old war in Syria, which began with an uprising against Mr Assad, has left 250,000 people dead and forced half the country's population – or 11 million people – from their homes.
Russia and Iran have recently stepped up their military involvement in the conflict, backing forces loyal to Syrian President Bashar al-Assad.
The US, Turkey, Saudi Arabia and other Gulf Arab nations have long insisted that he cannot play a long-term role in Syria's future.
"He will go either through a political process or he will be removed by force," Saudi Foreign Minister Adel al-Jubeir told the BBC ahead of the talks.
Meanwhile, Iranian Foreign Minister Mohammad Javad Zarif said that other powers had realised that there was no way reaching "a reasonable solution" to the Syrian conflict without involving Tehran.
Where key players stand on Assad
---
Before the start of substantive discussions on Friday, US Secretary of State John Kerry met Mr Zarif as well as the Russian Foreign Minister, Sergei Lavrov, and the foreign ministers of Saudi Arabia and Turkey.
Foreign ministers from the UK, France, Germany, Egypt, Lebanon and the EU are also attending, as well as representatives of Iraq, Qatar, Oman, the UAE, Jordan and China.
A Western diplomat called the Vienna talks "embryonic", while another said that simply keeping opposing sides from walking out would count as success.
---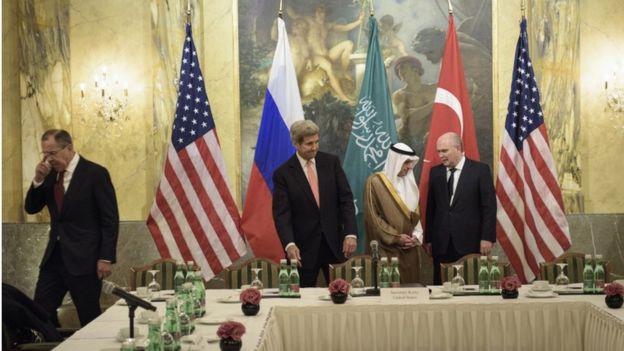 Analysis: BBC diplomatic correspondent Bridget Kendall
Many Western diplomats have played down expectations about this gathering, given how complex and bitter the conflict there has become.
One official said it wasn't even a first step towards a peace process, just a tentative bid to seek common ground, with no-one really sure if that is possible.
Already the United States and its European and Arab allies, plus Turkey, have given some ground on the critical question of President Assad's role in any future process of transition, suggesting that although he would have to step down, it didn't have to be immediately.
The key question now is whether his two main backers, Russia and Iran, will give any ground on their side.
---
On Thursday, White House spokesman Josh Earnest said that the US would continue helping some Syrian rebel groups.
Iran is believed to have spent billions of dollars over the past four years on military support to Mr Assad's government – although it denies allegations that it has sent combat troops.
Syria's political opposition has warned that Iran's involvement will only complicate the meeting in Vienna.
Russia began its military intervention in Syria at the end of last month, launching air strikes in support of Mr Assad.
Washington has accused Moscow of concentrating its air campaign in Syria on moderate opposition groups rather than on the Islamic State militant group.
---

Why is there a war in Syria?
Anti-government protests developed into a civil war that, four years on, has ground to a stalemate, with the Assad government, Islamic State, an array of Syrian rebels and Kurdish fighters all holding territory.
Who is fighting whom?
Government forces concentrated in Damascus and the centre and west of Syria are fighting the jihadists of Islamic State and al-Nusra Front, as well as less numerous so-called "moderate" rebel groups, who are strongest in the north and east. These groups are also battling each other.
What's the human cost?
More than 250,000 Syrians have been killed and a million injured. Some 11 million others have been forced from their homes, of whom four million have fled abroad – including growing numbers who are making the dangerous journey to Europe.
How has the world reacted?
Iran, Russia and Lebanon's Hezbollah movement are propping up the Alawite-led Assad government, while Turkey, Saudi Arabia and Qatar back the more moderate Sunni-dominated opposition, along with the US, UK and France. Hezbollah and Iran are believed to have troops and officers on the ground, while a Western-led coalition and Russia are carrying out air strikes.
Source: https://www.bbc.com