About 250 of the world's strongest women flew home from Houston, Texas, last week after competing at the 2015 Weightlifting World Championships. Among them were dozens who, when they took up the sport, were told by a concerned relative: "Don't do it! Weightlifting is not for girls. You'll end up looking like a man."
Katrin Davidsdottir, from Iceland, was among them. She said in Houston: "When I told my aunts I was weightlifting they said, 'Don't do it. No, it's not feminine, you can't do that.' But look at the girls here – they're strong but they're beautiful. They're still girly."
None more so than her friend and teammate Annie Thorisdottir, known to her half a million followers on social media as "Iceland Annie" or simply "Annie". When she completed her sixth and final lift of the competition, Iceland Annie was very girly indeed, bouncing up and down on the stage, clapping her hands and shrieking "Ha-ha!" before she raised her arms in triumph.
The crowd of 300 – a good turnout considering it was gone 10pm and this was the fourth division of the women's 69kg class – cheered loudly. When it was all over the Icelandic pair, who had never competed at such a high level and finished way down the field, went off to tell their fans, and the media, all about the experience. "It was awesome," said Annie. "I just loved it. Six out of six!"
Why so much interest in two 69kg weightlifters who did not make the top 30 at the World Championships? Because the "glamour girls", as rival coaches labelled them, have a combined following on Instagram alone of more than 515,000, having added several thousand more during their Houston adventure. They are also very big on Twitter. "They can't walk more than five yards here without someone stopping them to take a picture with them," said their coach.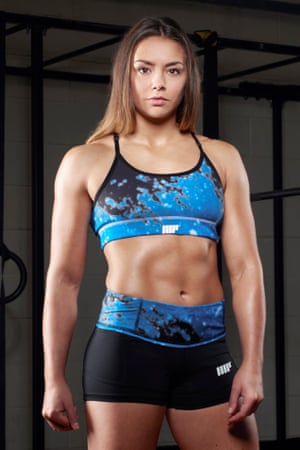 The main reason is Crossfit, which has been arguably the biggest fitness participation phenomenon of the 21st century. These two have both won the Crossfit Games, an annual contest for which the first prize is $275,000, a fortune in sponsorships and the title "fittest woman on the planet". Last year the number of entries, male and female, was more than 200,000.
Crossfit does not operate within the formalised world of sport or the corporate gym establishment. It features contests involving sandbags, tractor tyres, ropes, weights and surprise challenges. It promotes itself on social media, and is rarely written about in newspapers, except in the business pages. Ten years ago there were 13 Crossfit gyms in the United States, where it started. Now it has conquered most of the world – it has a presence in Mongolia, Fiji and Kazakhstan – and there are 11,000 Crossfit affiliates. Forbes magazine valued the brand at $4bn.
Iceland Annie, the only female double world champion, and Katrin Davidsdottir, this year's winner, are Crossfit superstars. They are significant figures in a movement that is changing the perception of women's sport, fitness and body image. Helping to change the image of weightlifting is their latest achievement.
Femininity in the sport was discussed at the London Olympics after Zhou Lulu, from China, won the women's super-heavyweight gold medal. "People say I do not look feminine, that's up to them," she said. "I like romantic and pretty stuff. But when you like weightlifting you don't think about body shape or whether it's feminine. I am an Olympic champion and I am happy with my situation."
One of China's favourites for gold at next summer's Olympics isouston, who is very much aware of her looks. The 63kg lifter spends a long time on her nails, has dyed her hair red and wears expensive earrings and a sparkling hairband while lifting. After winning in Houston, she said she liked "to look girly – it's just a personal choice".
Iceland Annie, who was featured in Vogue last year, also likes to look her best in competition. "Attitudes have changed," she said before her World Championships debut. "Instead of the skinny look, it's the healthy look for women now. Healthy is beautiful, being strong is beautiful."
One of Britain's team in Houston, Sarah Davies, won a beauty contest as a student and has been a model. "Whenever I mention weightlifting, people still have the stereotypical view of me being 6ft tall and with shoulders so wide I couldn't fit through a doorway. Some of my university peers struggled with the concept and made comments like 'Why are you doing that' You'll get so muscly.'
"The reality is much different now – the women are the polar opposite to that stereotype. Look at the British, Spanish, German and USA teams. The image is changing, but very slowly."
Lidia Valentin is Spain's most famous weightlifter and has long been a "poster girl" for the sport.
Ashley Metcalfe, a former professional cricketer, has overseen a mini-boom in his two and a half years as chief executive of British Weightlifting. "Only four of 46 measured sports are showing an increase in participation, according to Sport England," said Metcalfe. "We are one of them, and our fastest growth area is females. More and more women are now aware that weightlifting can make you look better, more toned, sexy. There has been a change in perception and the presence here of the Iceland Crossfit women can only help."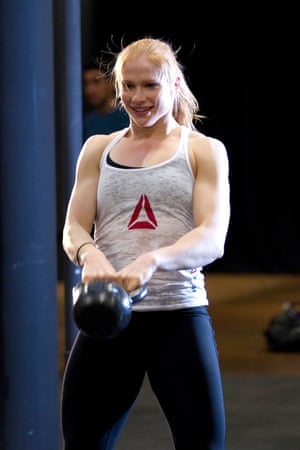 About 110,000 people do Olympic weightlifting – as opposed to body-building or informal weight training – in Britain every week. More than a third are female and the gap with men is shrinking. Elsewhere, growth is more spectacular. Eleiko, the Swedish company that makes steel bars for the lifters, increased production by 100% from 2013 to 2014.
Membership of USA Weightlifting has trebled to 25,000 in three years and one gym owner in San Francisco – former Olympic team coach Jim Schmitz – estimates that 20 million Americans lift weights. Again, growth is faster among women.
Michael Massik, chief executive of USA Weightlifting, said: "We have a lot of new members who found us through Crossfit, but there has also been a change in culture, a change in attitude about weightlifting and strength sports.
"The advertising for clothing and other goods is aimed at the fit body type rather than the Twiggy type. The advertising culture seems to be targeting women as fit human beings. Fit is good, strong is good."
Moira Lassen, chair of the International Weightlifting Federation women's commission, said: "Performance on the competition platform has no correlation to how masculine or feminine an athlete is. It is a direct result of the hours, months and years of training and dedication they have given. Our female athletes are strong. It's offensive when people add 'for a girl' to that sentiment."
The role of social media is also crucial, as Massik and Metcalfe point out.
The European Fitness League is another "competitive gym" event, which staged its grand final, Strength in Depth, in Bath last weekend. From an original entry of several thousand, the best were left to fight it out in mixed teams of 12.
Richard Gillis, director of the European Fitness League, said: "Women engage with events like ours via digital and social media. Young women have grown up with social media as a central part of their lives so it's no surprise that sharing culture is critical to how they consume sport. Photos and short video clips drive interest on Instagram, Vine, Twitter and Facebook. Traditional TV coverage is playing catch-up.
"The 'strong is the new sexy' line is shaping how a generation of young women define themselves and it influences other parts of their lives, from the brands of clothes they buy to what they eat and drink. The athletes and the audience for the sport are extraordinarily attractive to advertisers and sponsors. They are hip and affluent."
Among the competitors in Bath was Laura Faulkner, who is part of Britain's Olympic development squad in weightlifting. Faulkner, 23, spoke to the Bath Chronicle before the event of her commitment to her sport. "Sacrifices mainly come in the form of not going out and getting drunk, and I'm fine with that. To be honest, a personal best in your clean and jerk is much more satisfying than a kebab and a headache."
Source: https://www.theguardian.com