Melbourne has a knack for sprouting stylish hangouts in unconventional locations. In the Central Business District (CBD), alleyways, basements and unmarked doors hide a thrilling assortment of bars and design stores that take effort to find, but are all the more worthwhile for it. On high-rise rooftops, too, there are gems to be found, such as in-the-know bars, an open-air cinema … and, as of this year, the city's quirkiest accommodation.
Located atop Melbourne Central shopping centre, St Jerome's – The Hotel is an urban retreat that brings camping under canvas to the heart of the CBD. Forget spiders, mud and traditional camping's other drawbacks: the civilised St Jerome's experience comes with electricity and wi-fi for recharging smartphones and Instagramming every moment.
Launched as a temporary pop-up in May, the venture has just announced its extension until at least September 2016, with plans to take the concept to Adelaide, Auckland and beyond.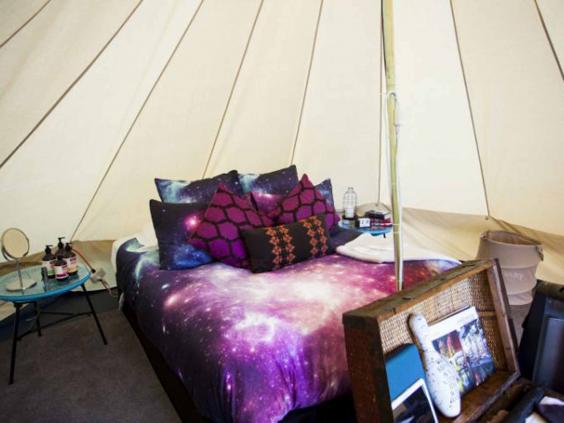 The bed
St Jerome's rooftop is Astroturf-covered and ringed by modern high-rises and the Neoclassical façade of Myer's department store. Filling the space are two avenues of canvas bell tents, 20 in all, each screened from its neighbours by evergreen planted pots to reinforce the "great outdoors" vibe.
Not all tents are alike. Five of them are smaller, four-metre variants, with the remainder being more spacious, five-metre tents, most of which have adjoining private decks. Common to all, though, are exceptionally comfy beds dressed with quality linen and cosy duvets (or doonas as they're called down under). Retro furnishings include wicker trunks filled with fluffy bathrobes and towels, while a Samsung tablet loaded with movies, documentaries, and more provides entertainment on tap.
Tucked away at the site's southerly end is a series of portable bathroom units comprising toilet and shower facilities. There's also a Clubhouse combining honesty bar and games room, and a communal lawn for yoga classes on summer mornings. For other distractions, simply look downstairs to the mall's cinema, bowling alley, day-spa, gym and late-night bars – plus, of course, all manner of shops selling anything you might have forgotten to pack.
The breakfast 
Every morning, at a pre-arranged time, a wooden picnic box containing granola, juice, fruit salad and pastries (plus tea or coffee) is delivered to each tent, to be enjoyed in bed or outside on the deck. It's not the only catering included in the price. Afternoon cupcakes precede a visit from the cocktail cart, while an order of mini-burgers and a cooler stocked with craft beers and cider will set guests up for a night on the town.
The hosts 
St Jerome's is the latest project from entrepreneur Jerome Borazio, a pioneer of Melbourne's edgy small-bar scene. It's in good company: Jerome's other ventures include Ponyfish Island (a riverside bar beneath a footbridge) and the cultural explosion of St Jerome's Laneway Festival. The rooftop glamping site is ably managed by Stephanie and Josh, with cheerfully self-deprecating Johan in charge of the cocktail cart.
The weekend 
The sheer novelty of St Jerome's makes it tempting to stay put, but there's lots to discover back down at street level. State Library Victoria (
00 61 3 8664 7000; slv.vic.gov.au), just around the corner, is worth a look to see outlaw Ned Kelly's iconic suit of armour; then continue the theme at Old Melbourne Gaol (
00 61 38663 7228; oldmelbournegaol.com.au), the scene of his execution in 1880. Culture comes less gorily at NGV Australia (
00 61 3 8620 2222; ngv.vic.gov.au), whose Federation Square location houses indigenous and non-indigenous Australian artworks.
One of the CBD's biggest draws is its network of backstreets and laneways. Get an insider's guide to their tucked-away highlights on a walking tour with Hidden Secrets (
00 61 3 9663 3358, hiddensecretstours.com). A three-hour Melbourne Lanes & Arcades tour costs from A$95pp (£45).
Make time to experience the great outdoors by heading to You Yangs Regional Park, under an hour away. Echidna Walkabout (
00 61 3 9646 8249; echidnawalkabout.com.au) has a full-day tour to see kangaroos, koalas and other native wildlife on foot, from A$210pp (£100) including hotel pick-up, transport and lunch.
The pit-stop 
Chin Chin (
00 61 3 8663 2000; chinchinrestaurant.com.au) is currently Melbourne's most talked-about restaurant – and in a city famed for food, that's saying something. The South-east Asian cuisine features zingy flavours and the freshest ingredients, with a menu spanning curries to kingfish sashimi – or take the "Feed Me" option of the chef's favourite dishes for A$69pp (£35). Round off the evening with a cocktail at Goldilocks (goldilocks bar.com.au) – a rooftop bar with views back towards St Jerome's.
The essentials
St Jerome's – The Hotel, Level 3, Melbourne Central, 271 Little Lonsdale Street, Melbourne, Victoria, Australia (
00 61 406 118 561; stjeromesthehotel.com.au). Rates start at A$330 (£165) per tent per night, including breakfast, afternoon tea, evening drinks and snacks. More information: australia.com.
Source: https://www.independent.co.uk