David Forsey, the chief executive of Sports Direct, has been charged with a criminal offence relating to the collapse of its fashion retailer USC.
The 49-year-old businessman is accused of failing to notify authorities of plans to lay off warehouse staff in Scotland, around 200 of whom were given just 15 minutes notice by USC's administrator in January that they were losing their jobs. Forsey was sent his summons in July and his case is scheduled to be heard at Chesterfield magistrates' court next week.
The UK Insolvency Service said: "We can confirm that criminal proceedings have been commenced against David Michael Forsey. He is charged with an offence contrary to section 194 of the Trade Union and Labour Relations (Consolidation) Act 1992.
"The investigation into the conduct of the directors is ongoing. The inquiries are at an early stage and given the criminal proceedings it is not possible nor would it be appropriate to comment any further."
The conduct investigation is understood to have been kicked off three weeks ago. The Insolvency Service has the power to ban somebody from serving as a director for up to 15 years.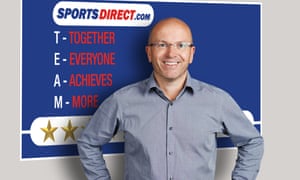 The news of Forsey's court appearance emerged as Sports Direct founder and executive deputy chairman, Mike Ashley, was criticised for "disgraceful and unlawful employment practices" after 50 former USC employees were awarded compensation.
The workers received a "protective award" equivalent to 90 days pay after Glasgow's employment tribunal heard how USC staff had only been informed that the company's warehouse in Dundonald, Ayrshire, would close 15 minutes before it was shut down.
Under employment law, workers should be given at least 30 days consultation before losing their jobs.
Rory McPherson, a partner at Thompsons Solicitors, which represented the 50 workers, said: "This judgement from the tribunal is very good news for the former employees at Dundonald who brought the case. They showed courage in standing up to and beating a rich and powerful employer like Mike Ashley who used disgraceful and unlawful employment practices.
"I call on politicians in both Holyrood and Westminster to do all they can to stop employers like Mr Ashley thinking they can ride rough shod over workers rights."
Under European legislation the Insolvency Service will have to pick up the bill for the 50 workers, but it is only obliged to pay eight weeks' worth of the compensation to which they are entitled.
Forsey's case is the latest in a series of legal actions relating to employment issues faced by Sports Direct. Up to 300 staff are preparing to file a claim after they were excluded from the company's bonus scheme because they were on zero-hours contracts. Sports Direct has admitted that about 80% of its workforce are on temporary contracts that do not guarantee weekly working hours.
The company was forced to make clear the limitations of such contracts to staff after legal action by former employee Zahera Gabriel-Abraham.
In January, West Coast Capital (USC), a wholly owned subsidiary of Sports Direct, entered a "pre-pack" administration whereby the business was shorn of some staff and debts and then immediately bought back by another division of Sports Direct. Around 200 workers at USC's warehouse in Dundonald lost their jobs –with around 80 permanent warehouse staff arguing they had not been properly consulted.
The move was so controversial that it prompted a parliamentary debate and a Scottish Affairs select committee hearing, during which Sports Direct's chairman Keith Hellawell – a former chief constable of West Yorkshire police – admitted the group's executives only informed him about the administration the day before it happened. The MPs had originally asked Ashley to appear, but the billionaire declined to attend.
The Trade Union Act states that an employer must give 30 days' notice to the secretary of state of proposals to make 20 or more staff redundant. Failure to do so is an offence which is liable for a fine of up to £5,000.
Filings at Companies House suggest that the administration of USC was being considered for at least two months: the joint administrators – the insolvency firms Duff & Phelps and Gallaghers – met with Sports Direct in its role as a secured creditor of USC on 14 November 2014; then, after the fashion brand Diesel took action against USC over an unpaid bill, a representative from Gallaghers met with USC, where Forsey was also a director, on 17 December.
Subsequently, USC filed its intention to appoint an administrator on 6 January, 2015, and formally entered administration a week later – at which point staff were told by the administrators that they would lose their jobs in 15 minutes.
Sports Direct shares closed down more than 6% at 690p on Friday. The company declined to comment.
Source: https://www.theguardian.com